On 17 July 2019 the World Health Organisation declared the rapidly expanding outbreak of Ebola in the Democratic Republic of Congo (DRC) to be a public health emergency of international concern.
This page offers guidance for healthcare workers outside affected regions.
For those working in areas affected by Ebola, please refer to local guidance for the most relevant information. For volunteer doctors, see this BMJ Careers article covering medicolegal issues.
Latest guidance for healthcare workers
In this section we will continue to update healthcare workers in the UK with the latest guidance from Public Health England. Expand each section to reveal the relevant information.
What is the latest guidance for primary care workers?
General practices, out of hours centres, and walk-in centres are unlikely to see imported cases of Ebola from Africa, but it is not impossible that individuals infected in DRC could arrive in the UK while incubating the disease and develop symptoms once here. While a fever in someone arriving from the affected countries is more likely to be malaria or typhoid fever, staff are advised to remain vigilant.
A patient who telephones—Anyone who has visited an affected country in the past 21 days and reports a fever of more than 38ºC within the past 24 hours should not visit health premises. Instead a clinician should refer the patient to the local acute hospital.
A patient visits any primary care service—Signs should be clearly displayed to encourage patients to tell receptionists on arrival if they are unwell and have travelled from an Ebola-affected country within the past 21 days. Any patients suspected of having Ebola should not sit in the general waiting area and should be isolated in a side room (cleared of removable items to reduce decontamination requirements if Ebola is confirmed).
Hand hygiene is an important infection control measure; the Ebola virus is not a robust virus, and is readily inactivated, for example, by soap and water or by alcohol. It is important to remember that transmission of Ebola from person to person is only through direct contact with the blood or body fluids of a symptomatic infected person. There is no evidence of Ebola transmission through intact skin or through small droplet spread, such as coughing or sneezing.
Primary care services should record the name and contact details for their local infection specialist is (details available from their local health protection team) and if a suspected case presents, contact the specialist who will lead the risk assessment and arrange clinical review. Patients should be sent to hospital in an ambulance, and paramedics should be warned of the possibility that the patient is infected with Ebola virus. GPs also need to alert the hospital that Ebola is suspected.
All waste, including cleaning equipment such as gloves, paper towels and mops, should be put into plastic waste bags and stored in a safe place, where they will not be touched, until the case has been assessed. The local health protection team will also advise on decontamination procedures. It may be necessary to quarantine the room for up to 24 hours while Ebola is confirmed or excluded. No one should use the room or touch any potentially contaminated areas, including toilets and door handles, until they are decontaminated. Public areas where a patient has just passed through do not need to be specially cleaned.
If Ebola is confirmed by laboratory testing, the local health protection team will review any contacts at the primary care service.
If a patient has symptoms limited to fever with no vomiting or diarrhoea, high contact surfaces like touch screens and door handles should be wiped using standard disinfectants or household bleach but the surgery does not need to be closed. The room in which the patient has been assessed and the toilets, if they have been used by the patient, should not be used pending diagnosis. The clinician may continue to consult in a different room but should ensure they have washed their hands thoroughly with soap and water. If the patient has symptoms such as vomiting, diarrhoea or bleeding the surgery should be closed pending a risk assessment by the infection specialist. Patients and staff should leave the surgery but a record should be kept of people present during the time that the patient was on the premises.
---
Source: https://www.gov.uk/government/publications/ebola-virus-disease-managing-patients-who-require-assessment-in-primary-care
What should secondary care staff do?
The College of Emergency Medicine issued joint guidance with PHE on 15 October 2014 for emergency department staff.1 It recommends a simple checklist from the Centers for Disease Control and Prevention in the US.2 The list breaks down into three areas: detect, protect, and respond.
Patients arriving by ambulance—The hospital should be alerted by ambulance crew before the patient arrives, giving time for staff to identify a side room and access appropriate protective equipment. This should be worn by staff meeting the ambulance.
Patient presenting at an emergency department—Staff must adapt a "talk but don't touch" approach to the patient. Rapid identification and isolation of patients with suspected Ebola infection are essential. Suspected patients should be asked two initial screening questions: have you travelled from one of the affected areas or cared for someone with Ebola within the past 21 days and do you have a fever (>38ºC) or have had a fever in the past 24 hours? Patients who answer yes should be isolated in a single room and have a full history taken by a clinician wearing appropriate protective clothing and trained in its use.
What if the patient has been sitting in the public area?—The patient should be isolated as above, and the area in a waiting room cordoned off until the patient is assessed. If the patient is considered likely to be infected with Ebola virus, staff should get guidance from the hospital lead for infection control and notify the local PHE health protection team. Trained staff should decontaminate the area. The names of patients and staff who might have come into physical contact with the patient or body fluids should be documented.
Once a patient with suspected Ebola has been isolated—The infection consultant will discuss testing with the imported fever service. The advice is not to wait for Ebola tests results before doing other relevant diagnostic tests, such as for malaria.
---
1. College of Emergency Medicine, Public Health England. Ebola guidance for emergency departments. CEM, 2014.

2. CDC. Detailed hospital checklist for Ebola preparedness. www.cdc.gov/vhf/ebola/pdf/hospital-checklist-ebola-preparedness.pdf.
Diagnostics
If someone is thought to be highly likely to have Ebola, a result can be given within 8 hours of the specimen being received by the laboratory. Testing is done by the imported fever service, a 24 hour, seven day a week service, based at the Rare and Imported Pathogens Laboratory in Porton Down, Wiltshire. For advice on testing possible cases of Ebola virus disease, clinicians need to contact their local infectious disease physician or consultant microbiologist or virologist, who will assess urgency and advise on the correct samples to take (the minimum samples are serum and EDTA blood, and ideally a urine sample). PHE provides the numbers for approved transporters of samples but stresses that samples will not be tested urgently without prior consultation with a local infectious disease physician 
---
Source: PHE Microbiology Services VHF Sample Testing Queries
What happens if a patient tests positive for Ebola virus?
The key teams alerted are the outbreak control teams and duty doctor at PHE Colindale, senior government officials, and the clinical team at the high level isolation unit, Royal Free Hospital, the UK's specialist centre for treating the most dangerous infectious diseases. In Scotland, there are well rehearsed protocols for the isolation, transport, investigation, and medical care of any patients with suspected Ebola infection. There are four infectious disease units in Scotland providing round the clock specialist consultant cover, where patients with Ebola can be cared for until they are transferred to the Royal Free.
Early detection and good care much improve a patient's chance of recovery. Symptoms start with a fever, aches, and headache and then develop into diarrhoea, vomiting, uncontrolled internal bleeding, bleeding from the eyes, nose, and ears, and organ failure. Intravenous fluids, in large quantities, can help the patient fight the virus. Blood transfusions may also be necessary. Dialysis for renal failure is considered high risk for health workers and the Royal Free Hospital has therefore ruled out offering this.
Although there is no approved cure or treatment for the virus, the one patient treated so far in the UK was given an experimental treatment, and PHE says that "In some instances, clinicians treating individuals with Ebola may source and decide to use an experimental drug, such as Zmapp."3 Laboratory testing of Zmapp has shown that it is most effective if given to a patient within days of being infected and much less effective if symptoms are advanced.
---
3. Public Health England. Ebola Q&A, October 2014. www.gov.uk/government/uploads/system/uploads/attachment_data/file/363883/14_10_14__Ebola_QA_For_Public.pdf.
Could the Ebola threat to the UK increase?
The chief medical officer has said that although the threat is currently low, the government should make preparations for a possible increase in the risk level. There are plans in place to expand capacity for patients with Ebola in Newcastle, Liverpool, and Sheffield, making a total of 26 beds available in the UK if needed. Such a surge in cases could come from a large increase in the numbers of cases reported in west Africa, an increase in the numbers of countries where cases are reported and outbreaks are not well controlled, or a breakdown of security in the countries at the heart of the epidemic.
Ebola is not airborne and, unlike other new infectious diseases that have emerged in recent years, experts are not concerned that this virus could mutate and become airborne and therefore far more easily spread and much harder to control. The Ebola virus is still the same as it was in 1976. Because the current outbreak is extraordinary, nothing can be ruled out. The disease has infected many more people than it ever has previously and it is possible, says Mabey, that as a result of passing through more humans a particularly infectious strain could emerge.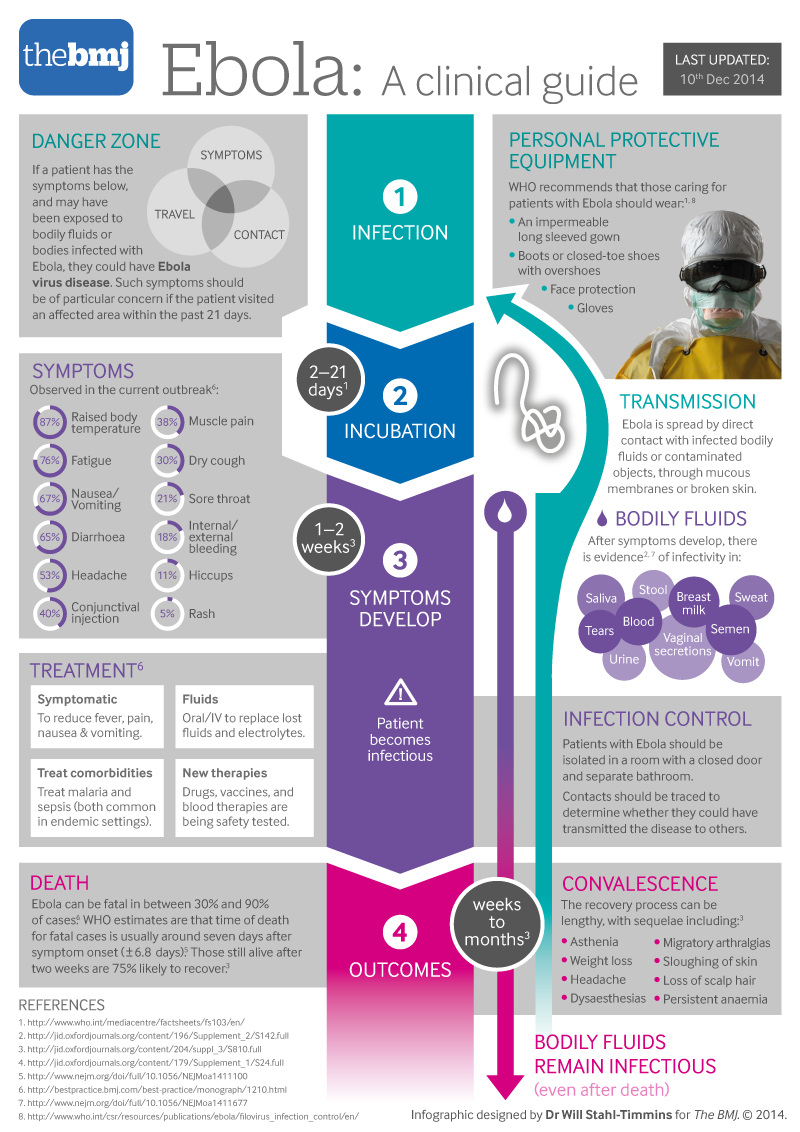 Multimedia
Tim O'Dempsey
Tim O'Dempsey recently returned to the UK from Kenema in Sierra Leone, where he worked in a Lassa fever/Ebola virus disease treatment centre. While in Kenema, O'Dempsey worked closely with Sierra Leonean nurses and doctors who have lost their lives to the virus. In this video he tells us about the challenges of treating Ebola in a resource poor setting, the personal protective equipment he used, and why he believes good clinical support could lower the mortality rate to 30%.
Nick Beeching
Nick Beeching describes the UK's response to the current crisis. Beeching describes the single historical case of Ebola infection within the UK, and the measures put in place to contain an infection should it occur. He also emphasises the importance of taking a travel history as part of a routine clinical examination, to rule out a range of tropical diseases, including Ebola.
Editorial:
Ebola and other viral haemorrhagic fevers
Podcasts
Fatoumata Nafo-Traoré is the executive director of the Roll Back Malaria Partnership, worked in Sierra Leone and Guinea in 2014. In this podcast, she describes the effect of the west African Ebola outbreak on the prevention and treatment of malaria, and other diseases, in affected regions.
David Heymann, professor of infectious disease epidemiology, and head and senior fellow, at the Chatham House Centre on Global Health Security was sent to investigate the first outbreaks of Ebola in 1976. In this podcast he gives a longer term perspective on the disease, and talks about the importance and challenges of introducing novel treatments.

Read his analysis article, Prevention is better than cure for emerging infectious diseases