Analysis
Green Recovery
Decarbonising healthcare in low and middle income countries: potential pathways to net zero emissions
BMJ
2021
;
375
doi: https://doi.org/10.1136/bmj.n1284
(Published 10 November 2021)
Cite this as:

BMJ

2021;375:n1284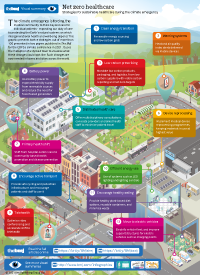 Visual summary available
Highlighting some of the strategies that could be used to reduce healthcare emissions
Correspondence to: J Baddley

baddleyjerome{at}gmail.com
Considerable attention has been paid to the role that healthcare systems have in combating climate change.1 Recent analysis has calculated the global carbon footprint of healthcare as equivalent to 2-2.4 Gt of CO2, about 4-5% of total global emissions.23
The focus is often on reducing emissions in high income countries (HICs) and adaptation in low and middle income countries (LMICs).4 Few LMICs are included in studies on carbon emissions from healthcare.
This imbalance is understandable, given the greater relative contribution to greenhouse gas emissions from health systems in HICs and the disproportionate burden of climate change impacts on LMICs.56 Nevertheless, healthcare in LMICs is a carbon intensive activity and likely to grow with the delivery of commitments to universal health coverage (UN Sustainable Development Goal 3.8).
Table 1 shows emissions intensity data grouped by country economic classification.4 All direct and indirect emissions from healthcare and the healthcare supply chains are included (Greenhouse Gas Protocol scopes 1 (healthcare operations), 2 (electricity), and 3 (supply chains)). This suggests, at least in economic terms, that healthcare in LMICs is more carbon intensive than that in HICs.
The UN 2025 target is for one billion more people to benefit from access to affordable healthcare.7 Most LMICs haven't yet fully met basic needs for healthcare services. In 2017, the World Health Organization financing team estimated that by 2030 an additional $371bn (£262 bn; €303 bn) would need to be invested every year in 67 LMICs to meet the Sustainable Development Goal targets for universal health coverage.8 Over two thirds of the additional resources were estimated to be for primary healthcare services, which currently receive 54% of healthcare spending in LMICs.9
If the carbon impact of this investment follows the average emissions intensity for the 24 LMICs in table 1, achieving universal health coverage could result in an additional 382 million tonnes of CO2 equivalent (tCO2e) a year. This would increase the global carbon footprint of healthcare by about 16% from 2.4 billion tonnes. This figure could be substantially higher if investment is weighted towards lower middle income countries.
Climate change may increasingly threaten the achievement of universal health coverage.10 As such, to ensure gains in healthcare are sustainable in the long term, it is imperative that emissions reduction forms an integral part of the delivery of universal health coverage.
Conversely, measures to mitigate carbon emissions can also deliver cost savings (eg, energy efficiency), short term public health benefits (eg, reduced air pollution), and timely access to care (eg, telehealth). Integrating carbon mitigation investment into delivery of universal health coverage could leverage greater gains in health and healthcare coverage in LMICs. The 2017 WHO costings paper also broadly identified the critical importance of efficiency gains in reaching Sustainable Development Goal targets.
Sources of carbon emissions
The quality of the care environment in many major hospitals in LMICs may be on a par with that in HICs; however, care in rural areas is often delivered in less well resourced facilities.11 A study of 21 indicators compiled from 78 LMICs, representative of 129 557 healthcare facilities, showed that 50% of facilities lack piped water and 59% lacked reliable energy services. The study highlighted that poor environmental quality increases risks to the health of patients and healthcare workers.
Another recent study showed that less than two thirds of hospitals providing surgical care in 21 LMICs had a continuous electricity source or a generator.12 Health outcomes are linked to sustainable power supply.1314
Fossil fuelled emergency generators are found in hospitals worldwide. In LMICs, unreliable electricity grids leave facilities dependent on expensive and polluting generators daily or as their primary power supply. In January 2021, for example, a country-wide power cut in Pakistan, where power cuts are common, left hospitals and health facilities running on fossil fuelled generators. Essential facilities such as hospitals often use diesel generators as a back-up power supply; many areas have no electricity for several hours a day.15
Where grid power is available, it may be more carbon intensive than in HICs. In India, in 2017 each unit of grid supplied electricity resulted in 743 g CO2, compared with an average of 303 g per unit across 27 EU states.1617
Typically, emergency, non-emergency, and public health outreach vehicles in LMICs have to navigate poor and dangerous roads. Vehicles may be old and public transport options limited, exacerbating accessibility for remote communities.18
Many suppliers of pharmaceuticals and medical devices in LMICs are the same ones that supply higher income countries. Many, but by no means all, multinational companies already report their emissions publicly.19 Where available, corporate carbon reports for these global brands show that emissions from their supply chain are considerably higher than those from their own operations.20 For many products, particularly personal protective equipment and generic drugs, LMICs are significant manufacturers and exporters.2122 Manufacturers in these countries are likely to share some of the emissions challenges and opportunities faced by LMIC healthcare providers.
Although some multinationals have set net zero targets, the emissions intensity of the pharmaceutical sector is about 55% higher than that of the automotive sector.19 It is time that this sector is scrutinised more closely, by HICs and LMICs alike.
Healthcare models
Healthcare provision in LMICs can be highly fragmented.23 The need to work across public, private, and third sector providers increases coordination challenges to effect system-wide changes. These are issues being explored widely in the delivery of universal health coverage.
Current trends of building hospitals with an over medicalised, fragmented approach to healthcare, which forfeits efficiency, must change. Care that doesn't improve health, admission of patients to carbon intensive hospitals when they could have equally been managed at home, and occurrence of avoidable illnesses should be seen as systemic and moral failures.24
The most rational and cost effective way to achieve universal access and reduce emissions is to invest in keeping people healthy2425—that is, promoting health literacy, facilitating healthier lifestyles, detecting cases earlier, and bringing services closer to patients' homes. This principle, central to universal health coverage, would yield all-round gains for patients, the planet, and healthcare costs.2627 It also underlines the importance of prioritising primary care.
Covid-19 has increased incentives to invest in universal health coverage to deliver less fragmented and more digitally enabled health systems.28 Digital care and telehealth have proved indispensable during the pandemic, increasing access in LMICs while reducing costs and carbon emissions.293031
WHO projects that delivery of universal health coverage will require the construction of at least 415 000 new health facilities, 378 000 of which would be primary health centres.8 This presents a unique opportunity to build zero carbon facilities, which in our experience is particularly feasible for these smaller facilities.
Achieving net zero across all sectors is one of the most important global health interventions.2332 We argue that healthcare leadership in decarbonisation in LMICs would be a public good in itself, under the maxim "first do no harm."
Measuring the carbon footprint of healthcare
Reducing a healthcare provider's carbon footprint begins with robust baseline calculations. In many HICs, regulatory requirements on carbon reporting are supported with government endorsed tools and methods, developed in line with international protocols. As with other areas of systematic data collection and measurement,9 healthcare providers in LMICs have had limited access to carbon footprinting tools.
Deficits in data to drive investment in improvement, sector specific expertise, national carbon footprinting guidance, and uneven regulations may all have delayed progress.
Recently, several agencies have started filling this gap. An expert meeting hosted by WHO in February 2021 discussed tools and approaches to calculate the footprint of health operations.33 These included those used by the Aga Khan Development Network, the NHS in England, and the international non-governmental organisation Health Care Without Harm. This is an area in which WHO seems poised to provide guidance.
Together with networks such as the World Organization of Family Doctors (WONCA), efforts to embed related training into accredited continuing medical education could also be transformative.34 Indeed, enabling health workers to understand their own footprints is already helping drive changes in practice, as well as resulting in partnerships with professional networks and governments to widen impact (box 1).
Box 1
Carbon footprinting for healthcare professionals
Aga Khan Health Services developed its own carbon footprinting tool in 2020.35 The tool was deployed for use by healthcare professionals across operations in nine LMICs.
Within months of initial orientation, after identification of anaesthetics and propellant inhalers as product carbon hotspots, clinicians took action to reduce impacts.
Aga Khan Health Services' anaesthesiologists established plans to make recommended substitutions to lower carbon gases and reduce volumes overall, and pharmacists did the same with respect to inhalers.
In Kenya, anaesthesiologists started working with professional networks including the Kenyan Society of Anaesthesiologists to influence change. Through the opportunity of a government collaboration and multinational pharmaceutical companies in Kenya, pharmacists negotiated to make propellant-free inhalers cheaper. This helped encourage their use throughout the country. They also worked with the government to raise awareness to help change policies and practices.36
RETURN TO TEXT
Health professionals are seen as particularly credible advocates, and leveraging their potential can provide substantial impetus to efforts to reduce carbon emissions. This is particularly the case in LMICs, where they form a larger part of the economic and political elite. As has been shown in the covid response, health workers can work with researchers, media, and policymakers, as well as communities, to co-produce plans.37 This same thinking must be applied in embedding carbon reduction into the wider approach to universal health coverage.
Achieving net zero
Achieving net zero in the provision of essential healthcare, while achieving universal health coverage, will require action on many fronts, although three hotspots constitute the bulk of the emissions challenge: energy, travel, and the supply chain (table 2).
Direct emissions from healthcare operations (scope 1), together with electricity (scope 2), typically comprise just over a quarter of the carbon footprint of healthcare. Energy and fuel use are also major sources of air pollution.363 Progress in reducing emissions from energy and fuel will require healthcare providers to invest in energy efficiency as well as zero carbon energy sources, in new and existing facilities. Net zero will require the addition of renewables and government policies for national grid and vehicle fleet decarbonisation (box 2).65
As with other consumption intensive sectors,66 the remaining bulk of most health providers' emissions can be attributed to the supply chain (scope 3), most notably from the manufacture and supply of essential pharmaceuticals and medical devices.333 Progress in reducing emissions from procurement will require governments and health networks to wield their purchasing power. Suppliers will need to be persuaded to reduce their own emissions and the emissions associated with their products.
Work in HICs, equally relevant to LMICs, has identified a few particularly environmentally damaging clinical products. Pressurised metered dose inhalers and anaesthetics merit specific focus, owing to the direct release of potent greenhouse gas emissions in their use.6768 Progress in reducing emissions from these high carbon products will require clinicians to apply an understanding of their environmental impact in condition management, clinical practice, and product choice.
Conclusions
Much of the road to net zero healthcare is possible with transferable knowledge and technology already available in LMICs. The barriers are likely to be in the priorities set by healthcare providers, the general public, and lawmakers to implement effective targeted action, and most critically in access to the necessary financial resources to act.
Failure to integrate carbon reduction with the investment required to deliver universal health coverage and stimulus packages for covid recovery could undermine prospects for sustainability. Conversely, we have an opportunity to increase the efficiency, effectiveness, and equity of health systems through actively aligning all universal health coverage investment and programme management expectations with the global fight against climate change. Options for decarbonising health align perfectly with reinvigorating the evidence based primary healthcare movement.69
The abilities of health workers in LMICs to innovate, build strategic south-south alliances, and secure the necessary political buy-in should not be underestimated. With effective leadership, coordination, and financing, charting a plan for health sector decarbonisation in LMICs is eminently feasible. This is a fast changing field where changes in technology, healthcare delivery, and products can transform what can and should be attempted. All engaged will have much to learn and share through WHO. The health sector in LMICs will be no exception.
Key recommendations
Healthcare providers in LMICs should be expected by ministries of health to calculate the carbon footprints of their organisations and to embed action in the delivery of universal health coverage to reduce emissions.

Donors and healthcare providers should ensure that virtuous circles in efficiency and health are maximised.

Healthcare providers should seek opportunities to increase energy efficiency and move rapidly away from a reliance on fossil fuels and generators.

Providers and ministries of health must identify and act on opportunities to reduce emissions in the supply chain.

Clinicians should seek to understand which products have already been identified as particularly damaging and the possible mitigation measures.
Footnotes
Contributors and sources: FR is a policy and programme analyst, leading the decarbonising efforts of the Aga Khan Health Services. She has over 30 years of experience in advising governments, non-governmental organisations, and donors' investments in healthcare in several countries in Africa and Asia. JB is a chartered environmentalist and was previously head of the NHS Sustainable Development Unit. RM is a health policy and systems researcher. EFDeB has expertise in family medicine and planetary health. NAV has expertise in risk analysis, planetary health, environmental health, public health, public engagement, and climate action. PP has expertise in public health, chronic disease and environmental epidemiology, climate change, and health systems. KSR has expertise in cardiology, public health, and health equity.FR contributed to the policy positions, content, and references for this article. JB drafted the narrative and undertook substantive research. All other authors contributed to conceptualisation in the first draft, technical inputs, case study material, review and editing of the final manuscript. FNR and JB contributed equally and are joint first authors.

Competing interests: We have read and understood BMJ policy on declaration of interests and have no interest to declare.

Provenance and peer review: Commissioned; externally peer reviewed.

This article is part of a series commissioned by The BMJ for the World Innovation Summit for Health (WISH). The BMJ peer reviewed, edited, and made the decision to publish. The series, including open access fees, is funded by WISH.