Research
Outcomes at follow-up of negative colonoscopy in average risk population: systematic review and meta-analysis
BMJ
2019
;
367
doi: https://doi.org/10.1136/bmj.l6109
(Published 13 November 2019)
Cite this as:

BMJ

2019;367:l6109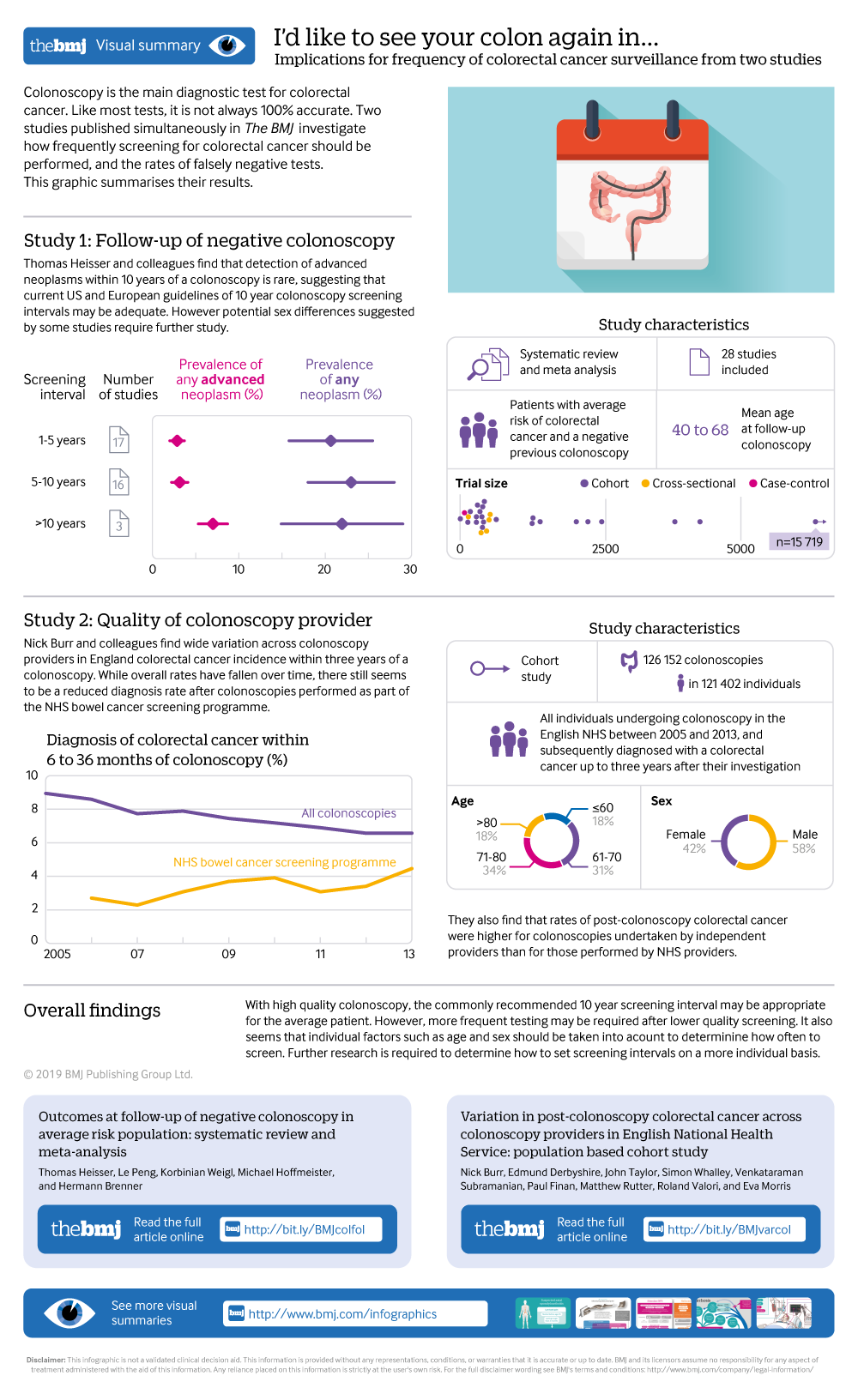 Visual summary available
Implications of two studies for frequency of repeat surveillance after negative colorectal cancer tests
Linked Research
Variation in post-colonoscopy colorectal cancer across colonoscopy providers in English NHS
Linked Editorial
Unacceptable variation in screening colonoscopy
Correspondence to: H Brenner

h.brenner{at}dkfz.de
Abstract
Objective To review and summarise the evidence on the prevalence of colorectal adenomas and cancers at a follow-up screening colonoscopy after negative index colonoscopy, stratified by interval between examinations and by sex.
Design Systematic review and meta-analysis of all available studies.
Data sources PubMed, Web of Science, and Embase. Two investigators independently extracted characteristics and results of identified studies and performed standardised quality ratings.
Eligibility criteria Studies assessing the outcome of a follow-up colonoscopy among participants at average risk for colorectal cancer with a negative previous colonoscopy (no adenomas).
Results 28 studies were identified, including 22 cohort studies, five cross sectional studies, and one case-control study. Findings for an interval between colonoscopies of one to five, five to 10, and more than 10 years were reported by 17, 16, and three studies, respectively. Summary estimates of prevalences of any neoplasm were 20.7% (95% confidence interval 15.8% to 25.5%), 23.0% (18.0% to 28.0%), and 21.9% (14.9% to 29.0%) for one to five, five to 10, and more than 10 years between colonoscopies. Corresponding summary estimates of prevalences of any advanced neoplasm were 2.8% (2.0% to 3.7%), 3.2% (2.2% to 4.1%), and 7.0% (5.3% to 8.7%). Seven studies also reported findings stratified by sex. Summary estimates stratified by interval and sex were consistently higher for men than for women.
Conclusions Although detection of any neoplasms was observed in more than 20% of participants within five years of a negative screening colonoscopy, detection of advanced neoplasms within 10 years was rare. Our findings suggest that 10 year intervals for colonoscopy screening after a negative colonoscopy, as currently recommended, may be adequate, but more studies are needed to strengthen the empirical basis for pertinent recommendations and to investigate even longer intervals.
Study registration Prospero CRD42019127842.
Footnotes
Contributors: HB and TH designed the study. TH did the literature search. TH and LP extracted the data from the identified articles. TH did the meta-analyses and drafted the manuscript. All authors critically reviewed the manuscript, contributed to its revision, and approved the final version submitted. All authors had full access to all of the data (including statistical reports and tables) in the study and can take responsibility for the integrity of the data and the accuracy of the data analysis. The corresponding author attests that all listed authors meet authorship criteria and that no others meeting the criteria have been omitted. HB is the guarantor.

Funding: This work was supported by the Ministry of Education and Research (grant number 01GL1712). The sponsor had no role in the study design; the collection, analysis, and interpretation of data; the writing of the report; or the decision to submit the article for publication. TH was supported by the Helmholtz International Graduate School for Cancer Research at the German Cancer Research Centre (DKFZ).

Competing interests: All authors have completed the ICMJE uniform disclosure form at www.icmje.org/coi_disclosure.pdf (available on request from the corresponding author) and declare: support from the German Research Council and the German Federal Ministry of Education and Research; no financial relationships with any organisations that might have an interest in the submitted work in the previous three years; no other relationships or activities that could appear to have influenced the submitted work.

Ethical approval: Not needed.

Data sharing: No additional data available.

Transparency: The corresponding author affirms that the manuscript is an honest, accurate, and transparent account of the study being reported; that no important aspects of the study have been omitted; and that any discrepancies from the study as planned (and, if relevant, registered) have been explained.
This is an Open Access article distributed in accordance with the Creative Commons Attribution Non Commercial (CC BY-NC 4.0) license, which permits others to distribute, remix, adapt, build upon this work non-commercially, and license their derivative works on different terms, provided the original work is properly cited and the use is non-commercial. See: http://creativecommons.org/licenses/by-nc/4.0/.
View Full Text