Research
Variation in post-colonoscopy colorectal cancer across colonoscopy providers in English National Health Service: population based cohort study
BMJ
2019
;
367
doi: https://doi.org/10.1136/bmj.l6090
(Published 13 November 2019)
Cite this as:

BMJ

2019;367:l6090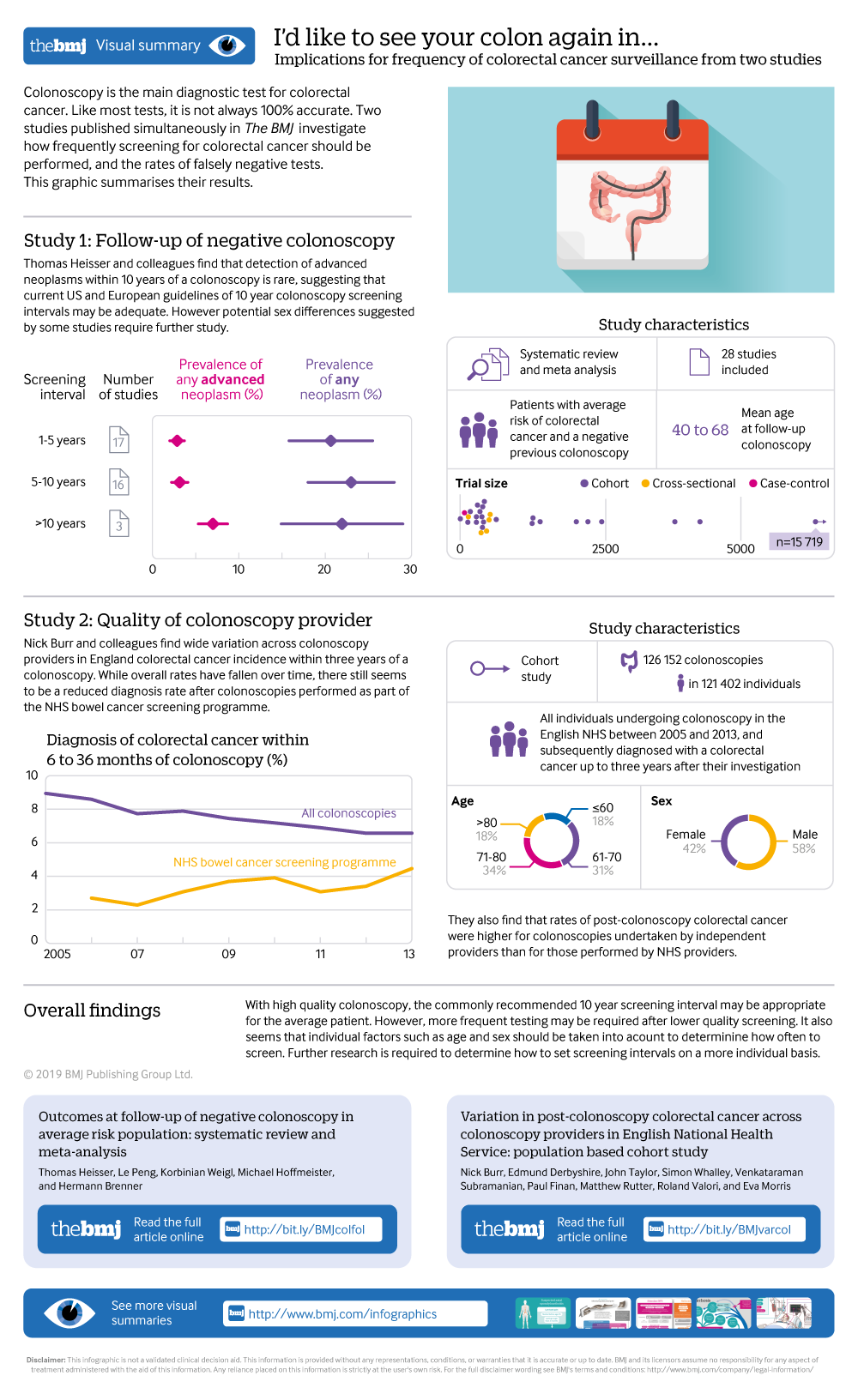 Visual summary available
Implications of two studies for frequency of repeat surveillance after negative colorectal cancer tests
Linked Research
Outcomes at follow-up of negative colonoscopy in average risk population
Linked Editorial
Unacceptable variation in screening colonoscopy
Linked Opinion
Access to healthcare data is only of benefit if it can improve disease outcomes
All rapid responses
Rapid responses are electronic comments to the editor. They enable our users to debate issues raised in articles published on bmj.com. A rapid response is first posted online. If you need the URL (web address) of an individual response, simply click on the response headline and copy the URL from the browser window. A proportion of responses will, after editing, be published online and in the print journal as letters, which are indexed in PubMed. Rapid responses are not indexed in PubMed and they are not journal articles. The BMJ reserves the right to remove responses which are being wilfully misrepresented as published articles.
Burr and co-authors are to be congratulated in their analysis of predisposing factors underlying 9,317 post-colonoscopy colorectal cancers (PCCRC) in England between 2005-2013. I am struck, however, at the apparently extraordinarily high rate of PCCRC among patients with inflammatory bowel disease (IBD). The bottom panel of Figure 1, which appears also in the print version of the paper, appears to suggest that over a third of patients with IBD undergoing colonoscopy will be found to have colorectal cancer within the following three years. I believe there may be some ascertainment flaws in this observation, in that only 2.1% of the whole study cohort had a label of IBD. This low figure compares with IBD patients representing 7.2% of those undergoing colonoscopy during the National Audit which took place during 2011 (1). I therefore question whether the denominator for the IBD cohort in the present study is far too low, giving an impression of a falsely high PCCRC rate.
I would also like to object to the title of the accompanying editorial "Unacceptable variation in screening colonoscopy". The terms "screening" and "surveillance" are sometimes confused in the medical literature, and even more so in the national press. Much of the content of the two articles focuses on surveillance colonoscopy (in those who have a history of IBD, adenomas or previous cancers), as distinct from examinations for those participating in the national bowel screening programmes. Burr et al demonstrate that the PCCRC rate is lowest following colonoscopies taking place within the bowel screening programmes.
1) Gavin DR, Valori RM, Anderson JT et al. The National Colonoscopy Audit: a nationwide assessment of the quality and safety of colonoscopy in the UK. Gut 2013; 62: 242-9.
2) McFerran E, O'Mahony JF, Goodall E et al. Unacceptable variation in screening colonoscopy. BMJ 2019; 367: l6384.
Competing interests: No competing interests
20 November 2019
Miles Allison
Consultant Gastroenterologist
Aneurin Bevan Local Health Board
Royal Gwent Hospital, Newport NP20 2UB
Burr et all suggested that quality improvement is needed to reduce variation in performance of colonoscopy, as measured by PCCRC (post colonoscopy colorectal cancer). This inter-hospital variation in colonoscopy quality has been known to UK gastroenterology since the sharing of this relevant new metric by Roland Valori during the 2014 BSG annual meeting. The importance of ensuring that colonoscopy does find bowel cancer consistently and to a high standard, was reinforced. Several approaches are now in place to address this metric and other measures of endoscopy effectiveness:-
1) The joint advisory group for GI endoscopy (JAG) has been ensuring quality assurance by accrediting endoscopy services in the UK and Ireland for nearly 15 years. Audit and analysis of PCCRC is now expected as part endoscopy services JAG assessment, at both annual reviews and during 5 yearly site visits.
2) In recent years and since the time period described in their study, JAG now accredits endoscopy services in the private sector holding them to the same quality standards.
3) The PCCRC data is also part of the Getting It Right First Time (GIRFT) data, presented to acute NHS trusts in England. This active NHS programme seeks to reduce variation in practice by benchmarking hospitals and encourages services to understand their PCCRC data within the context of their own unique case mix.
4) The BSG has a developed programme of Endoscopy Quality improvement (EQIP) for all modalities of endoscopy including colonoscopy.
5) The UK National Endoscopy Database (NED) now records key performance data uploaded from over 400 endoscopy services (NHS and private sectors) with over 2 million endoscopy procedures now recorded. Both individual and service analysis of this data should further provide real time feedback of quality.
All of the colonoscopies in Burr's paper had been completed by 2013 and the data show clear improvement in the average PCCRC rate from 2005 to 2013 and an encouraging reduction in variation in the later cohorts. It is our belief that this trend will have continued from 2013. Patients, undergoing colonoscopy in UK hospitals can be reassured that UK endoscopy is already deeply engaged in a process of quality assessment, continual improvement and reflective practice.
Competing interests: No competing interests
17 November 2019
Christopher J Healey
Chair of the Endoscopy Services Quality Assurance Group and Consultant Gastroenterologist
Siwan Thomas-Gibson, Consultant Gastroenterologist, St Mark's Hospital, Dean St Mark's Academic Institute Chair Joint Advisory Group on GI Endoscopy, Royal College of Physicians
Airedale Foundation NHS Trust and Joint Advisory Group on GI endoscopy, Royal College of Physicians
Skipton Road Keighley,
Competing interests: No competing interests
14 November 2019
Stavros Saripanidis
Consultant in Obstetrics and Gynaecology
Thessaloniki, Greece