Practice
Guidelines
Diagnosis and management of hypertension in pregnancy: summary of updated NICE guidance
BMJ
2019
;
366
doi: https://doi.org/10.1136/bmj.l5119
(Published 09 September 2019)
Cite this as:

BMJ

2019;366:l5119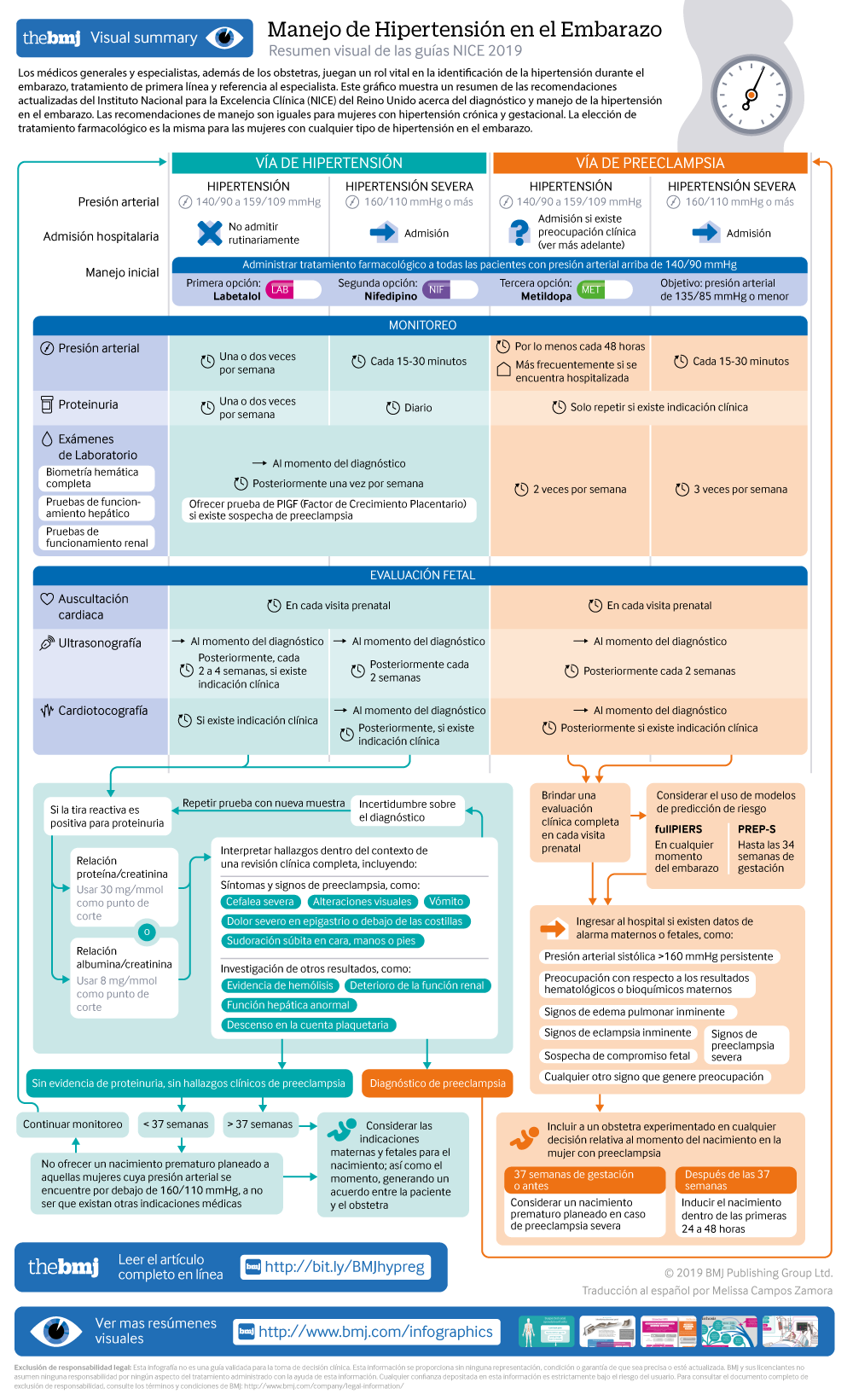 Visual summary: Resumen visual
Spanish version: Versión en español
Katie Webster

, senior systematic reviewer

1,

Sarah Fishburn

, chair of guideline committee

1,

Mike Maresh

, clinical adviser

1,

Sarah C Findlay

, lay member

,

Lucy C Chappell

, topic advisor and NIHR research professor in obstetrics

2
on behalf of the Guideline Committee
What you need to know
Hypertension affects about 10% of pregnant women, including those with pre-existing hypertension, chronic hypertension that is first diagnosed during pregnancy, and hypertension related to pregnancy (gestational hypertension and pre-eclampsia)

Target blood pressure during the antenatal period should be 135/85 mm Hg for women with hypertension during pregnancy

Hypertension during pregnancy is associated with an increased risk of hypertension and cardiovascular disorders in later life. Women should be offered appropriate lifestyle and dietary advice to minimise this risk
Hypertension in pregnancy is a common condition, affecting about 10% of pregnant women. This includes women with chronic hypertension—which may be diagnosed before pregnancy or in the early stages of pregnancy (<20 weeks' gestation)—and women with hypertension related to pregnancy (gestational hypertension and pre-eclampsia) (see box 1). If not identified and treated, hypertension can lead to adverse events for both the woman and her baby, including increased risk of maternal stroke, lower birth weight, and increased risk of the baby requiring neonatal intensive care.
Box 1
Definitions for hypertensive disorders of pregnancy
Chronic hypertension—Hypertension that is present at the booking visit or before 20 weeks' gestation, or if the woman is already taking antihypertensive medication when starting maternity care. It can be primary or secondary in aetiology

Gestational hypertension—New hypertension presenting after 20 weeks of pregnancy without significant proteinuria

Pre-eclampsia—New onset hypertension (>140 mm Hg systolic or >90 mm Hg diastolic) after 20 weeks of pregnancy and the coexistence of one or both of the following new-onset conditions:

Proteinuria (urine protein:creatinine ratio ≥30 mg/mmol, or albumin:creatinine ratio ≥8 mg/mmol, or ≥1 g/L [2+] on dipstick testing)

Other maternal organ dysfunction, including features such as renal or liver involvement, neurological or haematological complications, or uteroplacental dysfunction (such as fetal growth restriction, abnormal umbilical artery Doppler waveform analysis, or stillbirth)
RETURN TO TEXT
General practitioners and specialists other than obstetricians play a vital role in the identification of hypertension during pregnancy, first line management, and appropriate referral to specialist care. Women with pre-existing (chronic) hypertension may require pre-pregnancy counselling from their primary or secondary care team, modifications to their usual treatment, and referral to specialist care. Women are likely to have shared care between specialists and non-specialists throughout their pregnancy, meaning that GPs need to be aware of current blood pressure targets, suitable medication, and thresholds for urgent referral to specialist care. Furthermore, hypertensive disorders of pregnancy are known to predispose women to ongoing hypertension and associated cardiovascular morbidity in later life. The primary care team plays a crucial role in risk reduction and surveillance for these conditions. It is therefore vital that all healthcare professionals have an understanding of the optimal management of hypertension during pregnancy and the postpartum period.
This article summarises the updated recommendations from the National Institute for Health and Care Excellence (NICE) on the diagnosis and management of hypertension in pregnancy.1
What's new in this guidance?
Initiation of antihypertensive medication is now recommended for women with a blood pressure measurement of 140/90 mm Hg

Target blood pressure for those taking antihypertensive medication is now 135/85 mm Hg

Categories of hypertension have now been simplified to "hypertension" and "severe hypertension" (rather than mild, moderate, and severe)

24 hour urine collection is no longer recommended for routine quantification of proteinuria during pregnancy

Hospital admission is no longer recommended for every woman with pre-eclampsia—risk assessment should be carried out on an individual basis to determine place of care

Pharmacological therapy for hypertension in the postnatal period now reflects stepped treatment recommended for adults, adapted for women who are breastfeeding

Estimates for the likelihood of recurrent hypertensive disorders in future pregnancies and of long term cardiovascular disease are provided
Recommendations
NICE recommendations are based on systematic reviews of best available evidence and explicit consideration of cost effectiveness. When minimal evidence is available, recommendations are based on the guideline committee's experience and opinion of what constitutes good practice. Evidence levels for the recommendations are given in italic in square brackets.
Implementation
Future research
Further research is needed on the efficacy and safety of antihypertensive agents during pregnancy and the postnatal period—including the comparative efficacy of different antihypertensives to treat chronic hypertension, the neonatal effects of β blockers and mixed α and β blockers, and the efficacy of different antihypertensives in the postnatal period.

Two areas of antenatal care were prioritised for future research—to assess whether inpatient care is associated with better outcomes for women with pre-eclampsia, and to establish the optimal fetal monitoring strategy to identify infants that are small for gestational age.

Future research should concentrate on the efficacy of interventions to reduce the risk of recurrence of hypertension in future pregnancies, and the risk of long term cardiovascular complications.
Guidelines into practice
Do you refer women with chronic hypertension to a specialist in hypertensive disorders of pregnancy for pre-pregnancy advice?

Do you stop ACE inhibitors or angiotensin II receptor blockers within two days of notification of pregnancy?

Do you provide information for postnatal women after pregnancy hypertension on long term cardiovascular risk and interventions to reduce that risk?
How women with lived experience were involved in the creation of this article
Committee members involved in this guideline update included lay members who contributed to the formulation of the recommendations summarised here.
Further information on the guidance
The guideline update was developed using the methods described in Developing NICE guidelines: the manual, 2014 (https://www.nice.org.uk/media/default/about/what-we-do/our-programmes/developing-nice-guidelines-the-manual.pdf). Systematic literature searches were undertaken to identify all published clinical evidence and health economic evidence relevant to the review questions. The guideline committee comprised healthcare professionals and lay members, who considered the evidence identified and drafted recommendations on the basis of the evidence and the expertise and opinion of the committee. Draft recommendations were subject to stakeholder consultation and revision before publication of the final guideline.
Acknowledgments
The members of the guideline committee were (in alphabetical order) Philip Barclay, Sarah Beswick, Lucy Chappell, Alena Chong, Maria Clark, Sarah Findlay, Sarah Fishburn (chair), Christine Harding, Pramod Mainie, Maryam Parisaei, Lisa Smith, Mark Tighe, Ashifa Trivedi, and Pensee Wu.
The members of the National Guideline Alliance team were (in alphabetical order) Offiong Ani, Hilary Eadon, Louise Geneen, Eva Gonzalez-Viana, Matthew Prettyjohns, Tim Reeves, and Katie Webster.
Footnotes
Contributors: All authors contributed to the initial draft of this article, helped revise the manuscript, and approved the final version for publication.

Funding: The National Guideline Alliance was commissioned and funded by the National Institute for Health and Care Excellence to develop this guideline and write this BMJ summary.

Disclaimer: The guideline referred to in this article was produced by the National Guideline Alliance for the National Institute for Health and Care Excellence (NICE). The views expressed in this article are those of the authors and not necessarily those of NICE.

Competing interests: We declare the following interests based on NICE's policy on conflicts of interests (https://www.nice.org.uk/Media/Default/About/Who-we-are/Policies-and-procedures/declaration-of-interests-policy.pdf): SF has received funding from NICE, National Institute for Health Research, Royal College of Obstetricians and Gynaecology and Mott MacDonald. SCF has received funding from the BMJ. The authors' full statements can be viewed at https://www.nice.org.uk/guidance/ng133/documents/register-of-interests-2.
View Abstract