Research
Trends in incidence of total or type 2 diabetes: systematic review
BMJ
2019
;
366
doi: https://doi.org/10.1136/bmj.l5003
(Published 11 September 2019)
Cite this as:

BMJ

2019;366:l5003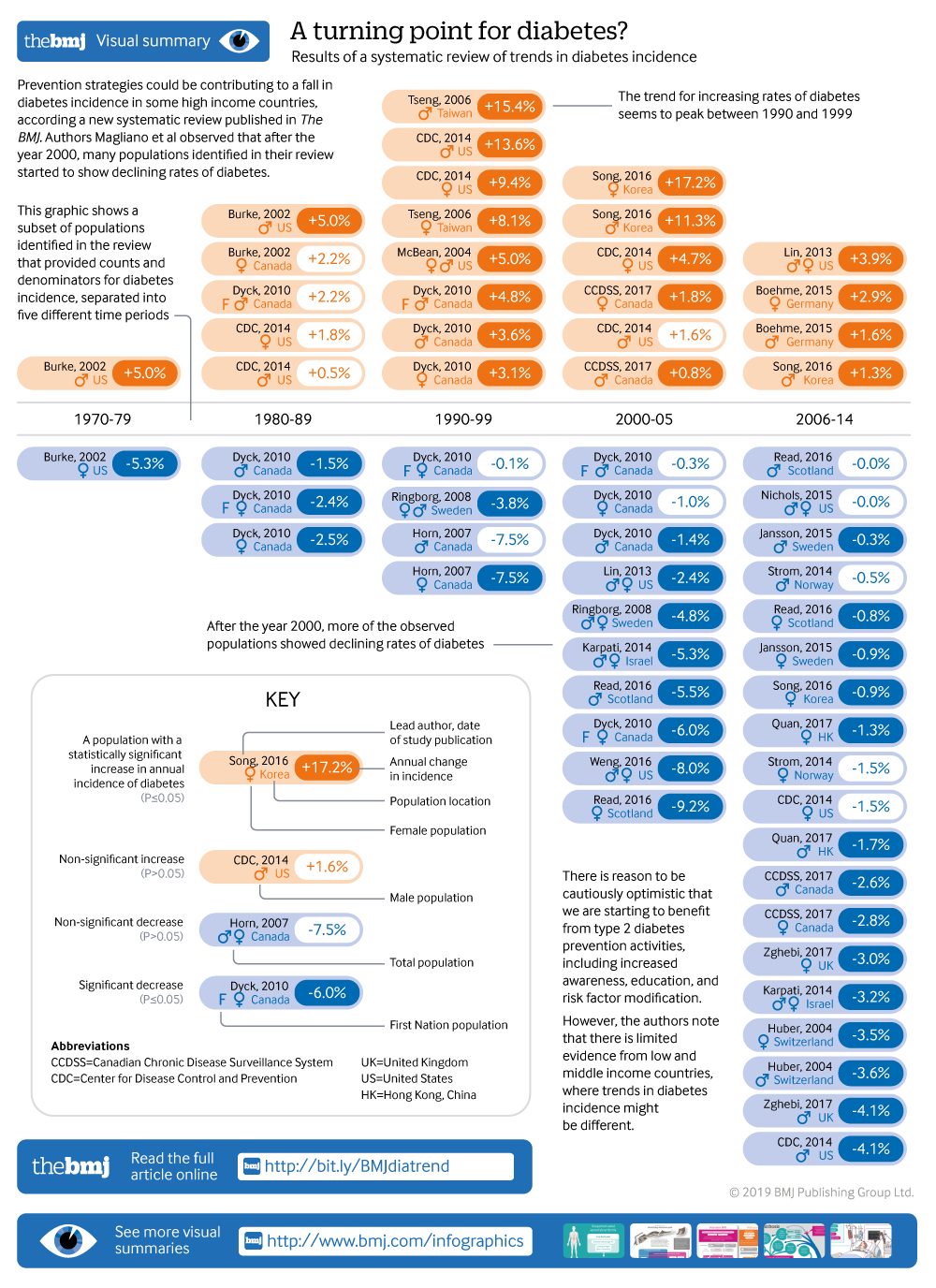 Visual summary available
Showing the turning point in diabetes incidence in 61 populations
Linked editorial
Trends in type 2 diabetes
All rapid responses
Rapid responses are electronic comments to the editor. They enable our users to debate issues raised in articles published on bmj.com. A rapid response is first posted online. If you need the URL (web address) of an individual response, simply click on the response headline and copy the URL from the browser window. A proportion of responses will, after editing, be published online and in the print journal as letters, which are indexed in PubMed. Rapid responses are not indexed in PubMed and they are not journal articles. The BMJ reserves the right to remove responses which are being wilfully misrepresented as published articles.
Diabetes incidence, if not yet prevalence and disease burden, appears to have decreased in developed countries. As possible reasons, Magliano and colleagues cite public health initiatives, increased public awareness, dietary changes and decreased prevalence of diabetes risk factors. However, there is little evidence that any of these has actually impacted on diabetes incidence. Adiposity is the major risk factor for diabetes, and this has at best plateaued in some countries while it continues to increase in others. 1 We need to understand why there is an apparent disparity between the incidence of diabetes and the prevalence of obesity.
Medical treatment of pre-diabetic states is one obvious factor. Incidence of diabetes in the US is now around 6 per 1000 adults per year. Metformin prevents the development of diabetes in those at risk. Between 2000 and 2015, off-label prescribing of metformin in the US increased more than 25-fold to 20 per 1000 adults. 2 Additionally, widespread use of GLP-1 agonists, particularly liraglutide, for weight loss may have impacted on diabetes incidence. SGLT2 inhibitors are also widely used off-label for weight loss. Around 250,000 bariatric operations (equivalent to one per 1000 adults) are performed in the US each year, and again this may also have significantly decreased diabetes incidence.
Epidemiological studies on obesity have, so far, focussed on body weight and body mass index (BMI). However, the distribution of body fat is also important, and may be changing in the population. Accumulation of gluteofemoral subcutaneous fat protects against diabetes and cardiovascular disease. 3 Lipoedema is an exaggerated form of this type of fat accumulation and develops under the influence of oestrogen. It was considered rare when first described in 1940 but now affects around 11% of women. 4 Lipoedema patients are characteristically insulin sensitive and thus relatively protected from diabetes. Men are becoming less androgenised and more oestrogenised. This has led, for example, to decreased sperm counts and quality in recent years and also affects body fat distribution. These hormone-driven changes are producing obese phenotypes that are either not predisposed to diabetes, 5 or are predisposed to diabetes in spite of not being insulin resistant. 6 The most obese countries in the world are the island nations of Oceania. South Sea Islanders characteristically have high prevalence of obesity with marked accumulation of subcutaneous fat, but traditionally had low prevalence of diabetes until more generalised obesity became common in recent years.
Up to 40% of the population is pre-diabetic. Pharmacologic and surgical treatment of such individuals clearly decreases risk of diabetes and must be having an effect at the population level. Body composition and body fat distribution are important determinants of diabetes and cardiovascular risk and should now be routinely evaluated in clinical practice.
References
1. Chooi YC, Ding C, Magkos F. The epidemiology of obesity. Metab Clin Exp 2019:92;6-10.
2. Le S, Lee GC. Emerging trends in metformin prescribing in the United States from 2000 to 2015. Clin Drug Invest 2019:39:757-63
3. Piche ME, Poirier P, Lemieux I, Despres JP. Overview of epidemiology and contribution of obesity and body fat distribution to cardiovascular disease: An update. Prog Cardiovasc Dis 2018:61103-13
4. Shavit E, Wollina U, Alavi A. Lipoedema is not lymphoedema: A review of current literature. Int Wound J 2018:1-8. doi.org/10.1111/1wj.12949
5. Zhang TZ, Li Y, Zhang H, et al. Insulin-sensitive adiposity is associated with a relatively lower risk of diabetes than insulin-resistant adiposity: the Bogalusa heart study. Endocrine 2016:54;93-100.
6. Owei I, Umekwe N, Provo C, Wan J, Dagogo-Jack S. Insulin-sensitive and insulin-resistant obese and non-obese phenotypes: role in prediction of incident pre-diabetes in a longitudinal biracial cohort. BMJ Open doi:10.1136/bmjdrc-2017-000415
Competing interests: No competing interests
13 September 2019
R Lee Kennedy
Physician and Endocrinologist
Gordian Health
10 Glengarry Drive, Torquay VIC 3228, Australia
Magliano et al. highlighted a rise in diabetes incidence only in a fraction of the population and even a fall in some of the population. [1] Considering the efforts being deployed on the prevention and control of diabetes, this finding is encouraging.
As per the International Diabetes Federation (IDF), the estimated number of cases of diabetes in India in the age group of 20-70 years was 73 million in 2017. [2] In India, among the risk factors implicated in Disability Adjusted Life Years (DALY), high fasting plasma glucose is the fifth most common one, contributing 6.6% of DALY. [3]
The Government is implementing the National Programme for Prevention and Control of Cancer, Diabetes, Cardiovascular Diseases and Stroke (NPCDCS) with a focus on awareness generation, early diagnosis, treatment and follow up. Population Based Screening has been started for people above 30 years of age for diabetes and other NCDs. The suspected patients are referred to health centre and followed up if diagnosed with diabetes. This intervention is expected to yield early diagnosis of diabetes and prevent future complications. [4] Better management of diabetes may be ensured, once HbA1c is made available and accessible across the country. [5]
References
1. Magliano Dianna J, Islam Rakibul M, Barr Elizabeth L M, Gregg Edward W, Pavkov Meda E, Harding Jessica L et al. Trends in incidence of total or type 2 diabetes: systematic review. BMJ 2019; 366 :l5003.
2. International Diabetes Federation. India. (Available at https://idf.org/our-network/regions-members/south-east-asia/members/94-i..., last accessed on 30th July, 2019)
3. Indian Council of Medical Research, Public Health Foundation of India, and Institute for Health Metrics and Evaluation. India: Health of the Nation's States - The India State-level Disease Burden Initiative. New Delhi, India: ICMR, PHFI, and IHME. 2017.
4. Press Information Bureau. Government of India. Ministry of Health and Family Welfare. Non-Communicable Diseases (NCDs) in India. (Available at http://pib.gov.in/PressReleseDetailm.aspx?PRID=1576626, last accessed on 30th July, 2019)
5. Unnikrishnan R, Mohan V. Challenges in estimation of glycated hemoglobin in India. Diabetes Technol Ther. 2013;15(10):897–899.
Competing interests: No competing interests