Practice
Practice Pointer
Periocular rash
BMJ
2018
;
363
doi: https://doi.org/10.1136/bmj.k5098
(Published 21 December 2018)
Cite this as:

BMJ

2018;363:k5098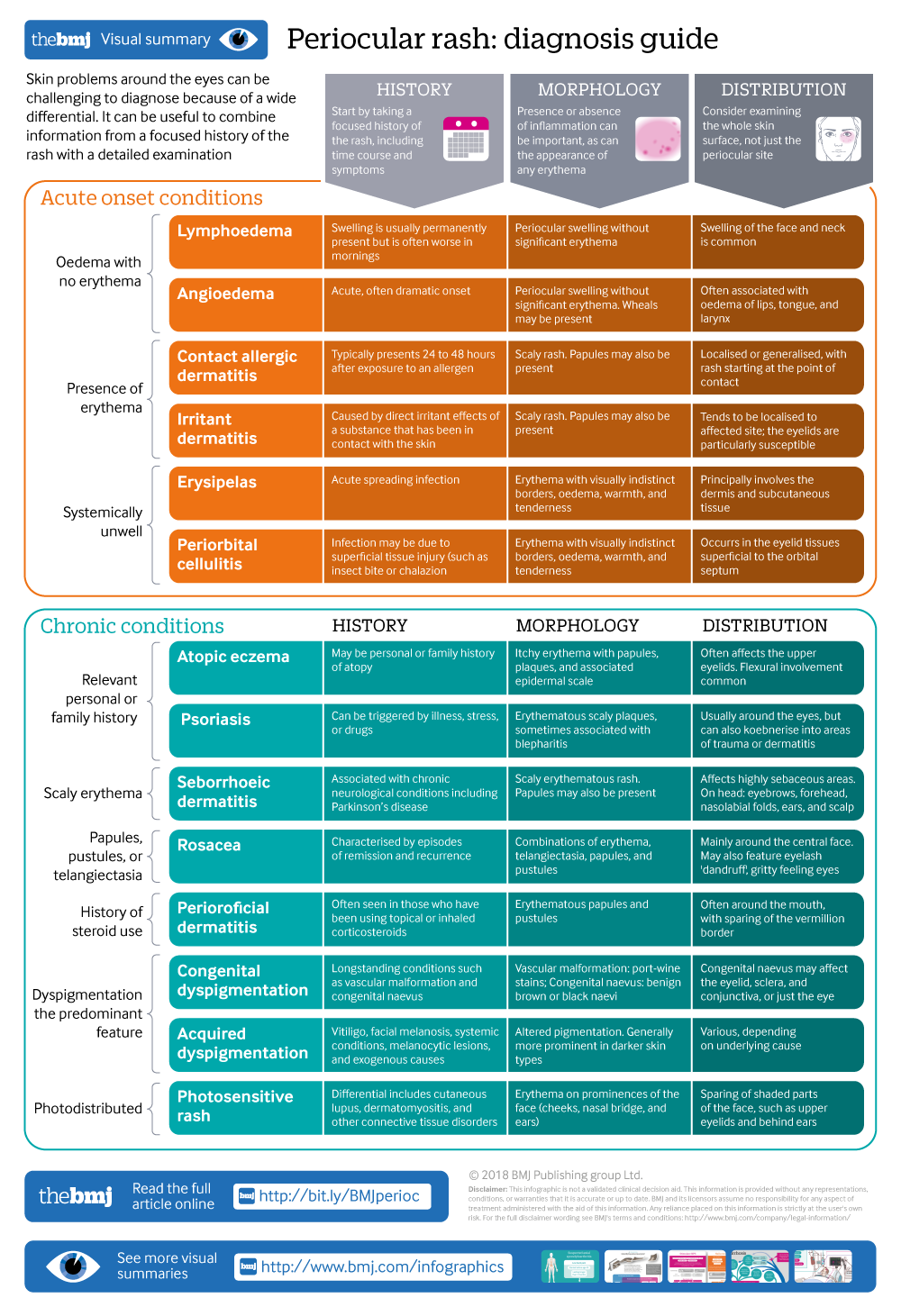 Infographic available
Periocular rash
Christina George

, dermatology registrar

1

,

Sarah Walsh

, consultant dermatologist

2
1Royal London Hospital, London, UK
2King's College Hospital, London, UK
Correspondence to: C George cgeorge2@nhs.net
What you need to know
Take a focused history of the rash and consider examining the whole skin surface, not just the periocular site, to narrow down the differential diagnosis

Expect improvement in a periocular rash around 7-10 days into a trial of treatment (aside for suspected rosacea)

If the rash does not improve, check how much and how frequently treatments have been used so far, and review the diagnosis

For topical treatment, creams may be more cosmetically acceptable to patients than ointments, but ointments penetrate the skin more effectively

Consider referral for those who have not responded to treatment, where there is diagnostic uncertainty, the person is systemically unwell, or for patch testing
Skin problems around the eyes can be challenging to diagnose because the differential is wide. They can also be difficult to manage because the periorbital skin is sensitive, and there are a multitude of treatment options, with little specific guidance on their use. This practice pointer outlines the common causes of a periocular rash in an adult, and offers an approach to help diagnosis and management.
How to approach the periocular rash
Start by taking a focused history of the rash, including the time course and symptoms. A diagnostic approach and key clinical features of each diagnosis are summarised in the infographic. Consider examining the whole skin surface, not just the periocular site—often the distribution of the rash on the face and other body sites is key to making an accurate diagnosis.1 Box 1 provides further pointers to consider when examining the patient. Factors in the history and examination can help differentiate which type of pathology is the predominant problem. For example, inflammation (endogenous such as atopic eczema, or exogenous such as irritant dermatitis), oedema, dyspigmentation, and systemic diseases can all cause periocular rashes.
Box 1
Clinical examination of periocular rash—key features
Morphology
Scaly rash—Consider eczematous conditions such as atopic eczema, contact allergic dermatitis, …
RETURN TO TEXT
View Full Text
Log in
Log in using your username and password
Log in through your institution
Subscribe from £138 *
Subscribe and get access to all BMJ articles, and much more.
* For online subscription
Access this article for 1 day for:
£30 / $37 / €33 (plus VAT)
You can download a PDF version for your personal record.