Practice
Practice Pointer
Acute upper gastrointestinal bleeding
BMJ
2018
;
363
doi: https://doi.org/10.1136/bmj.k4023
(Published 25 October 2018)
Cite this as:

BMJ

2018;363:k4023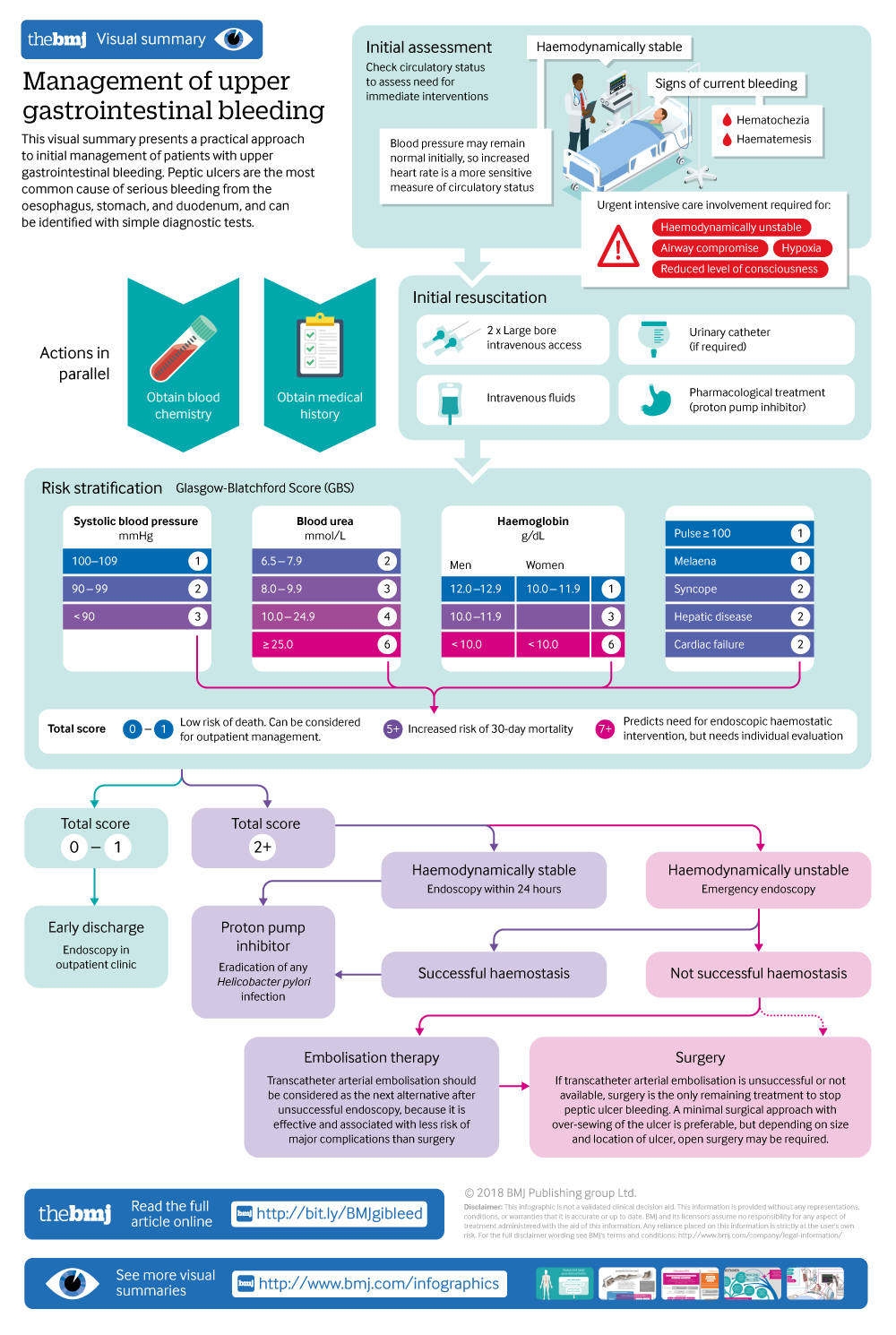 Infographic available
This visual summary presents a practical approach to initial management of patients with upper gastrointestinal bleeding
Emma Sverdén

, upper gastrointestinal surgeon

1

2

,

Sheraz R Markar

, upper gastrointestinal surgeon

, lecturer

1

3

,

Lars Agreus

, general practitioner

, professor

4

5

,

Jesper Lagergren

, upper gastrointestinal surgeon, professor

1

6
1Upper Gastrointestinal Surgery, Department of Molecular Medicine and Surgery, Karolinska Institutet, Karolinska University Hospital, Stockholm, Sweden
2Department of Upper Gastrointestinal Surgery, South Hospital, Stockholm, Sweden
3Department of Surgery and Cancer, Imperial College, London, UK
4Division of Family Medicine and Primary Care, Department of Neurobiology, Care Sciences, and Society, Karolinska Institutet, Karolinska University Hospital, Stockholm, Sweden
5University of Newcastle, Australia
6School of Cancer and Pharmaceutical Sciences, King's College London, and Guy's and St Thomas' NHS Foundation Trust, UK
Correspondence to E Sverden

emma.s.eklund{at}gmail.com
What you need to know
Acute upper gastrointestinal bleeding is a medical emergency, and appropriate initial resuscitation is crucial

A normal haemoglobin value and blood pressure at presentation does not rule out substantial bleeding—increased heart rate is a more reliable measure of substantial blood loss

The Glasgow-Blatchford score can help identify patients for whom outpatient care is suitable

Aim for a haemoglobin level of 70-90 g/L for those without cardiac problems
Bleeding from the upper gastrointestinal tract (oesophagus, stomach, and duodenum) occurs in approximately 100 per 100 000 people annually.12 It is a medical emergency associated with substantial mortality. A UK audit in 2007 found an overall mortality of 10%.3 This practice pointer provides a guide to the initial management of upper gastrointestinal bleeding and subsequent management of bleeding that results from peptic ulceration, the most common cause (box 1).6
Box 1
Causes of upper gastrointestinal bleeding
4
5
Peptic ulcer (31%-67%)

Gastritis or duodenitis (7%-31%)

Variceal bleeding (4%-20%)

Erosive oesophagitis (3%-12%)

Mallory-Weiss tear (4%-8%)

Tumours (2%-8%)

Aorto-enteric fistulas, arteriovenous malformations, or Dieulafoy's lesions (2%-8%)
RETURN TO TEXT
How might you manage patients initially?
Assessment and resuscitation
Patients may present with melaena, vomiting fresh blood, or with "coffee ground" vomiting (vomit can take on the appearance of coffee grounds when blood reacts with hydrochloric acid in the stomach). Abdominal pain may also be present. Fresh per rectal bleeding (haematochezia) can occur in major brisk bleeding.7
Assess the patient's haemodynamic status. Look for visible signs of bleeding. Begin resuscitation in parallel with further clinical assessment. An approach to the initial management of patients with upper gastrointestinal bleeding is shown in the infographic. Early assessment by the intensive care team is recommended in the unstable patient, or where there is airway compromise (such as from haematemesis) or reduced level of consciousness.2 Obtain a medical history alongside a physical examination. Monitor physiological observations including heart rate, blood pressure, respiratory rate, oxygen saturation, and …
View Full Text
Log in
Log in using your username and password
Log in through your institution
Subscribe from £138 *
Subscribe and get access to all BMJ articles, and much more.
* For online subscription
Access this article for 1 day for:
£30 / $37 / €33 (plus VAT)
You can download a PDF version for your personal record.