Practice
Practice Pointer
Acute upper gastrointestinal bleeding
BMJ
2018
;
363
doi: https://doi.org/10.1136/bmj.k4023
(Published 25 October 2018)
Cite this as:

BMJ

2018;363:k4023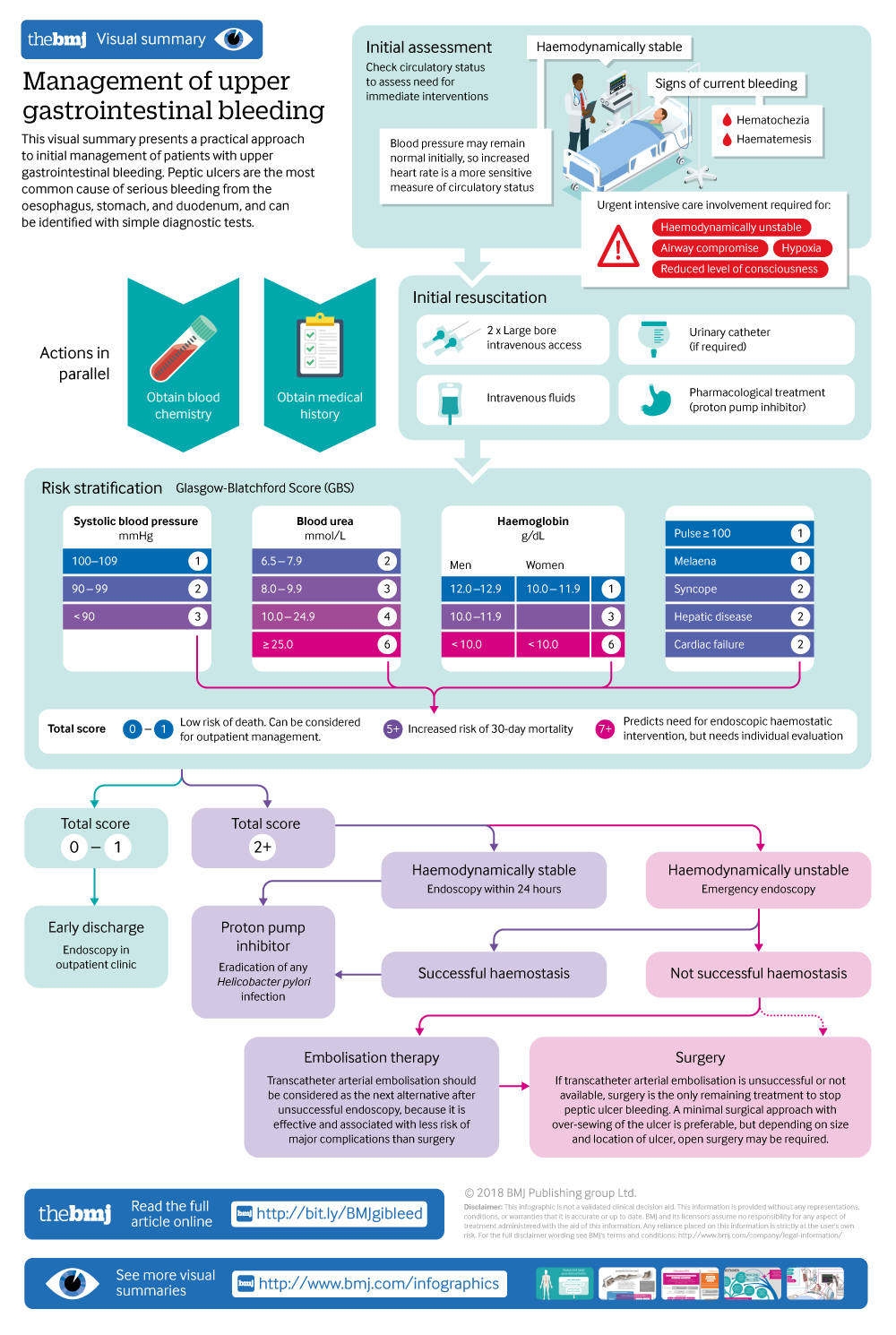 Infographic available
This visual summary presents a practical approach to initial management of patients with upper gastrointestinal bleeding
All rapid responses
Rapid responses are electronic comments to the editor. They enable our users to debate issues raised in articles published on bmj.com. A rapid response is first posted online. If you need the URL (web address) of an individual response, simply click on the response headline and copy the URL from the browser window. A proportion of responses will, after editing, be published online and in the print journal as letters, which are indexed in PubMed. Rapid responses are not indexed in PubMed and they are not journal articles. The BMJ reserves the right to remove responses which are being wilfully misrepresented as published articles.
Sverden and colleagues have provided a useful overview for the generalist of acute upper gastrointestinal bleeding (1). A paper of this nature is by its nature going to be rather didactic, but several issues particularly related to use of the proton pump inhibitor (PPI) deserve further discussion. Whilst the authors partially acknowledge the uncertain benefit of pre-endoscopy PPI, the management flow-diagram advocates pre-endoscopy PPI as suggested in the ESGE guidelines (2). However, given the lack of any benefit of any clinically meaningful end point, the United Kingdom's NICE guidelines definitely recommend against pre-endoscopy PPI (3).
It is gratifying that the authors are rather circumspect about post-endoscopy PPI and not routinely advocating high-dose intravenous therapy for all after endoscopic therapy. Despite several meta-analsyses the optimal route and dose of acid-suppression in this context remain unclear in the GI bleeding population as a whole (4, 5). Recent data have clarified this somewhat and allow a more individualized approach to treatment. The rebleeding rate after endoscopic therapy of oozing peptic ulcers (Forrest 1b) is actually much lower than originally believed, and much lower than ulcers that are spurting, have a visible vessel or even an adherent clot, probably because these Forrest 1b lesions are much less likely to have significant arterial inflow as detected with an endoscopic Doppler probe (6). High dose intravenous esomeprazole did not reduce the, already low, post-treatment rebleeding rate in oozing ulcers compared to definite efficacy in other higher-risk lesions (7). Thus in this group standard oral PPI would be appropriate.
However, high-dose esomeprazole (40 mg twice daily) for 11 days after the initial intravenous PPI did significantly reduce rebleeding (from 28.7 to 10.7%) in patients with a Rockall score of 6 or more (8). Hence, it is possible to stratify PPI use after acute peptic ulcer bleeding by objective criteria.
Finally, the authors have pointed out the increasing importance of the non-H pylori non-NSAID bleeding ulcer group. This group does indeed have a very high risk of rebleeding as highlighted by Sverden et al but perhaps even more striking is the overall mortality associated with this condition (87% at 7 years)(9) (although rebleeding is not usually the cause of death, these types of ulcers are probably markers of systemic vascular pathology). The authors do advocate PPI treatment for this group. However, PPI treatment was not associated with a reduction in rebleeding (10). More effective gastroprotection strategies in the group are needed, perhaps we should consider misoprostol? (11).
References
1. Sverden E, Markar SR, Agreus L, Lagergren J. Acute upper gastrointestinal bleeding. BMJ (Clinical research ed). 2018;363:k4023.
2. Gralnek IM, Dumonceau JM, Kuipers EJ, Lanas A, Sanders DS, Kurien M, et al. Diagnosis and management of nonvariceal upper gastrointestinal hemorrhage: European Society of Gastrointestinal Endoscopy (ESGE) Guideline. Endoscopy. 2015;47(10):a1-46.
3. National Institute for Health and Care Excellence. Acute upper gastrointestinal bleeding in over 16s: management. Clinical guideline [CG141]. 2016.
4. Neumann I, Letelier LM, Rada G, Claro JC, Martin J, Howden CW, et al. Comparison of different regimens of proton pump inhibitors for acute peptic ulcer bleeding. The Cochrane database of systematic reviews. 2013(6):Cd007999.
5. Tsoi KK, Hirai HW, Sung JJ. Meta-analysis: comparison of oral vs. intravenous proton pump inhibitors in patients with peptic ulcer bleeding. Alimentary pharmacology & therapeutics. 2013;38(7):721-8.
6. Jensen DM, Kovacs TOG, Ohning GV, Ghassemi K, Machicado GA, Dulai GS, et al. Doppler Endoscopic Probe Monitoring of Blood Flow Improves Risk Stratification and Outcomes of Patients With Severe Nonvariceal Upper Gastrointestinal Hemorrhage. Gastroenterology. 2017;152(6):1310-8.e1.
7. Jensen DM, Eklund S, Persson T, Ahlbom H, Stuart R, Barkun AN, et al. Reassessment of Rebleeding Risk of Forrest IB (Oozing) Peptic Ulcer Bleeding in a Large International Randomized Trial. The American journal of gastroenterology. 2017;112(3):441-6.
8. Cheng HC, Wu CT, Chang WL, Cheng WC, Chen WY, Sheu BS. Double oral esomeprazole after a 3-day intravenous esomeprazole infusion reduces recurrent peptic ulcer bleeding in high-risk patients: a randomised controlled study. Gut. 2014;63(12):1864-72.
9. Wong GL, Wong VW, Chan Y, Ching JY, Au K, Hui AJ, et al. High incidence of mortality and recurrent bleeding in patients with Helicobacter pylori-negative idiopathic bleeding ulcers. Gastroenterology. 2009;137(2):525-31.
10. Wong GL, Au KW, Lo AO, Tse YK, Ching JY, To KF, et al. Gastroprotective therapy does not improve outcomes of patients with Helicobacter pylori-negative idiopathic bleeding ulcers. Clinical gastroenterology and hepatology : the official clinical practice journal of the American Gastroenterological Association. 2012;10(10):1124-9.
11. Beales ILP. Misoprostol for Aspirin-Induced Small Bowel Enteropathy: A Small Step in the Right Direction. Gastroenterology. 2018;155(4):965-7.
Competing interests: No competing interests
08 November 2018
Ian L. P. Beales
Consultant Gastroenterologist
Norfolk and Norwich University Hospital
Norwich
Reference 4 in this article related to a 2007 article in Gut where there is a reference to tranexamic acid in a 1982 article in The New England Journal of Medicine.
Whilst GPs do not manage acute bleeding, we do use tranexamic acid in a number of circumstances and my understanding was that earlier teaching about increased clotting risks has been disproved.
Can we have clear response as to its safety overall, including in GI bleeds?
Competing interests: No competing interests
In this otherwise excellent review, the authors state that "[t]ranexamic acid increases the risk of cardiovascular and thromboembolic events". This claim is not individually referenced.
While tranexamic acid (TXA) is an inhibitor of fibrinolysis and therefore might increase the risk of vascular safety endpoints, this risk seems small. For instance, in a recent study of TXA in the prevention of postpartum haemorrhage,(1) there was no difference in thrombosis incidence despite the postpartum period being a time of increased thrombosis risk. In acute traumatic injury, the risk of vascular occlusive events has not found been to be increased (moderate quality evidence).(2) The most recent Cochrane meta-analysis of TXA in upper gastrointestinal bleeding from 2014 found no increase in thromboembolic events.(3) This might suggest that in a haemodynamically unstable patient with an upper gastrointestinal haemorrhage, the use of TXA might not be inappropriate.
The HALT-IT trial ( ISRCTN 11225767) is currently recruiting patients and hopefully this study will conclusively settle the matter of the safety of TXA in acute upper gastrointestinal haemorrhage.(4)
(1) Sentilhes L, Winer N, Azaria E et al. Tranexamic Acid for the Prevention of Blood Loss after Vaginal Delivery. N Engl J Med 2018 Aug 23;379(8):731-742. DOI 10.1056/NEJMoa1800942.
(2) Ker K, Roberts I, Shakur H, Coats TJ. Antifibrinolytic drugs for acute traumatic injury. Cochrane Database Syst Rev 2015 May 9;(5):CD004896. DOI 10.1002/14651858.CD004896.pub4.
(3) Bennett C, Klingenberg SL, Langholz E, Gluud LL. Tranexamic acid for upper gastrointestinal bleeding. Cochrane Database Syst Rev 2014 Nov 21;(11):CD006640. DOI 10.1002/14651858.CD006640.pub3.
(4) Roberts I, Coats T, Edwards P, Gilmore I, Jairath V, Ker K, Manno D1, Shakur H, Stanworth S, Veitch A. HALT-IT--tranexamic acid for the treatment of gastrointestinal bleeding: study protocol for a randomised controlled trial. Trials 2014 Nov 19;15:450. DOI 10.1186/1745-6215-15-450.
Competing interests: No competing interests
28 October 2018
Jacob F. de Wolff
Consultant acute physician
London North West University Healthcare NHS Trust
Northwick Park Hospital, Watford Road, Harrow, Middx HA1 3UJ