Research
Changes in midlife death rates across racial and ethnic groups in the United States: systematic analysis of vital statistics
BMJ
2018
;
362
doi: https://doi.org/10.1136/bmj.k3096
(Published 15 August 2018)
Cite this as:

BMJ

2018;362:k3096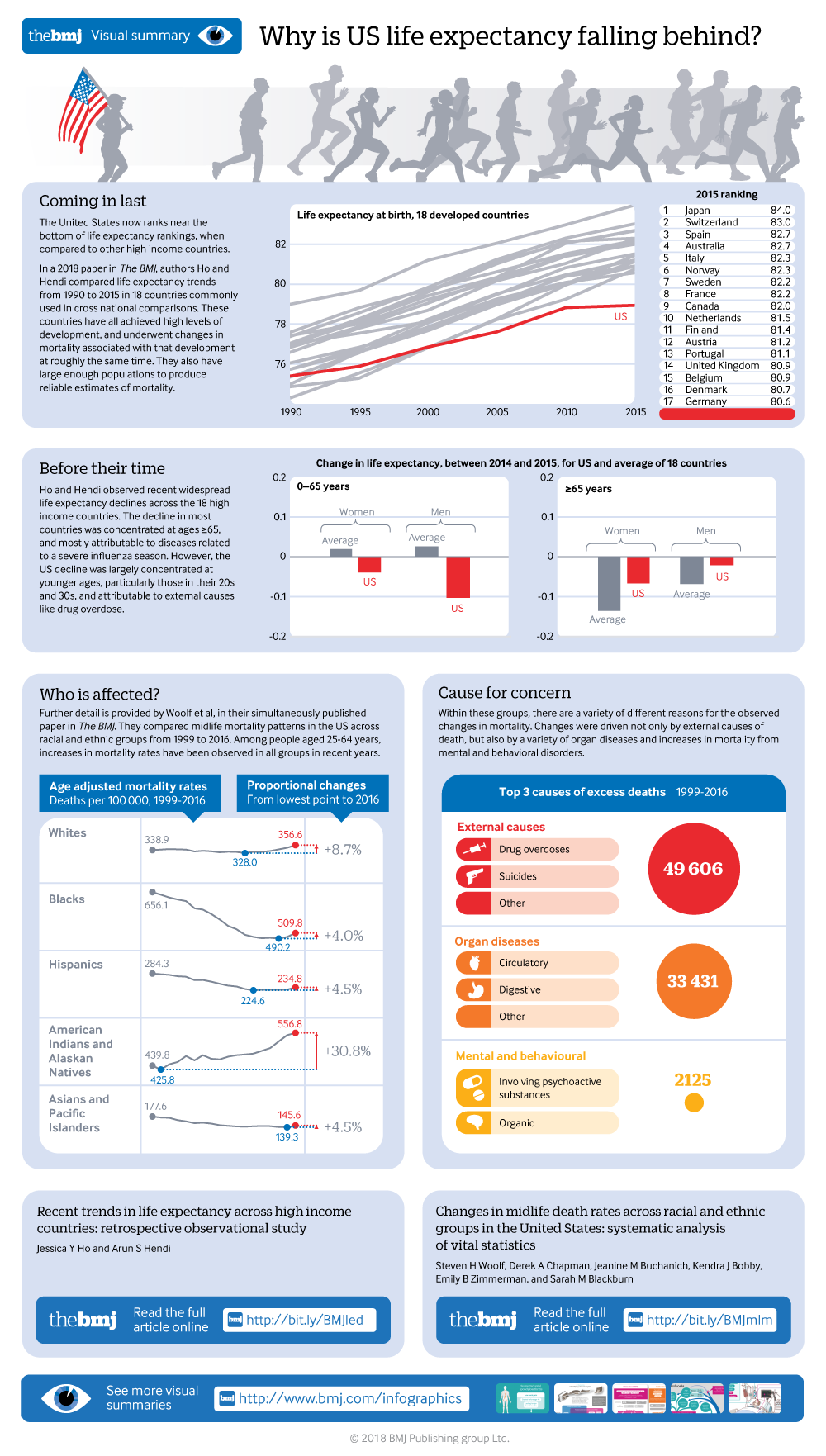 Visual summary available
Showing how US life expectancy is lagging behind other rich countries, which citizens are affected, and the causes of death that have risen most sharply in recent years.
All rapid responses
Rapid responses are electronic comments to the editor. They enable our users to debate issues raised in articles published on bmj.com. A rapid response is first posted online. If you need the URL (web address) of an individual response, simply click on the response headline and copy the URL from the browser window. A proportion of responses will, after editing, be published online and in the print journal as letters, which are indexed in PubMed. Rapid responses are not indexed in PubMed and they are not journal articles. The BMJ reserves the right to remove responses which are being wilfully misrepresented as published articles.
I am in the process of looking at mortality trends in three age categories, by state for Blacks and Whites and Hispanics where the population is large enough. I am looking at the trends in mortality for three different age groups, 0-19, 20-64, and 65-84. First, I use year as the independent variable in regression analysis predicting the crude death rate. I have found a serious problem in the adjusted rate data. Second, I look at the pattern shown in scatter plots to check for nonlinear relationships. For the several states I have examined so far a fairly consistent pattern has emerged, an increasing death rate for the middle age group has emerged at different times for different states. The elderly have quite consistently experienced a strong and fairly steady decline in their death rate while the young have experienced a weaker and less consistent decline in their mortality. In addition, the pattern is stronger and more consistent among whites than blacks. Here are some correlations between year and death rates for the three age and race groups for three states:
Total Alabama: Age 0-19: r= -0.359, Age 20-64: r=0.189, Age 65-84: r= -0.428
White Alabama: Age 0-19: r= -0.881, Age 20-64: r= 0.986, Age 65-84: r= -0.983
Black Alabama: Age 0-19: r= -0.504, Age 20-64: r = -0,457, Age 65-84: r= -0.983 (These -.983 have different 4th and 5th digits.
The major thing to notice here is that the strong positive relationship between year and death rate only exists among whites aged 20-64.
Total Texas Age 0-19: r= -0.324. Age 20-64: r= 0.190, Age 65-84: r= -0.554
Female Texas Age 0-19: r= -0.694, Age 20-64: r= 0.951, Age 65-84: r= -0.983
Male Texas: Age = 0-19: r= -0.723, Age 20-64: r= 0.808, Age 65-84: r= -0.976
I promised three states, but I am getting tired so for this message, two will have to do.
Competing interests: No competing interests
03 October 2018
James H Gundlach
Professor Emeritus
None
Department of Sociology, Anthropology, and Social Work, Auburn University, Auburn, Alabama
11101 US Highway 80 West, Shorter Alabama
When will get past the irrational ethnic categorizations that are based on political and not scientific considerations? Do we really need a breakdown by non-Hispanic blacks and Pacific Islanders? Is it critical to divide whites into Hispanics and non Hispanics? These divisions defy logic and common sense and makes important articles like this one difficult to read.
Competing interests: No competing interests
24 August 2018
Steven Narod
clinician scientist
University of Toronto
76 Grenville , Toronto Ontario