Research
Comparison of prostatic artery embolisation (PAE) versus transurethral resection of the prostate (TURP) for benign prostatic hyperplasia: randomised, open label, non-inferiority trial
BMJ
2018
;
361
doi: https://doi.org/10.1136/bmj.k2338
(Published 19 June 2018)
Cite this as:

BMJ

2018;361:k2338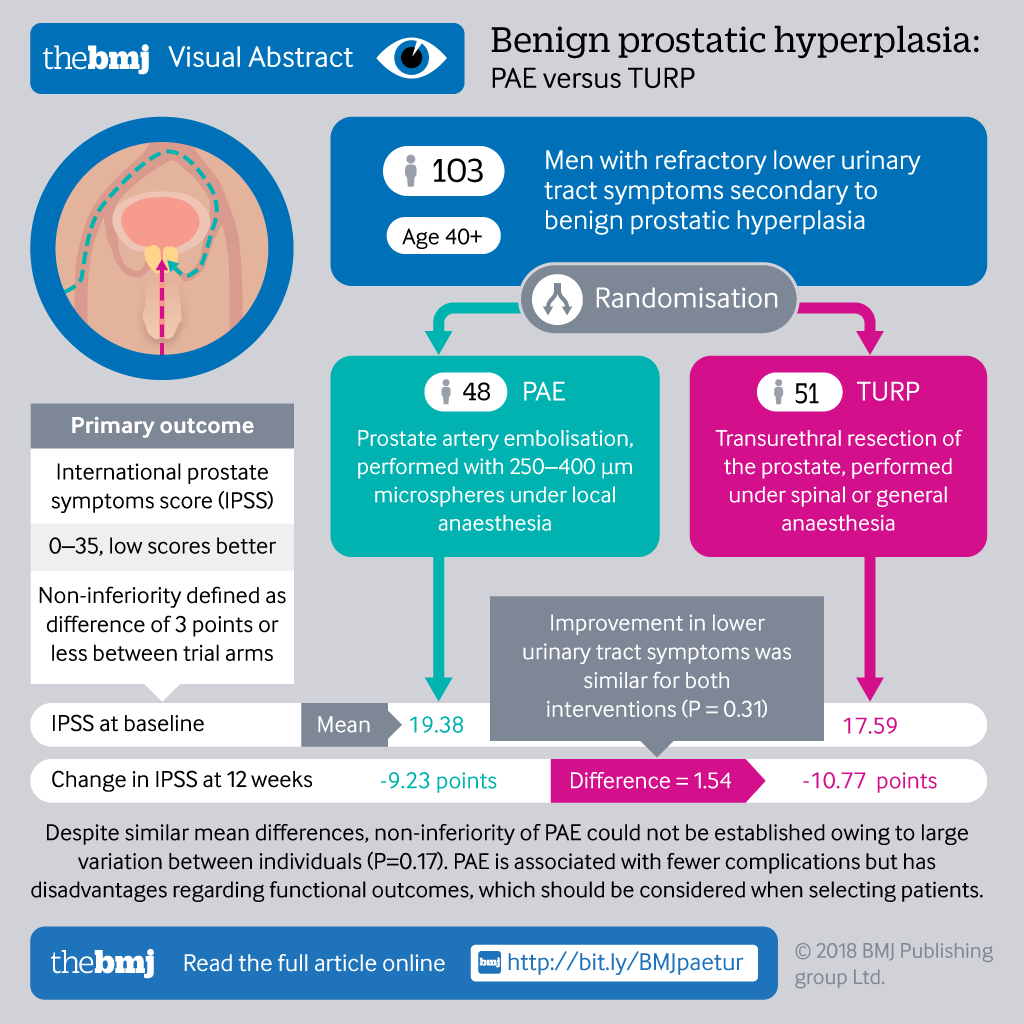 Linked editorial
Prostate artery embolisation for benign prostatic hyperplasia
Linked opinion
Prostatic artery embolisation: time to improve collaboration
All rapid responses
Rapid responses are electronic comments to the editor. They enable our users to debate issues raised in articles published on bmj.com. A rapid response is first posted online. If you need the URL (web address) of an individual response, simply click on the response headline and copy the URL from the browser window. A proportion of responses will, after editing, be published online and in the print journal as letters, which are indexed in PubMed. Rapid responses are not indexed in PubMed and they are not journal articles. The BMJ reserves the right to remove responses which are being wilfully misrepresented as published articles.
This article (1) is a valuable contribution to our knowledge of the value of PAE (prostatic artery embolization) in the treatment of patients with BPH-LUTs. The paper's special value lies in the fact that it reports on the results of a RCT, thus providing a high level of evidence.
The trial results show that, at the very short follow up period of 12 weeks, PAE reduces LUTs, as measured by IPSS, but to a lesser degree than TURP, and with unproven non-inferiority. Furthermore, one has to take into consideration that, by comparison, an observation period of 12 weeks is likely to disadvantages TURP far more than PAE. The ROPE study had shown that the improvement in the IPSS is at its best at 3 month for PAE. On the other hand, for TURP patients the improvement in symptoms continues up till the end of observation period of 12 months (2).
From the functional point of view the superiority of TURP is beyond any doubt in terms of improving Qmax, PVR and Pdet at Qmax.
Since the trial did not control for any of the relevant outcomes, one can simply compare the % change in baseline measurements. The results show that the % reduction in IPSS, at 12 weeks, is approximately 48% for PAE Vs. 61% for TURP. It is worthwhile remembering that α1-blockers reduce IPSS by approximately 30-40% (3). The improvement in the Qmax is approximately 74% Vs. 211%, the reduction of PVR is 58% Vs. 85%, and the reduction of Pdet at Q max is 21% Vs 54% for PAE Vs TURP, respectively.
When compared to the current standard surgical treatment, namely TURP, the major attraction of PAE, at least in the public's eyes, is its depiction as a minimally invasive procedure with less adverse events (AEs). Preservation of ejaculatory function is particularly promoted (4) .
A look beyond the headlines is required to examine this image.
In relation to adverse events the emphasis in the paper, particularly in the abstract, is on the total number of AEs rather than its significance. The really significant AEs of treatment of this condition are not the irritation, pain, discomfort, UTI, or mild haeamturia, which constitute the main bulk of the number of AEs in this study, but the serious ones as well as the long term ones. The paper did not provide detailed information regarding serious AEs to allow valid judgment, and with the very short term follow up here the long term results are unknown. However, other longer-term studies showed more concern regarding log term results of PAE, in terms of reoperation rates, etc. (2,5) . When discussing AEs context is important.
The incidence of 56% of ejaculatory dysfunction in the PAE group is rather surprising (1) . Its mechanism is uncertain. By comparison, the incidence of ejaculatory dysfunction in 84% of patients after TURP is within the expected for this procedure, its mechanism is understood, and it is an essential item on the consent form for this procedure. It therefore follows that ejaculatory dysfunction should be declared as a significant possible AE after PAE rather than the current position of promoting it as an ejaculation-saving procedure! (4)
There are also other remarks to be made about this trial.
BPH- LUTs is a complex mixture of pathophysiology, symptoms and signs (physical and investigation results). The authors chose to give symptoms the prime importance. Although, ultimately, the objective is to relieve symptoms, it is not the only objective. One will have a good reason to believe that improving functional outcomes are just as important. They are likely to result in a more durable symptomatic improvement.
The authors use the term "refractory BPH-LUTs" to describe the participants. This is not entirely accurate. Approximately 15% of patients had not even tried medical treatment.
The exclusion criteria demonstrate the limitations of PAE. The exclusion list includes many common comorbidities, e.g. Atherosclerosis, as well as common findings in patients with BPH-LUTs e.g. eGFR < 60 ml/n
In summary, the results of this trial are unlikely to change the final conclusion of the highest level of evidence, a recent systematic review and meta-analysis on the subject (5). That had concluded " Growing evidence supports the efficacy and safety of PAE in the treatment of BPH. However, this systematic review with meta-analysis and meta- regression shows that PAE should still be considered an experimental treatment modality. In terms of efficacy it is still inferior to standard treatment methods. Also, the persistence of improvements cannot be guaranteed."
The authors of this paper (1) promised further follow-up extending to 5 years, and that will be another major contribution to current knowledge.
It is noteworthy that NICE's decision to "support the use of this procedure" is based not on its equivalence to TURP, but on the basis of "the potential benefits of prostate artery embolization compared with surgery include fewer complications, avoiding a general anaesthetic and it may be done as a day case procedure" (6) . This study should not be seen as moving the agenda any further to make PAE a competitive to TURP on efficacy grounds.
The gold standard, currently TURP, is not perfect and we should continue to search for improvements. PAE will find its place. Within current evidence, it is not a replacement for TURP. It might be used as a stop-gap between medical treatment and TURP (2,7) and that will have financial as well clinical consequences; or it might be of particular value for patients in whom bleeding is the main problem, whether current and unmanageable by other means, or potential one with particular serious consequences. Time will tell.
Meanwhile, we should keep in mind the consequences of previous too enthusiastic rush to implement new and exciting treatments for BPH-LUTs. If we do, we have learnt from history that we learn nothing from history (8).
References:
1- Abt D, Hechelhammer L, Müllhaupt G, etal . Prostatic artery embolisation versus transurethral resection of the prostate for benign prostatic hyperplasia: randomised, open label, non-inferiority trial. BMJ 2018;361:k2270.
2- Ray AF, Powell J, Speakman MJ, et al. The UK ROPE Study: efficacy and safety of prostate artery embolisation for benign prostatic hyperplasia. An observational study and propensity matched comparison with transurethral resection of the prostate. BJU Int 2018. 10.1111/bju.14249. 29645352
3- http://uroweb.org/guideline/treatment-of-non-neurogenic-male-luts/#5. (Accessed 19.2.2018)
4- Prostate artery embolisation for benign prostatic hyperplasia https://www.bmj.com/content/361/bmj.k2537/rr (accessed on 2/7/18)
5- Shim SR, Kanhai KJ, Ko YM, Kim JH. Efficacy and safety of prostatic arterial embolization: systematic review with meta-analysis and meta-regression. J Urol 2017;197:465-79. doi:10.1016/j. juro.2016.08.100.
6- https://www.nice.org.uk/guidance/ipg611/resources/prostate-artery-emboli...
7- Challacombe B, Sabharwal T. Prostate artery embolisation for benign prostatic hyperplasia. PAE fills a therapeutic niche between medication and surgeryBMJ. 2018 Jun 19;361:k2537. doi: 10.1136/bmj.k2537
8- Georg Wilhelm Friedrich Hegel. https://www.goodreads.com/author/quotes/6188.Georg_Wilhelm_Friedrich_Hegel. Also attributed to George Bernard Shaw. http://www.age-of-the-sage.org/philosophy/history/learning_from_history....
Competing interests: Practicing Urologist.
14 July 2018
Magdi Mounir Kirollos
Urologist
Torbay and South Devon NHS Foundation Trust
Torbay Hospital, Torquay, UK