Research
Effects on abstinence of nicotine patch treatment before quitting smoking: parallel, two arm, pragmatic randomised trial
BMJ
2018
;
361
doi: https://doi.org/10.1136/bmj.k2164
(Published 13 June 2018)
Cite this as:

BMJ

2018;361:k2164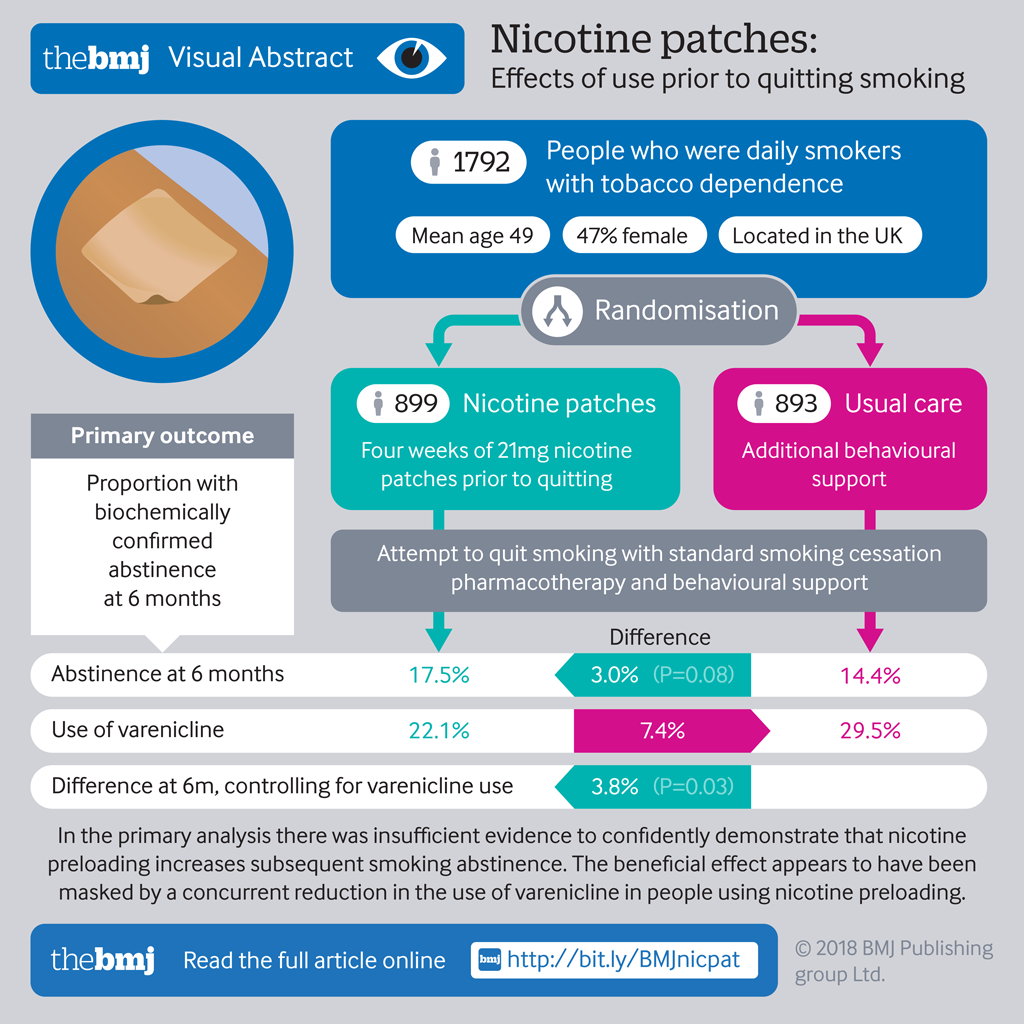 The Preloading Investigators
Correspondence to: Paul Aveyard

paul.aveyard{at}phc.ox.ac.uk
Abstract
Objective To examine the effectiveness of a nicotine patch worn for four weeks before a quit attempt.
Design Randomised controlled open label trial.
Setting Primary care and smoking cessation clinics in England, 2012-15.
Participants 1792 adults who were daily smokers with tobacco dependence. 899 were allocated to the preloading arm and 893 to the control arm.
Interventions Participants were randomised 1:1, using concealed randomly permuted blocks stratified by centre, to either standard smoking cessation pharmacotherapy and behavioural support or the same treatment supplemented by four weeks of 21 mg nicotine patch use before quitting: "preloading."
Main outcome measures The primary outcome was biochemically confirmed prolonged abstinence at six months. Secondary outcomes were prolonged abstinence at four weeks and 12 months.
Results Biochemically validated abstinence at six months was achieved by 157/899 (17.5%) participants in the preloading arm and 129/893 (14.4%) in the control arm: difference 3.0% (95% confidence interval −0.4% to 6.4%), odds ratio 1.25 (95% confidence interval 0.97 to 1.62), P=0.08 in the primary analysis. There was an imbalance between arms in the frequency of varenicline use as post-cessation treatment, and planned adjustment for this gave an odds ratio for the effect of preloading of 1.34 (95% confidence interval 1.03 to 1.73), P=0.03: difference 3.8% (0.4% to 7.2%). At four weeks, the difference in prolonged abstinence unadjusted for varenicline use was odds ratio 1.21 (1.00 to 1.48), difference 4.3% (0.0% to 8.7%), P=0.05, and adjusted for varenicline use was 1.32 (1.08 to 1.62) P=0.007. At 12 months the odds ratio was 1.28 (0.97 to 1.69), difference 2.7% (−0.4% to 5.8%), P=0.09 unadjusted for varenicline use and after adjustment was 1.36 (1.02 to 1.80) P=0.04. 5.9% of participants discontinued preloading owing to intolerance. Gastrointestinal symptoms—chiefly nausea—occurred in 4.0% (2.2% to 5.9%) more people in the preloading arm than control arm. Eight serious adverse events occurred in the preloading arm and eight in the control arm (odds ratio 0.99, 0.36 to 2.75).
Conclusions Evidence was insufficient to confidently show that nicotine preloading increases subsequent smoking abstinence. The beneficial effect seems to have been masked by a concurrent reduction in the use of varenicline in people using nicotine preloading, and future studies should explore ways to mitigate this unintended effect.
Footnotes
Contributions of authors (in alphabetical order):

Writing committee (study design, data analysis, implementation and interpretation, and study write-up): Marcus Munafo, Nicola Lindson, Peter Hajek, Paul Aveyard, Sarah Lewis, and Tim Coleman.

Study management (including recruitment and follow-up): Alia Ataya, Alice Scott, Andy McEwen, Angela Attwood, Anna Phillips, Anne Dickinson, Carmen Wood, Celine Homsey, Clare Randall, Deborah Lycett, Diana Pratt, Doug Coyle, Dunja Przulj, Emma Anderson, Emma Howell, Gurmail Rai, Hayden McRobbie, Jasmine Khouja, Jinshuo Li, Steve Parrott, Jo Perdue, Kate Myers, Katherine Evans, Kathryn Coyle, Kayleigh Easey, Khaled Ahmed, Lindsey Lacey, Lizzy Dann, Marcus Munafo, Mark Allen, Megan Fluharty, Megan Hurse, Mike Healy, Miriam Banting, Natalie Bisal, Nicola Lindson, Paul Aveyard, Peter Hajek, Rachel Adams, Rebecca Anderson, Rhona Alekna, Sarah Lewis, Sarah Tearne, Shahnaz Khan, Sophie Duncombe, Sophie Orton, Subhash Pokhrel, Therese Freuler, and Tim Coleman.

Chief investigator: Paul Aveyard. Trial statistician: Sarah Lewis. Guarantors: Paul Aveyard and Sarah Lewis.

Independent trial steering committee: Michael Ussher (chair), Dan Griffin, Helen Stokes-Lampard, Jane Wright, Lion Shahab, Rumana Omar, Tess Harris. There was no data monitoring and ethics committee.

Funding: This trial was funded by the National Institute for Health Research (NIHR) Health Technology Assessment 09/110/01. The views expressed are those of the authors and not necessarily those of the National Health Service, the NIHR, or the Department of Health. Glaxo Smith Kline donated nicotine patches to the NHS in lieu of NHS treatment costs. GSK had no role in design, analysis, or decision to publish. The study was sponsored by the University of Oxford and the authors alone decided to publish the paper. The study was conducted with support from the UK Centre for Tobacco and Alcohol Studies.

Competing interests: All authors have completed the ICMJE uniform disclosure form at www.icmje.org/coi_disclosure.pdf and declare that: Paul Aveyard is an NIHR senior investigator and is funded by NIHR Biomedical Research Centre and CLAHRC, Oxford. Peter Hajek and Hayden McRobbie have done consultancy for manufacturers of smoking cessation treatments and investigator-initiated research funded by a manufacturer of smoking cessation medication. No authors have financial relationships with any organisation that may have a financial interest in the submitted work in the previous three years and no relationships or activities that could have influenced the submitted work.

Ethical approval: This trial was approved by National Research Ethics Service Committee East Midlands-Leicester (No 12/EM/0014).

Data sharing: The authors will share data that is in the interests of public health and provided they have not planned similar analyses.

Transparency: The corresponding author (Paul Aveyard) affirms that this manuscript is an honest, accurate, and transparent account of the study being reported; that no important aspects of the study have been omitted; and that any discrepancies from the study as planned have been explained.
This is an Open Access article distributed in accordance with the terms of the Creative Commons Attribution (CC BY 4.0) license, which permits others to distribute, remix, adapt and build upon this work, for commercial use, provided the original work is properly cited. See: http://creativecommons.org/licenses/by/4.0/.
View Full Text