Practice
Therapeutics
Dressings for venous leg ulcers
BMJ
2018
;
361
doi: https://doi.org/10.1136/bmj.k1604
(Published 02 May 2018)
Cite this as:

BMJ

2018;361:k1604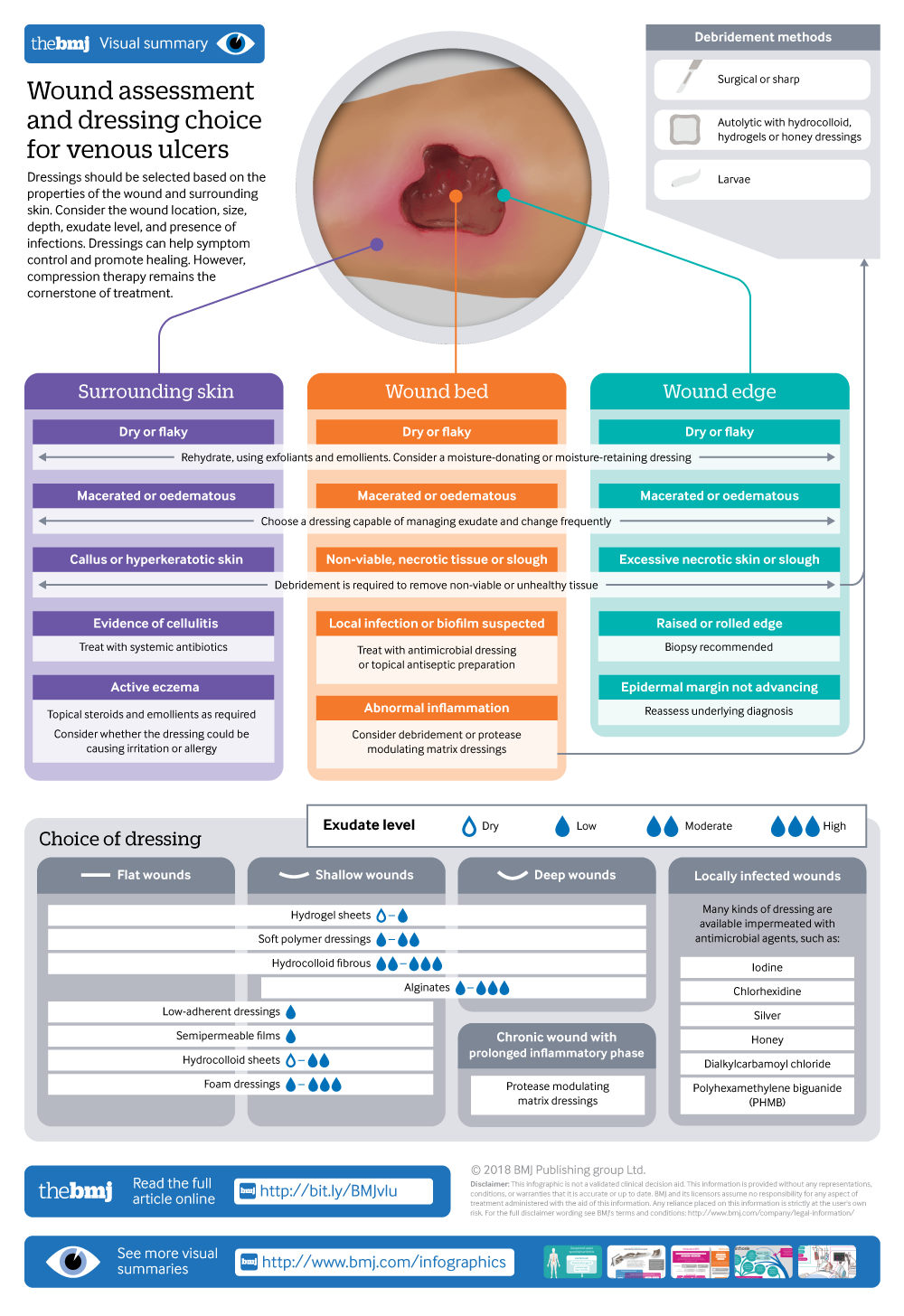 Infographic available
Wound assessment and dressing choice for venous ulcers
All rapid responses
Rapid responses are electronic comments to the editor. They enable our users to debate issues raised in articles published on bmj.com. A rapid response is first posted online. If you need the URL (web address) of an individual response, simply click on the response headline and copy the URL from the browser window. A proportion of responses will, after editing, be published online and in the print journal as letters, which are indexed in PubMed. Rapid responses are not indexed in PubMed and they are not journal articles. The BMJ reserves the right to remove responses which are being wilfully misrepresented as published articles.
This article is very helpfully besides one issue. Regarding "antimicrobial dressings", NICE says that there is only "little good quality evidence" and the "estimates of the effects of dressings are uncertain" (1). Neither especially "honey/silver dressings" nor in common "topical antiseptics and antimicrobials" are recommended by SIGN (2). Please reconsider your recommendations concerning the use of antimicrobial dressings for venous leg ulcers.
References
1. https://www.nice.org.uk/advice/esmpb2/chapter/Key-points-from-the-evidence
2. http://www.sign.ac.uk/assets/sign120.pdf
Competing interests: No competing interests
Re: Tate. S, Price. A, Harding. K, Dressings of Venous leg ulcers BMJ 2018;361:k1604 doi: 10.1136/bmj.k1604 (Published 2 May 2018)
The paper by KH and colleagues(1) concerning leg ulcers provides sensible advice about choosing dressings, but it fails to make any mention of the importance of addressing the underlying cause of ulcers, which should overshadow a narrow focus on dressings.
It has been known for over a decade that correction of superficial venous reflux reduces the likelihood of relapse from venous ulceration (2, 3).
There is also high-quality evidence that prompt correction of venous reflux achieves faster healing of venous ulcers and increases ulcer free time compared to compression therapy alone (4).
All patients with non-healing leg ulceration of two weeks duration should be referred to a vascular service for diagnosis, investigation and correction, whenever possible, of underlying superficial venous reflux (See NICE clinical guidelines 168(5) and the Royal Society of Medicine Venous Forum ulcer document guideline (6)).
Failing to recognise the importance of vascular referral, and focusing solely on local wound care, is an important reason that venous ulcers remain such a prevalent public health issue.
References
1. Tate S, Price A, Harding K. Dressings for venous leg ulcers. BMJ. 2018;361:k1604.
2. Barwell JR, Davies CE, Deacon J, Harvey K, Minor J, Sassano A, et al. Comparison of surgery and compression with compression alone in chronic venous ulceration (ESCHAR study): Randomised controlled trial. Lancet. 2004;363(9424):1854-9.
3. Gohel MS, Barwell JR, Taylor M, Chant T, Foy C, Earnshaw JJ, et al. Long term results of compression therapy alone versus compression plus surgery in chronic venous ulceration (ESCHAR): Randomised controlled trial. BMJ. 2007;335(7610):83.
4. Gohel MS, Heatley F, Liu X, Bradbury A, Bulbulia R, Cullum N, et al. A Randomized Trial of Early Endovenous Ablation in Venous Ulceration. N Engl J Med. 2018.
5. Marsden G, Perry M, Kelley K, Davies AH. Diagnosis and management of varicose veins in the legs: Summary of NICE guidance. BMJ. 2013;347:f4279.
6. https://www.rsm.ac.uk/media/4410709/Management-of-Patients-with-Leg-Ulce...
Competing interests: No competing interests
18 May 2018
Ian J Franklin
Consultant Vascular Surgeon, Honorary Secretary Royal Society of Medicine Venous Forum
Council of the Royal Society of Medicine Venous Forum
Royal Society of Medicine Venous Forum
Venous Forum, Royal Society of Medicine, 1 Wimpole Street, London, W1G 0AE