Practice
Therapeutics
Dressings for venous leg ulcers
BMJ
2018
;
361
doi: https://doi.org/10.1136/bmj.k1604
(Published 02 May 2018)
Cite this as:

BMJ

2018;361:k1604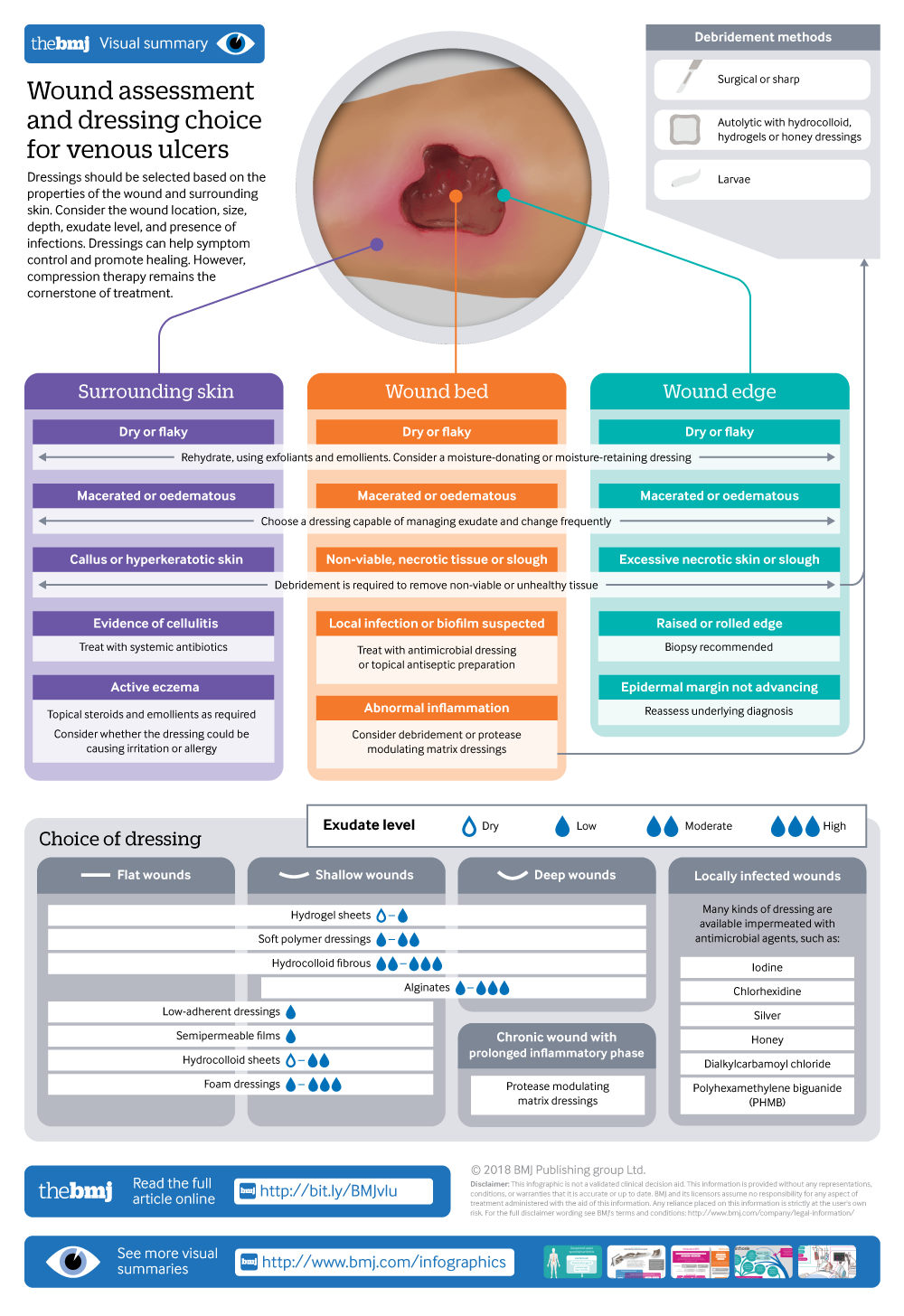 Infographic available
Wound assessment and dressing choice for venous ulcers
Sophia Tate

, clinical research fellow

1

,

Annie Price

, clinical research fellow

1

,

Keith Harding

, clinical professor and medical director of Welsh Wound Innovation Centre

1
1Welsh Wound Innovation Centre, Pontyclun, Wales, UK
Correspondence to: K Harding

HardingKG{at}cardiff.ac.uk
What you need to know
The cornerstone of treatment for venous leg ulcers is compression therapy, but dressings can aid with symptom control and optimise the local wound environment, promoting healing

There is no evidence to support the superiority of one dressing type over another when applied under appropriate multilayer compression bandaging

When selecting a dressing, look at the wound bed, edge and surrounding skin and decide on the goal of the dressing: for example, if there are signs of localised infection consider an antimicrobial dressing, if there is heavy exudate consider an absorbent dressing
A 65 year old man presents with a two month history of a wound in the gaiter area of his left leg. He has a history of a left leg deep vein thrombosis after a long flight but is otherwise fit and well. He had been self-managing with dressings bought over the counter, but the wound has gradually increased in size. The wound is not painful but is weeping serous fluid, causing irritation of the surrounding skin. Examination shows a 4×3×0.1 cm wound above the left medial malleolus. There is haemosiderin deposition, venous flare, and moderate oedema in the limb. The ankle-brachial pressure index (ABPI) is normal at 1.0. He is diagnosed with a venous leg ulcer, which is managed with dressings and compression bandaging.
The cornerstone of venous leg ulcer treatment is compression therapy, which increases venous return and reduces venous hypertension.1 However, dressings are important because they can provide symptom control and optimise the local wound environment to promote healing. This article provides an overview of the dressings that may be used in venous leg ulcers and guidance on selection.
About 1% of the adult population in Westernised countries are affected by venous ulcers on the leg or foot.2 The prevalence increases with age to 1.7% in …
View Full Text
Log in
Log in using your username and password
Log in through your institution
Subscribe from £138 *
Subscribe and get access to all BMJ articles, and much more.
* For online subscription
Access this article for 1 day for:
£30 / $37 / €33 (plus VAT)
You can download a PDF version for your personal record.