Research
Vertebroplasty versus sham procedure for painful acute osteoporotic vertebral compression fractures (VERTOS IV): randomised sham controlled clinical trial
BMJ
2018
;
361
doi: https://doi.org/10.1136/bmj.k1551
(Published 09 May 2018)
Cite this as:

BMJ

2018;361:k1551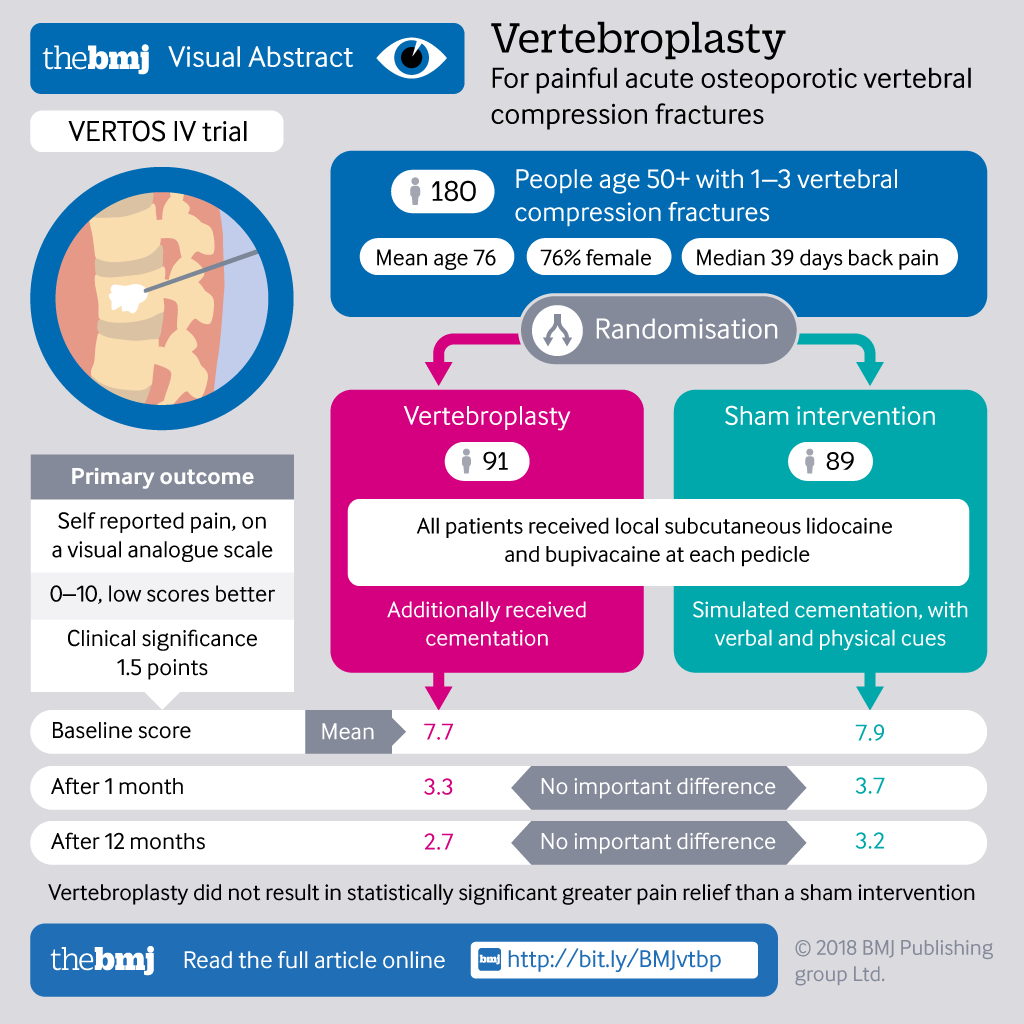 All rapid responses
Rapid responses are electronic letters to the editor. They enable our users to debate issues raised in articles published on thebmj.com. Although a selection of rapid responses will be included online and in print as readers' letters, their first appearance online means that they are published articles. If you need the url (web address) of an individual response, perhaps for citation purposes, simply click on the response headline and copy the url from the browser window. Letters are indexed in PubMed.
We are concerned by conclusions drawn in the VERTOS IV publication and accompanying editorial.
Randomised clinical trials are designed to assess the efficacy of treatments employed in clinical practice. The conclusions reached are very dependent on the populations recruited and their selection criteria. Patients presenting with acute vertebral fractures may encompass a wide spectrum varying from those with mild to severe osteoporosis, single or multiple comorbidities and those with a pain severity requiring simple analgesia to major opiates. Hospital inpatients are often much worse affected than those who are ambulatory outpatients. It would be an error of judgement to suggest that these cohorts are similar and should be managed equally.
VERTOS4 protocol (1) did not recruit patients with uncontrolled pain referred for vertebroplasty by their attending physicians, but from assessing spinal radiographs performed in 4 radiology centres. Patients with radiographic fractures were given a questionnaire and if back pain was less than 9 weeks duration and at least 5 out of 10 on VAS scale, were invited to participate. Only 34% were using strong opiates and hospitalised inpatients were ineligible. Their osteoporosis could be considered as mild with mean BMD T-scores 0f -2.4 and less than 50% receiving anti-osteoporotic therapies. Patients agreeing to participate were then referred for MRI and physician consult to assess eligibility, causing a mean 14-day delay. At time of vertebroplasty, pain duration was less than 11 weeks, with a median (and mean) of 6.1 weeks. Patient enrolment occurred from April 2011 to April 2014 with final data collection completed three years ago.
Of four blinded, randomised trials of vertebroplasty only the VAPOUR trial (2) has shown clinically important benefits from vertebroplasty. The authors of VERTOS4 acknowledge this but fail to explore the differences between the trials. VAPOUR targeted a different subgroup of patients, who were referred by attending physicians on clinical grounds, with uncontrolled, severe pain, defined as NRS ≥7/10 despite maximal medical therapy, including opiates. 57% were hospital inpatients and 43% outpatients and all had severe osteoporosis. Vertebroplasty was offered without further delay, to control the acute pain syndrome, facilitate rapid rehabilitation and prevent the downhill spiral so often seen in the elderly with catastrophic spinal fractures. Most patients (80%) underwent vertebroplasty within 3 weeks of fracture onset (mean fracture duration 2.6 weeks compared to 6.1 weeks in VERTOS4).
Failure of medical therapy to adequately control acute fracture pain indicated poor outcomes from placebo therapy in VAPOUR. Most placebo group patients still had moderate or severe pain at 6 months and 76% were still using analgesics, whereas the vertebroplasty group derived clinically important benefits at all time points. Early intervention makes vertebroplasty technically easier, as the fracture is soft and physically compliant, accepting a larger PMMA volume (7.5cc in VAPOUR vs 5.1cc in VERTOS4) with a reduced PMMA leak rate (34% in VAPOUR vs 91% in VERTOS4). It also facilitated vertebral height restoration. The very high leak rate in VERTOS4 suggests that the vertebral body had already consolidated.
Patients with severe pain (NRS ≥7/10) due to osteoporotic spinal fracture less than 6 weeks duration should be offered maximal medical therapy including opiate analgesia. If this fails to adequately control the acute pain syndrome, or if the patient cannot tolerate the opiates due to side effects, then they should be offered early vertebroplasty without further delay. This includes the most severely affected outpatients and hospital inpatients. This reinforces the notion that scientific evidence is an essential part of advancing medical knowledge, but it must be integrated with clinical experience to complete the process. Only then can we inform decision making in clinical care and deliver the best clinical outcomes available.
1. Firanescu C, Lohle PN, de Vries J, et al. A randomised sham controlled trial of vertebroplasty for painful acute osteoporotic vertebral fractures (VERTOS IV). Trials. 2011;12:93. doi:10.1186/1745-6215-12-93.
2. Clark, W, Bird, P, Gonski, P et al. Safety and efficacy of vertebroplasty for acute painful osteoporotic fracture (VAPOUR): a multicentre, randomised, double-blind, placebo-controlled trial. Lancet 2016;388:1408–16. doi.org/10.1016/S0140-6736(16)31341-1
Competing interests: We are authors of the VAPOUR trial.
16 May 2018
William A Clark
Interventional Radiologist
Associate Professor Terrence Diamond, Associate Professor Paul Bird
St George Private Hospital, Sydney, Australia
1 South Street, Kogarah, NSW, 2217, Australia
Firanescu and colleagues examined the effect of percutaneous vertebroplasty versus sham procedure in patients with osteoporotic compression fractures after administration of local anesthetic at the level of vertebral body pedicle. (1) The authors appear, in having proceeded directly to real or sham treatment without reassessment of pain relief after local anesthetic administration, to have missed an important aspect of pathophysiology which calls the significance of this study's results into question.
An investigation by Wilson and colleagues (2) was prompted by the great degree of relief seen in both true and sham vertebroplasty treatment in two well-publicized studies which employed prior local anesthetic administration. (3,4) Wilson wished to investigate the effect of local anesthetic administered in close anatomic proximity to the involved facet joint(s) on subsequent outcome, hypothesizing that disruption of posterior element anatomy in vertebral fractures might be a significant pain generator as opposed to, or in addition to, pain due to the vertebral body injury itself. This investigation, although admittedly non-controlled, yielded that of 61 patients with osteoporotic vertebral compression fractures and evidence of edema on magnetic resonance imaging (MRI), 21 had significant relief of their pain upon facet joint injection itself. Of a remaining 24 patients who underwent vertebroplasty, 23 achieved successful outcome with the procedure.
Although instillation of local anesthetic at the level of the pedicle is not identical to intra-articular facet injection, there exists concern that Firanescu may have failed to account for a recognized cause of pain in a significant number of these patients. This raises the distinct possibility that the authors' results are confounded in the aspect of not recognizing the possible effect of two distinct disease processes in such a population.
REFERENCES:
1. Firanescu CE, de Vries J, Lodder P et al. Vertebroplasty versus sham procedure for painful acute osteoporotic vertebral compression fractures (VERTOS IV): randomised sham controlled clinical trial. BMJ 2018;360:k1551.
2. Wilson DJ, Owen S, Corkill RA. Facet joint injections as a means of reducing the need for vertebroplasty in insufficiency fractures of the spine. Eur Radiol 2011;21:1772-1778.
3. Buchbinder R, Osborne RH, Ebeling PR et al. A randomized trial of vertebroplasty for painful osteoporotic vertebral factures. N Engl J Med 2009;361:557-568.
4. Kallmes DR, Comstock BA, Heagerty PJ et al. A randomized trial of vertebroplasty of osteoporotic spinal fractures. N Engl J Med 2009;361:569-579.
Competing interests: No competing interests
16 May 2018
Michael A. Erdek
Associate Professor
Johns Hopkins University School of Medicine
550 N. Broadway, Suite 301, Baltimore MD 21205
Nothing has been more divisive in the treatment of osteoporotic vertebral compression fractures (OVCF) than the role of percutaneous vertebroplasty. The authors appear to firmly conclude that percutaneous vertebroplasty has no role as standard pain treatment for these patients [1]. Looking at the participants in the study, it does not reflect the patients I work with in secondary care who present as unplanned admissions to hospital. Their pain and disability following the fracture was so debilitating that a period of hospitalisation was required. The participants in this study were recruited from an outpatient setting with pain in the preceding 6-9 weeks. These patients' pain have an element of 'chronicity' despite the presence of oedema on their MRI. At this stage, back pain could be due to causes other than the fracture.
The non-acute nature of the study's participants, ie less than 6 weeks, was discussed in the paper but appeared lost behind the message that the authors were keen to focus on. The authors highlighted the VAPOUR study [2] which perhaps better reflects the acute hospital cohort I see. The acute hospital cohort with OVCF also represents an older multi-morbid group where effective pain relief to enable early mobilisation is crucial. Besides that, the authors also asked participants the day after treatment if they were able to guess which group they were randomised to as a proxy of how effective the sham procedure was. Although their numbers were higher than VAPOUR, 54% [2] and INVEST, 37% [3], both asked participants 14 days after the procedure and VERTOS IV asked the question the day after the procedure, 82% [1]. Patients with OVCF represent a heterogenous group from those discovered incidentally, symptoms that can be managed as an outpatient and those needing hospital admission. Symptomatic patients should not be grouped together. I strongly advocate research and treatment be individualised to this context and not be just a subjective patient reported score.
Reference
1. Firanescu C, de Vries J, Lodder P, Venmans A, et al. Vertebroplasty versus sham procedure for painful acute osteoporotic vertebral compression fractures (VERTOS IV): randomised sham controlled clinical trial. BMJ 2018; 360:k1551
2. Clark W, Bird P, Gonski P, et al. Safety and efficacy of vertebroplasty for acute painful osteoporotic fractures (VAPOUR): a multicentre, randomised, double-blind, placebo- controlled trial. Lancet 2016:388:1408-1416
3. Kallmes D, Comstock B, Heagerty P, et al. A randomized trial of vertebroplasty for osteoporotic spinal fractures. N Engl J Med 2009:361:569-579
Competing interests: I have received lecture fees from Eli Lilly
14 May 2018
Terence Ong
Research Fellow
Nottingham University Hospitals NHS Trust
Queens Medical Centre, Derby Road, Nottingham NG7 2UH