Research
Vertebroplasty versus sham procedure for painful acute osteoporotic vertebral compression fractures (VERTOS IV): randomised sham controlled clinical trial
BMJ
2018
;
361
doi: https://doi.org/10.1136/bmj.k1551
(Published 09 May 2018)
Cite this as:

BMJ

2018;361:k1551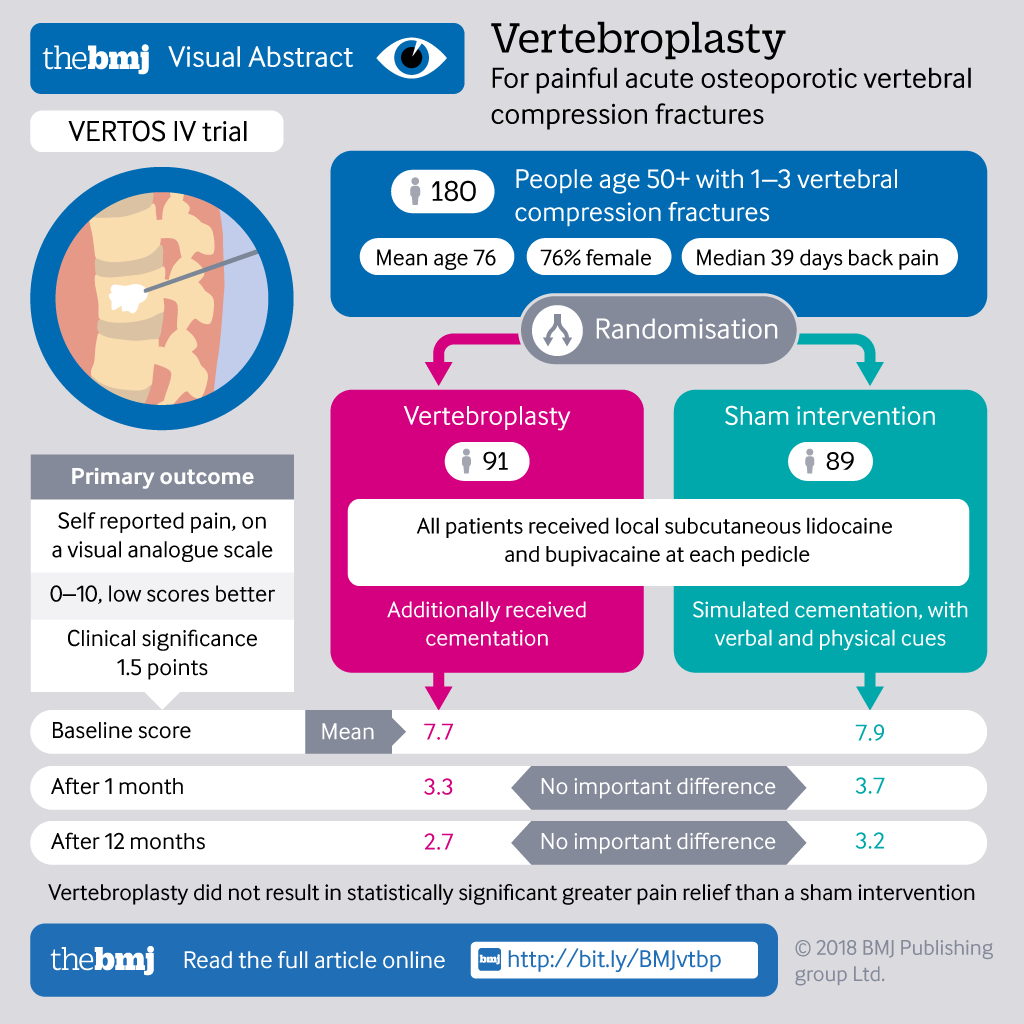 Correspondence to: C E Firanescu

crisfiranescu{at}hotmail.com
Abstract
Objective To assess whether percutaneous vertebroplasty results in more pain relief than a sham procedure in patients with acute osteoporotic compression fractures of the vertebral body.
Design Randomised, double blind, sham controlled clinical trial.
Setting Four community hospitals in the Netherlands, 2011-15.
Participants 180 participants requiring treatment for acute osteoporotic vertebral compression fractures were randomised to either vertebroplasty (n=91) or a sham procedure (n=89).
Interventions Participants received local subcutaneous lidocaine (lignocaine) and bupivacaine at each pedicle. The vertebroplasty group also received cementation, which was simulated in the sham procedure group.
Main outcome measures Main outcome measure was mean reduction in visual analogue scale (VAS) scores at one day, one week, and one, three, six, and 12 months. Clinically significant pain relief was defined as a decrease of 1.5 points in VAS scores from baseline. Secondary outcome measures were the differences between groups for changes in the quality of life for osteoporosis and Roland-Morris disability questionnaire scores during 12 months' follow-up.
Results The mean reduction in VAS score was statistically significant in the vertebroplasty and sham procedure groups at all follow-up points after the procedure compared with baseline. The mean difference in VAS scores between groups was 0.20 (95% confidence interval −0.53 to 0.94) at baseline, −0.43 (−1.17 to 0.31) at one day, −0.11 (−0.85 to 0.63) at one week, 0.41 (−0.33 to 1.15) at one month, 0.21 (−0.54 to 0.96) at three months, 0.39 (−0.37 to 1.15) at six months, and 0.45 (−0.37 to 1.24) at 12 months. These changes in VAS scores did not, however, differ statistically significantly between the groups during 12 months' follow-up. The results for secondary outcomes were not statistically significant. Use of analgesics (non-opioids, weak opioids, strong opioids) decreased statistically significantly in both groups at all time points, with no statistically significant differences between groups. Two adverse events occurred in the vertebroplasty group: one respiratory insufficiency and one vasovagal reaction.
Conclusions Percutaneous vertebroplasty did not result in statistically significantly greater pain relief than a sham procedure during 12 months' follow-up among patients with acute osteoporotic vertebral compression fractures.
Footnotes
Contributors: CEF and PNML had full access to all the data in the study, take responsibility for the integrity of the data and the accuracy of the data analysis, and act as guarantors. PNML, CAHK, WJJvR, JdV, MCS, AJS, JRJ, ED, OEHE, FHJ, and AVT designed the study. IB and KS gathered the data. PNML, MCS, AJS, CAHK, OEHE, FHJ, and AVT performed the procedures. PL and JdV analysed the data. CEF and AV undertook morphometric measurements. CEF, PNML, AV, JdV, PL, and JAH wrote the first draft, and all the contributors made the decision to submit the manuscript for publication.

Funding: This study was supported by Stryker (grant No S-I-013). The sponsor had no role in the design and conduct of the study; collection, management, analysis, and interpretation of the data; preparation, review, or approval of the manuscript; and decision to submit the manuscript for publication

Competing interests: All authors have completed the ICMJE uniform disclosure form at www.icmje.org/coi_disclosure.pdf and declare: no support from any organisation for the submitted work; no financial relationships with any organisations that might have an interest in the submitted work in the previous three years; no other relationships or activities that could appear to have influenced the submitted work. JAH has received consulting fees from Medtronic and Globus as well as serving on a data and safety monitoring board of a study sponsored by Codman Neurovascular.

Ethical approval: This trial was approved by the institutional review boards of the four participating hospitals (MN-11-004, approval protocol 1055).

Data sharing: Dataset available from the corresponding author at crisfiranescu@hotmail.com.

Transparency: The study guarantors (CEF and PNML) affirm that the manuscript is an honest, accurate, and transparent account of the study being reported; that no important aspects of the study have been omitted; and that any discrepancies from the study as planned have been explained.
This is an Open Access article distributed in accordance with the Creative Commons Attribution Non Commercial (CC BY-NC 4.0) license, which permits others to distribute, remix, adapt, build upon this work non-commercially, and license their derivative works on different terms, provided the original work is properly cited and the use is non-commercial. See: http://creativecommons.org/licenses/by-nc/4.0/.
View Full Text