Practice
Practice Pointer
Orofacial pain
BMJ
2018
;
361
doi: https://doi.org/10.1136/bmj.k1517
(Published 16 May 2018)
Cite this as:

BMJ

2018;361:k1517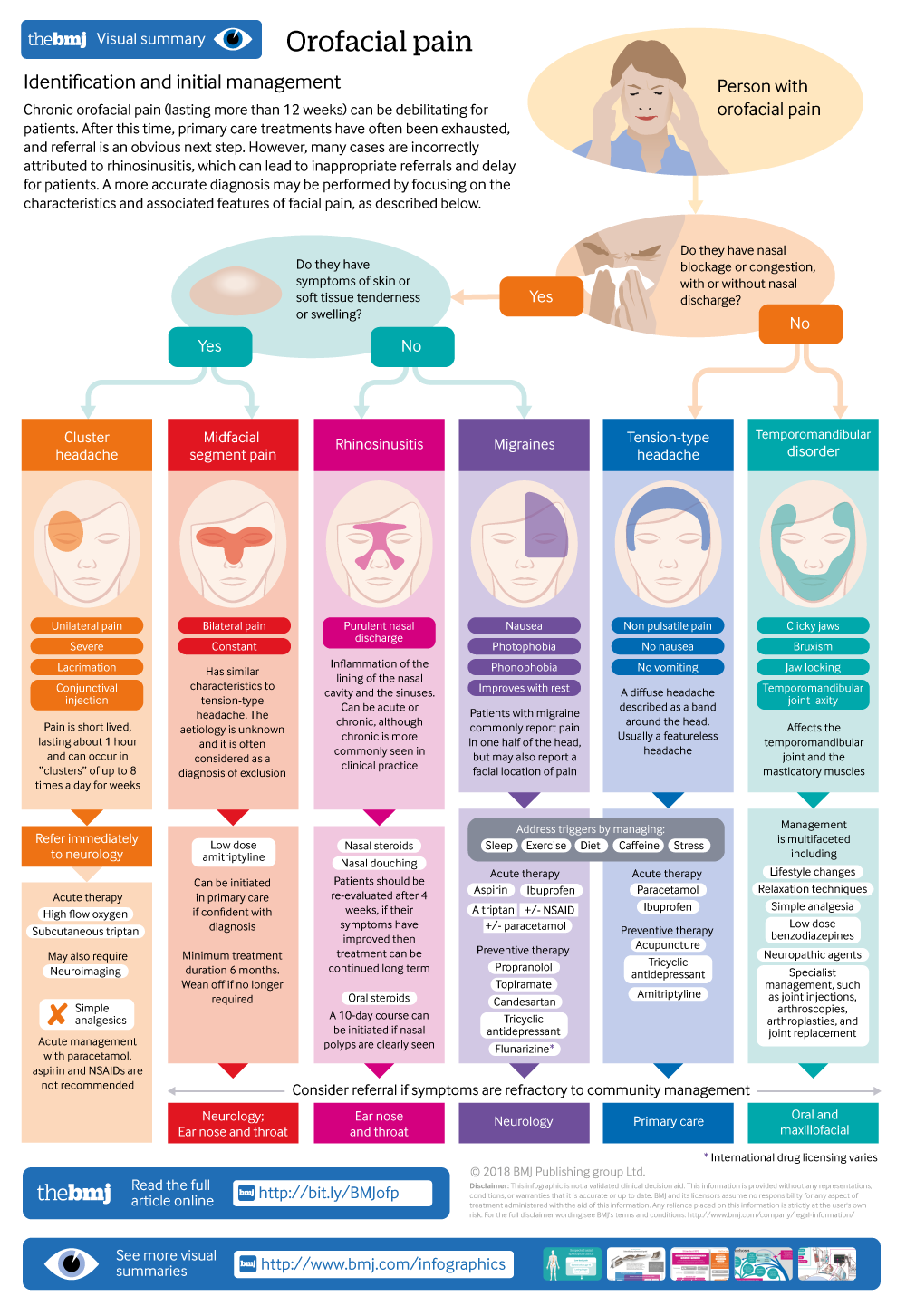 Visual summary available
A strategy for identification and initial management of orofacial pain
All rapid responses
Rapid responses are electronic comments to the editor. They enable our users to debate issues raised in articles published on bmj.com. A rapid response is first posted online. If you need the URL (web address) of an individual response, simply click on the response headline and copy the URL from the browser window. A proportion of responses will, after editing, be published online and in the print journal as letters, which are indexed in PubMed. Rapid responses are not indexed in PubMed and they are not journal articles. The BMJ reserves the right to remove responses which are being wilfully misrepresented as published articles.
Congratulations to Banigo et al. on a succinct and informative paper. However, it is important to emphasise that benzodiazepines in the management of temporomandibular disorders should be reserved for patients in distress, at a low dose, and for a short and defined period of time.1
Oral medicine specialists, primarily based at Dental hospitals, should be considered when referring patients for the medical management of orofacial pain.
References
1. Gauer RL, Semidey MJ. Diagnosis and treatment of temporomandibular disorders. Am fam physician. 2015 15;91(6).
Competing interests: No competing interests
22 May 2018
Daire Shanahan
NIHR ACF/Str in Oral Medicine
University of Bristol Dental Hospital,Lower Maudlin Street, Bristol
I assume that Trigeminal Neuralgia (TN) is the area of orofacial pain not discussed in this article. This is presumably because it has required surgical treatment in some past cases. The surgery is risky, expensive and has a success rate in pain relief about 65%.
Medication with tegretol, gabapentin and/ or amitryptiline is fraught with the side effects of these drugs and is often unsuccessful.
There is another way using a food additive E-304 as a daily oral intake of around 2.4gm. In many cases this can achieve full pain control in a few days without any other medication. It is the subject of a clinical trial in India and is referred to in an article describing cases @ https://www.ecronicon.com/ecne/pdf/ECNE-03-000078.pdf .
Treated in this way it is a simple matter for a GP to treat and therefore could have been covered in this BMJ article.
Letters in the British Dental Journal in 2012, 2014 and 2016 refer.
Competing interests: No competing interests
22 May 2018
Andrew J C Carmichael
Retired Dental Surgeon Charity chair
Parkinson's Improvement Programme
Preston
It is very useful for the ENT surgeons to remind us of the features of rhinosinusitis and to attempt to put this into the context of other diagnosis that need to be considered. The visual summary is very useful but unfortunately not entirely accurate 1.
Certainly the recent publication based on the Biobank data of 500,000 people shows that the overall prevalence of facial pain is 1.9% of which 48% is chronic and highlights the significant association with psychological distress and with other chronic pain 2. Migraines and tension type headaches are certainly very common and most should be managed in primary care.
As previous head of the largest UK multidisciplinary facial pain service seeing over 700 new chronic facial pain patients a year we have a very different experience. Temporomandibular disorders are certainly the largest component of our work but these patients do not have the features described in the article. The reference quoted is from 2000 whereas we published a review in the BMJ recently which highlights that the most common pain is musculoskeletal and is not caused by bruxism or associated with locking and jaw laxity 3.
Trigeminal neuropathic pain is not mentioned and yet is due to a large extent to dental work and trauma to the face 4 .
Although cluster headache is highlighted as a severe pain there is no mention of trigeminal neuralgia, an excruciating, unilateral episodic facial pain often located in the maxillary and mandibular areas. These patients also need urgent referral for both medical (anticonvulsant drugs) and surgical management as reported in our BMJ article and podcast . 5
References
1. Zakrzewska JM. Differential diagnosis of facial pain and guidelines for management. Br J Anaesth 2013;111(1):95-104. doi: aet125 [pii];10.1093/bja/aet125 [doi]
2. Macfarlane TV, Beasley M, Macfarlane GJ. Self-Reported Facial Pain in UK Biobank Study: Prevalence and Associated Factors. J Oral Maxillofac Res 2014;5(3):e2. doi: 10.5037/jomr.2014.5302 [doi];v5n3e2ht [pii]
3. Durham J, Newton-John TR, Zakrzewska JM. Temporomandibular disorders. BMJ 2015;350:h1154.
4. Renton T, Yilmaz Z. Profiling of patients presenting with posttraumatic neuropathy of the trigeminal nerve. J Orofac Pain 2011;25(4):333-44.
5. Zakrzewska JM, Linskey ME. Trigeminal neuralgia. BMJ 2014;348:g474.
Competing interests: No competing interests
21 May 2018
Joanna Zakrzewska
Consultant
UCLH NHS Foundation Trust
Eastman Dental Hospital, Pain Management Centre UCLH NHS Foundation Trust