Practice
Practice Pointer
Orofacial pain
BMJ
2018
;
361
doi: https://doi.org/10.1136/bmj.k1517
(Published 16 May 2018)
Cite this as:

BMJ

2018;361:k1517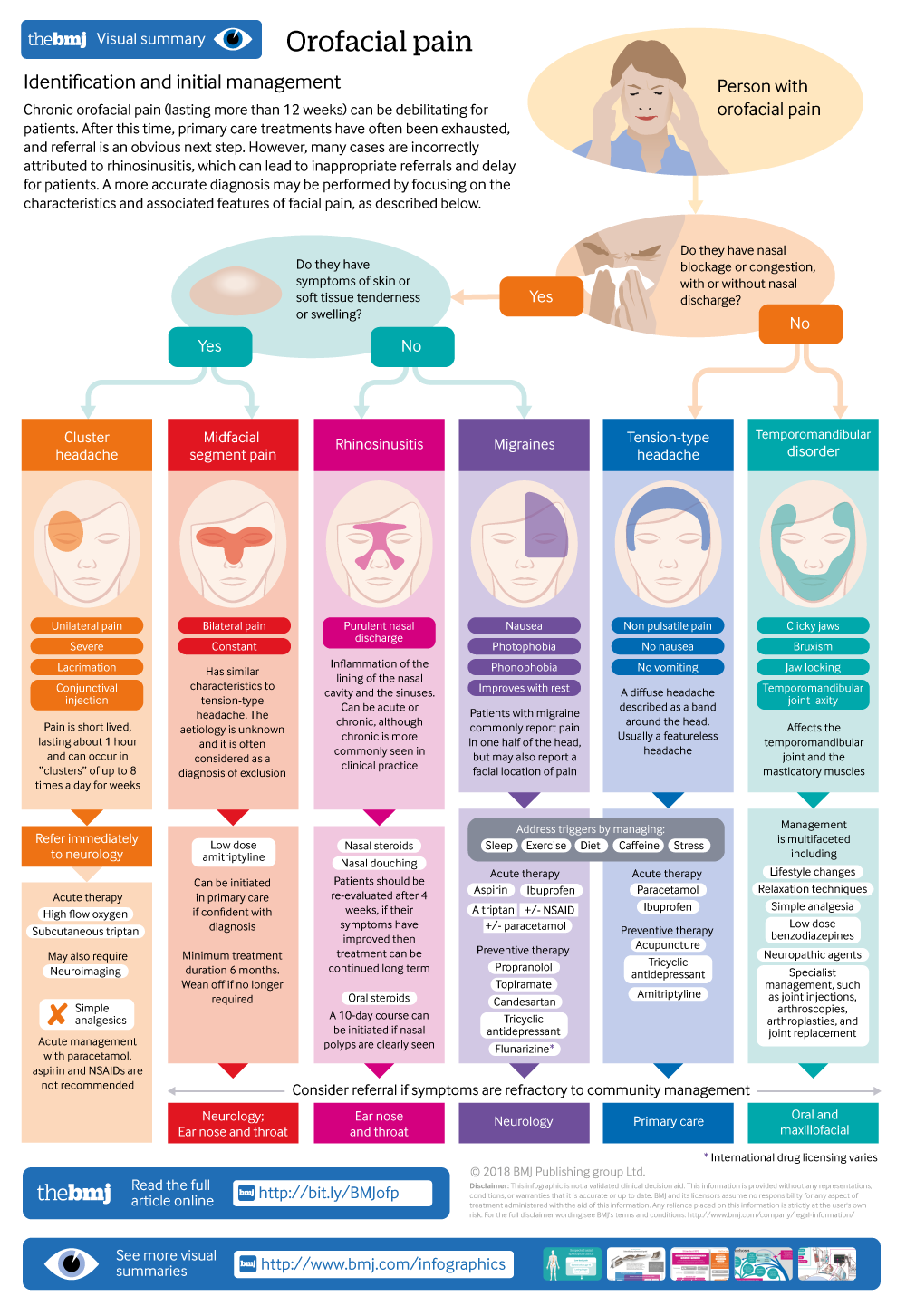 Visual summary available
A strategy for identification and initial management of orofacial pain
Adonye Banigo

, ENT registrar and honorary clinical fellow at University of Edinburgh

1

,

David Watson

, general practitioner

2

,

Bhaskar Ram

, consultant ENT rhinology and skull base surgeon

1

,

Kim Ah-See

, consultant ENT head and neck surgeon and director of undergraduate medical education

1
1Aberdeen Royal Infirmary, Aberdeen AB25 2ZN, UK
2Hamilton Medical Group, Aberdeen
Correspondence to: A Banigo a.banigo@nhs.net
What you need to know
Orofacial pain is not a hallmark feature of rhinosinusitis and affects only 10% of patients with rhinosinusitis

Consider alternative diagnoses such as migraine, midfacial segment pain, and cluster headaches, which can present with facial pain and nasal symptoms such as rhinorrhoea and nasal congestion

Offer a trial of treatment for 4 weeks for the most likely diagnosis and ask the patient to return if symptoms do not improve
Orofacial pain or facial pain described as an ache in the front part of the head (including the oral cavity) is a common presentation in primary care. Nearly a quarter of patients in a British primary care study (2504 adult patients) reported orofacial pain.1 The pain may be musculoskeletal, dental, neural, or sinogenic in origin.2
In our clinical experience orofacial pain is often incorrectly attributed to rhinosinusitis, commonly referred to as sinusitis. Some patients refer to the pain as a sinus headache. In a case series of 973 patients with presumed rhinosinusitis, only 1 in 10 patients were confirmed to have paranasal sinus disease on endoscopy and computed tomography.3 As such, the correct diagnosis may be missed or delayed and result in inappropriate treatment and prolonged symptoms.
This article aims to enable readers to achieve a more accurate diagnosis of orofacial pain focusing on the characteristics and associated features of facial pain and presents an initial approach to managing these patients in primary care. We focus on chronic orofacial pain—that is, pain lasting more than 12 weeks—as usually by then a trial of treatment might have been explored in primary care, prompting reconsideration of the diagnosis if the symptoms persist.
Sources and selection criteria
We searched PubMed using the keywords "facial pain," "atypical facial pain," "facial neuralgia." All articles published in English that discussed the differential diagnoses and management of facial pain were …
View Full Text
Log in
Log in using your username and password
Log in through your institution
Subscribe from £138 *
Subscribe and get access to all BMJ articles, and much more.
* For online subscription
Access this article for 1 day for:
£23 / $37 / €30 (inc. VAT)
You can download a PDF version for your personal record.