Practice
Clinical Updates
Pregnancy in women with congenital heart disease
BMJ
2018
;
360
doi: https://doi.org/10.1136/bmj.k478
(Published 09 March 2018)
Cite this as:

BMJ

2018;360:k478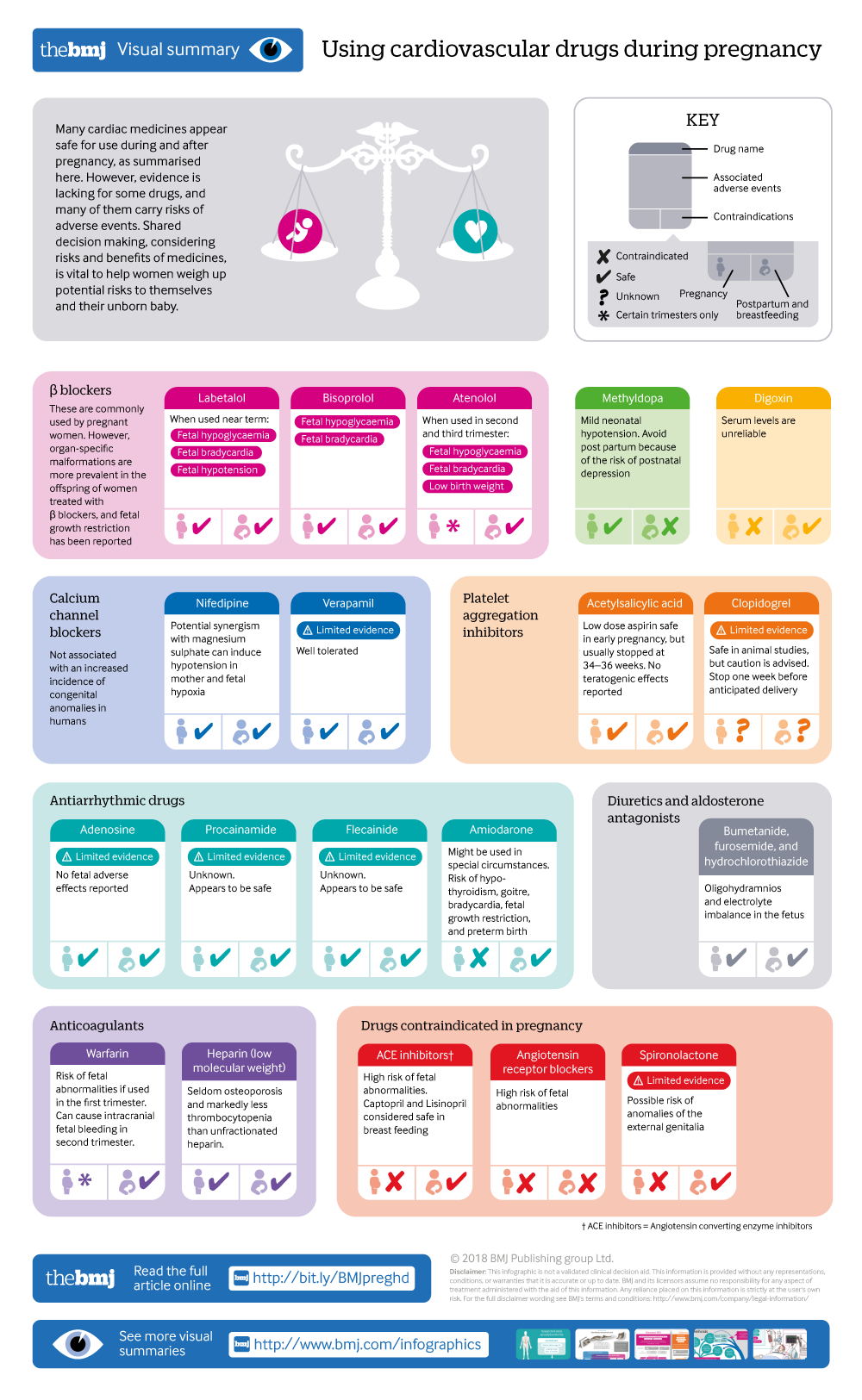 Using cardiovascular drugs during pregnancy
An approach
Matthew Cauldwell

, honorary clinical lecturer

1

,

Francois Dos Santos

, research fellow

1

2

,

Philip J Steer

, emeritus professor of obstetrics

1

,

Lorna Swan

, consultant cardiologist

2

,

Michael Gatzoulis

, consultant cardiologist

2

,

Mark R Johnson

, professor of obstetrics

1
1Academic Department of Obstetrics and Gynaecology, Chelsea and Westminster Hospital, London, UK
2Department of Adult Congenital Heart Disease, Royal Brompton Hospital, London, UK
Correspondence to M Cauldwell

matthew.cauldwell{at}imperial.ac.uk
What you need to know
Women with congenital heart disease have increased risk of poor pregnancy outcomes

Offer counselling and specialist multidisciplinary care before conception

Refer women with congenital heart disease to a cardiologist during pregnancy for clinical assessment including cardiac function, and to review cardiac medications
Offer a planned hospital birth

Expert consensus suggests vaginal delivery with regional anaesthesia is preferred
One in 125 people is born with congenital heart disease.1 For women with the condition, pregnancy induced cardiovascular stress can cause complications such as arrhythmia, heart failure, and thromboembolism.2 The UK Confidential Enquiry into maternal deaths found that of 910 maternal deaths between 2009 and 2014,3 205 (22.5%) were caused by heart disease, and a minority from congenital heart disease. Clinicians in primary and emergency care increasingly encounter women with congenital heart disease who are planning pregnancy or who are pregnant at presentation. These women might seek information about the risks pregnancy poses to their own health, and to the health of the fetus. In this article, we highlight aspects of pre-conception, antenatal, and postpartum care for women with congenital heart disease.3
Sources and selection criteria
We searched PubMed for relevant English language publications over the past 10 years using the search terms "pregnancy" and "preconception," individually combined with "heart disease" and "cardiac disease." All abstracts were reviewed and we selected the most relevant papers for this article. We have drawn recommendations from the European Society of Cardiology Pregnancy Guideline and the American Heart Association Guideline.
What are the common forms of congenital heart disease?
The European Registry on Heart Disease is the largest published cohort of women with pregnancy complicated by heart disease. In 2012, of 1321 pregnant women with heart disease, 66% had congenital heart disease.4 Approximately one third of those women had simple shunt lesions, such as ventricular or atrial septal defects (fig 1), and the rest had …
View Full Text
Log in
Log in using your username and password
Log in through your institution
Subscribe from £138 *
Subscribe and get access to all BMJ articles, and much more.
* For online subscription
Access this article for 1 day for:
£30 / $37 / €33 (plus VAT)
You can download a PDF version for your personal record.