Practice
Clinical Update
Deep vein thrombosis
BMJ
2018
;
360
doi: https://doi.org/10.1136/bmj.k351
(Published 22 February 2018)
Cite this as:

BMJ

2018;360:k351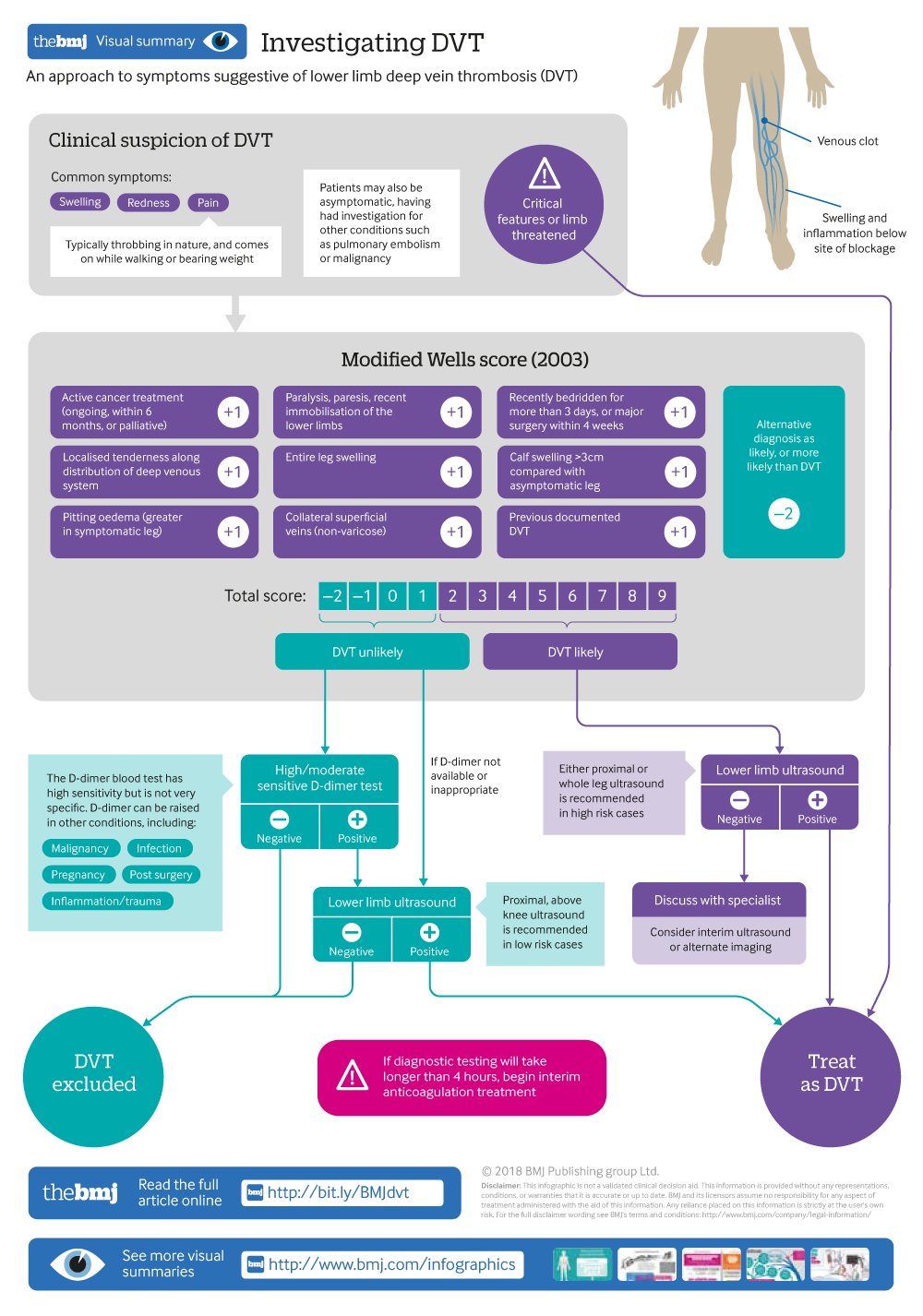 Investigating DVT
An approach to symptoms suggestive of lower deep vein thrombosis (DVT)
M J Stubbs

, clinical research fellow and haematology registrar

1

,

Maria Mouyis

, consultant rheumatologist

2

,

Mari Thomas

, consultant haematologist

1
1University College London Hospital, London, UK
2North West London Hospitals NHS Trust, London, UK
Correspondence to M Stubbs

m.stubbs{at}doctors.org.uk
What you need to know
Pain, swelling, and redness of the affected limb are common symptoms of deep vein thrombosis (DVT)

Assess patients' clinical risk of DVT using the Wells score

Refer urgently patients with suspected DVT for D-dimer test and/or proximal leg ultrasound

Anticoagulation to prevent clot extension and embolisation is initiated in secondary care, ideally within four hours of presentation

A direct oral anticoagulant is now first line for anticoagulation in patients with DVT not associated with cancer
Deep vein thrombosis (DVT) commonly affects the lower limb, with clot formation beginning in a deep calf vein and propagating proximally.1 It is a common venous thromboembolic (VTE) disorder with an incidence of nearly 1.6 per 1000 inhabitants a year.234 The rate of involvement of particular sites varies: distal veins 40%, popliteal 16%, femoral 20%, common femoral 20%, and iliac veins 4%.1 Certain medical conditions listed in box 1 increase the likelihood of clot formation in the deep veins. Upper limb DVT represents less than 10% of all DVT, and central venous catheters are the main risk factor.7 Venocaval thromboses are rare and are associated with malignancy, compression, and vascular abnormalities.8 This article provides an overview for non-specialists on initial approach to patients with suspected DVT.
Box 1
DVT risk factors
5
6
Transient risk factors
Surgery with general anaesthetic (increased if >30 minutes)*

Hospitalisation (increased if >3 days with "bed rest")*

Caesarean section*

Oestrogen therapy

Pregnancy or puerperium

Leg injury with reduced mobility for at least three days
Persistent risk factors
Active cancer

Medical condition with increased risk of recurrent VTE (inflammatory bowel disease, systemic lupus erythematosus)
Unprovoked VTE
If the above "Transient" and "Persistent" criteria are not met
*10 fold increase in VTE risk
RETURN TO TEXT
Sources and selection criteria
We searched Medline and Cochrane databases for clinical trials, systematic reviews, and meta-analyses relevant to the diagnosis and management of DVT. Search terms included "deep vein thrombosis," …
View Full Text
Log in
Log in using your username and password
Log in through your institution
Subscribe from £138 *
Subscribe and get access to all BMJ articles, and much more.
* For online subscription
Access this article for 1 day for:
£23 / $37 / €30 (plus VAT)
You can download a PDF version for your personal record.