Research
Five and 10 minute Apgar scores and risks of cerebral palsy and epilepsy: population based cohort study in Sweden
BMJ
2018
;
360
doi: https://doi.org/10.1136/bmj.k207
(Published 08 February 2018)
Cite this as:

BMJ

2018;360:k207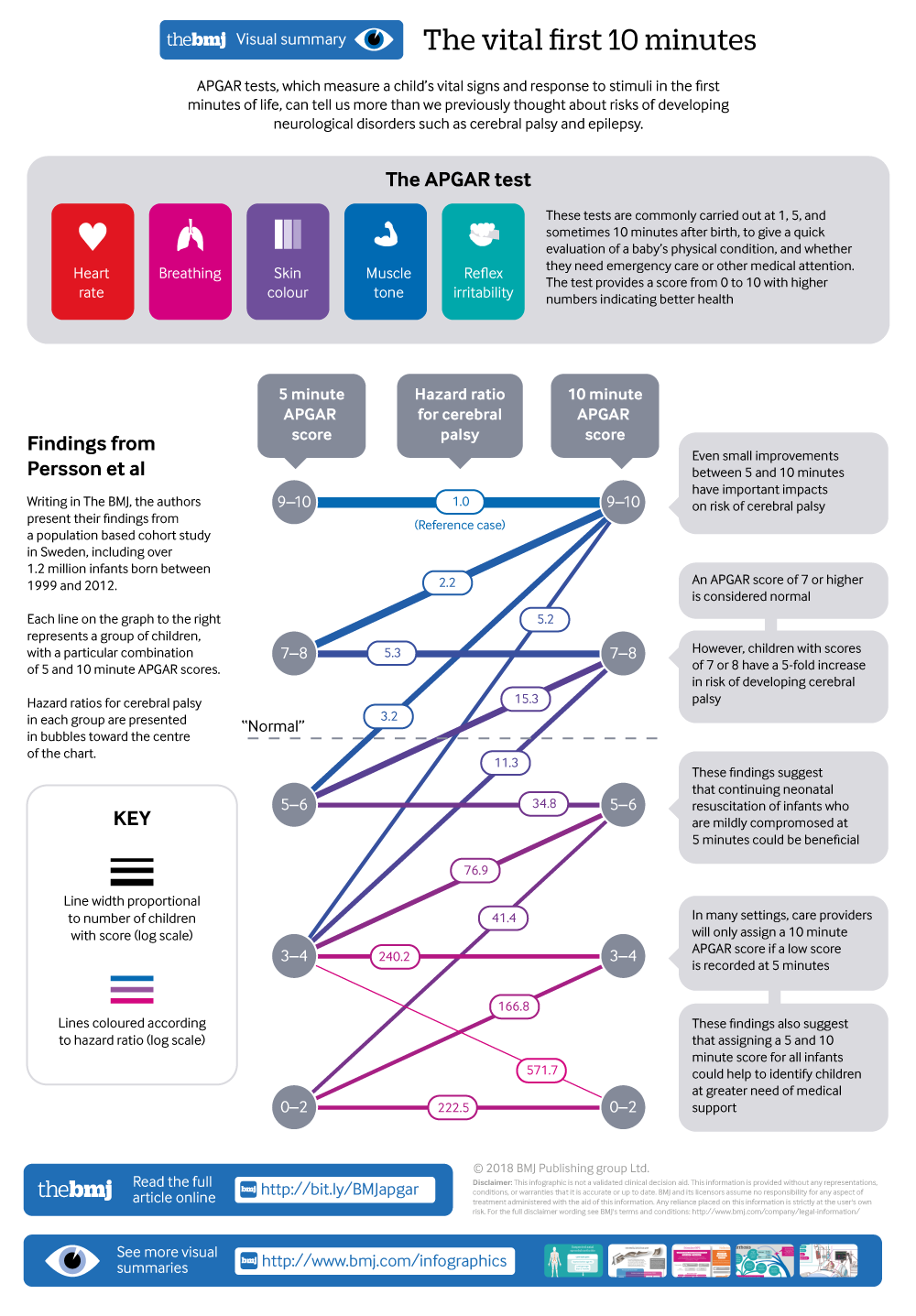 Infographic available
A visual summary of APGAR tests
All rapid responses
Rapid responses are electronic comments to the editor. They enable our users to debate issues raised in articles published on bmj.com. A rapid response is first posted online. If you need the URL (web address) of an individual response, simply click on the response headline and copy the URL from the browser window. A proportion of responses will, after editing, be published online and in the print journal as letters, which are indexed in PubMed. Rapid responses are not indexed in PubMed and they are not journal articles. The BMJ reserves the right to remove responses which are being wilfully misrepresented as published articles.
Very interesting article by Martina Persson et al. They excluded preterm infants (<37 completed weeks, n=73 101) and infants with congenital malformations (n=70 615). Here, we will like to add the post-term babies (.>41 completed weeks) are also at-risk and should have been excluded or if not excluded should have been analyzed separately.
Competing interests: No competing interests
11 February 2018
Neeru Gupta
Scientist F
Neeta Kumar, Jugal Kishore, Akshun Jani, KK Jani.
Indian Council of Medical Research
ansari nagar, new delhi-110029
Dear Editor
In their excellent Swedish population based cohort study, Persson M et al reiterated the importance of low Apgar scores at five and ten minutes as a risk factor for the development of cerebral palsy and epilepsy.1 Based on robust statistical analysis they have observed "the increased risks associated with Apgar scores of 8 and 9 are highly noteworthy and worrisome; a 10 minute Apgar score of 8 was associated with a hazard ratio of 9 for cerebral palsy, and a 10 minute Apgar score of 9 was associated with a hazard ratio of 2.4".1 Authors highlight that even a single digit change in Apgar score from the optimal value at 10 minute of age is of potential significance for the future developmental integrity.
While acknowledging that Sweden offers all citizens free access to uniform publicly funded healthcare, which contributes to high internal validity, studies have shown that the primary building block of this major work itself ie, 'Apgar score assigned at birth' has debatable interobserver reliability when analysed using variance component model.2 While the scoring proposed by Virginia Apgar, MD in 1953 (after reviewing the anaesthesia records of 1025 infants born alive at Columbia Presbyterian Medical Centre) stood the test of time in its universal application, uptake and acceptance as a predictive index; we have to be mindful of the rigour with which individual healthcare professionals of variable experience in different centres assign the score for the individual physiological signs.3,4 We could logically argue and statistically prove that a very large population based cohort would neutralise or nullify these variables, however it would have been more inclusive if authors could acknowledge the interobserver variability potential in the study limitations as well. Another potential important confounder could be those babies who were intubated soon after birth as part of resuscitation attempts and again studies have shown challenges when assigning Apgar scores to this population.5 I could not find this subgroup among the exclusion criteria selected. As this important study is likely to be quoted in both medical and medico-legal contexts in the future, consideration and mindfulness of potential influence of conventionally unmeasured factors also could be significant.
NB: Infographics supplied as a visual summary of Apgar score is excellent.
References:
1. Persson M, Razaz N, Tedroff K, Joseph KS, Cnattingius S. Five and 10 minute Apgar scores and risks of cerebral palsy and epilepsy: population based cohort study in Sweden. BMJ 2018;360:k207.
2. O'Donnell CP, Kamlin CO, Davis PG, Carlin JB, Morley CJ. Interobserver variability of the 5-minute Apgar score. J Pediatr 2006;149(4):486-9.
3. Jepson HA, Talashek ML, Tichy AM. The Apgar score: evolution, limitations, and scoring guidelines. Birth 1991;18(2):83-92.
4. Finster M, Wood M. The Apgar score has survived the test of time. Anaesthesiology 2005;102(4):855-7.
5. Lopriore E, van Burk GF, Walther FJ, de Beaufort AJ. Correct use of the Apgar score for resuscitated and intubated newborn babies: questionnaire study. BMJ 2004;329(7458):143-4.
Competing interests: No competing interests
11 February 2018
Roy K Philip
Adjunct Clinical Professor of Neonatology
University Maternity Hospital Limerick
University Maternity Hospital Limerick (UMHL), Ennis Road, Limerick V94 C566, Ireland.