Research
Five and 10 minute Apgar scores and risks of cerebral palsy and epilepsy: population based cohort study in Sweden
BMJ
2018
;
360
doi: https://doi.org/10.1136/bmj.k207
(Published 08 February 2018)
Cite this as:

BMJ

2018;360:k207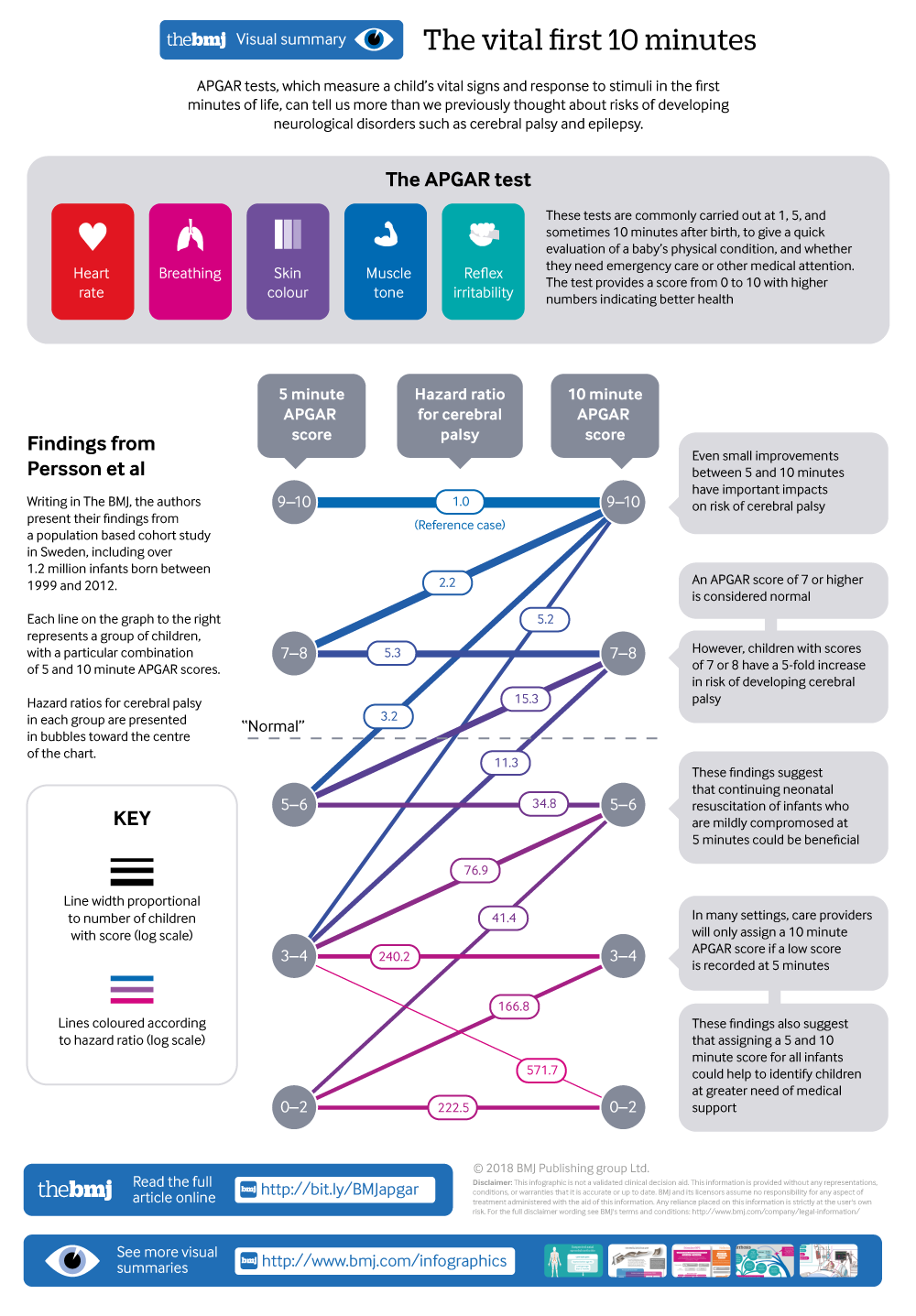 Infographic available
A visual summary of APGAR tests
1Department of Medicine, Solna, Clinical Epidemiology Unit, Karolinska Institutet, SE-171 76 Stockholm, Sweden
2Department of Women's and Children's Health, Neuropediatric Unit, Karolinska Institutet, Stockholm, Sweden
Correspondence to: M Persson

Martina.Persson{at}ki.se
Abstract
Objective To investigate associations between Apgar score at five and 10 minutes across the entire range of score values (from 0 to 10) and risks of childhood cerebral palsy or epilepsy, and to analyse the effect of changes in Apgar scores from five to 10 minutes after birth in infants born ≥37 completed weeks.
Design, setting, and participants Population based cohort study in Sweden, including 1 213 470 non-malformed live singleton infants, born at term between 1999 and 2012. Data on maternal and pregnancy characteristics and diagnoses of cerebral palsy and epilepsy were obtained by individual record linkages of nationwide Swedish registries.
Exposures Apgar scores at five and 10 minutes.
Main outcome measure Cerebral palsy and epilepsy diagnosed up to 16 years of age. Adjusted hazard ratios were calculated, along with 95% confidence intervals.
Results 1221 (0.1%) children were diagnosed as having cerebral palsy and 3975 (0.3%) as having epilepsy. Compared with children with an Apgar score of 10 at five minutes, the adjusted hazard ratio for cerebral palsy increased steadily with decreasing Apgar score: from 1.9 (95% confidence interval 1.6 to 2.2) for an Apgar score of 9 to 277.7 (154.4 to 499.5) for an Apgar score of 0. Similar and even stronger associations were obtained between Apgar scores at 10 minutes and cerebral palsy. Associations between Apgar scores and epilepsy were less pronounced, but increased hazard ratios were noted in infants with a five minute Apgar score of 7 or less and a 10 minute Apgar score of 8 or less. Compared with infants with an Apgar of 9-10 at both five and 10 minutes, hazard ratios of cerebral palsy and epilepsy were higher among infants with a five minute Apgar score of 7-8 and a 10 minute Apgar score of 9-10.
Conclusion Risks of cerebral palsy and epilepsy are inversely associated with five minute and 10 minute Apgar scores across the entire range of Apgar scores.
Footnotes
Contributors: MP and NR contributed equally to this paper. NR, SC, KSJ, and KT conceived and designed the study. All authors acquired, analysed, and interpreted the data and critically revised the manuscript for important intellectual content. MP drafted the manuscript. NR did the statistical analysis. SC obtained funding and provided administrative, technical, or material support. NR and SC are the guarantors.

Funding: This study was funded by the Swedish Research Council for Health, Working Life and Welfare (grant No 2014-0073), by the Stockholm County Council (ALF project 20150118 and a clinical postdoc position to MP), and by an unrestricted grant from Karolinska Institutet (No 2368/10-221, distinguished professor award to SC). NR is supported by a postdoctoral fellowship award from the Canadian Institutes of Health Research (CIHR). KSJ is supported by the BC Children's Hospital Research Institute and a chair award from the CIHR (APR-126338). Funders were not involved in the design and conduct of the study; collection, management, analysis, or interpretation of the data; or preparation, review, or approval of the manuscript.

Competing interests: All authors have completed the ICMJE uniform disclosure form at www.icmje.org/coi_disclosure.pdf and declare: no support from any organisation for the submitted work other than that described above; no financial relationships with any organisations that might have an interest in the submitted work in the previous three years; no other relationships or activities that could appear to have influenced the submitted work.

Ethical approval: The study was approved by the Regional Ethic Review Board at Karolinska Institutet, Stockholm, Sweden (No 2011/195-31/2).

Data sharing: No additional data available.

Transparency: The lead authors (MP and NR) affirm that the manuscript is an honest, accurate, and transparent account of the study being reported; that no important aspects of the study have been omitted; and that any discrepancies from the study as planned (and, if relevant, registered) have been explained.
This is an Open Access article distributed in accordance with the Creative Commons Attribution Non Commercial (CC BY-NC 4.0) license, which permits others to distribute, remix, adapt, build upon this work non-commercially, and license their derivative works on different terms, provided the original work is properly cited and the use is non-commercial. See: http://creativecommons.org/licenses/by-nc/4.0/.
View Full Text