News
Bawa-Garba granted Court of Appeal challenge against erasure ruling
BMJ
2018
;
360
doi: https://doi.org/10.1136/bmj.k1455
(Published 29 March 2018)
Cite this as:

BMJ

2018;360:k1455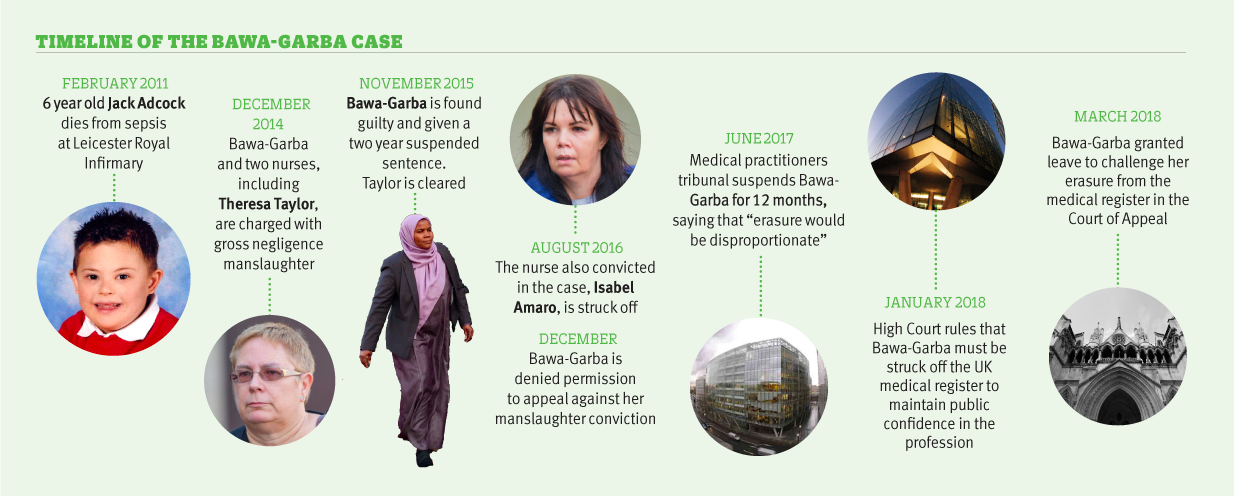 Deborah Cohen

, associate editor
The BMJ
Hadiza Bawa-Garba, a trainee paediatrician convicted of gross negligence manslaughter, has been granted leave to challenge her erasure from the medical register in the Court of Appeal.
In a decision handed down on 28 March, Lord Justice Simon granted permission for Bawa-Garba to challenge a High Court ruling to strike her off the register. The case should be heard by the end of July.
Bawa-Garba told The BMJ she was "relieved permission to appeal has been granted" and was grateful to her legal team and supporters.
In June 2017, the doctor was suspended from the medical register for 12 months by a medical practitioners' tribunal following her conviction of gross negligence manslaughter for the death of 6 year old Jack Adcock. But, in January this year, the High Court ruled that Bawa-Garba must be struck off, after the General Medical Council appealed the tribunal's decision.
The move led to an outcry from doctors, who believe Bawa-Garba should not have been singled out for …
View Full Text
Log in
Log in using your username and password
Log in through your institution