Practice
Practice Pointer
Management of patients after laparoscopic procedures
BMJ
2018
;
360
doi: https://doi.org/10.1136/bmj.k120
(Published 08 February 2018)
Cite this as:

BMJ

2018;360:k120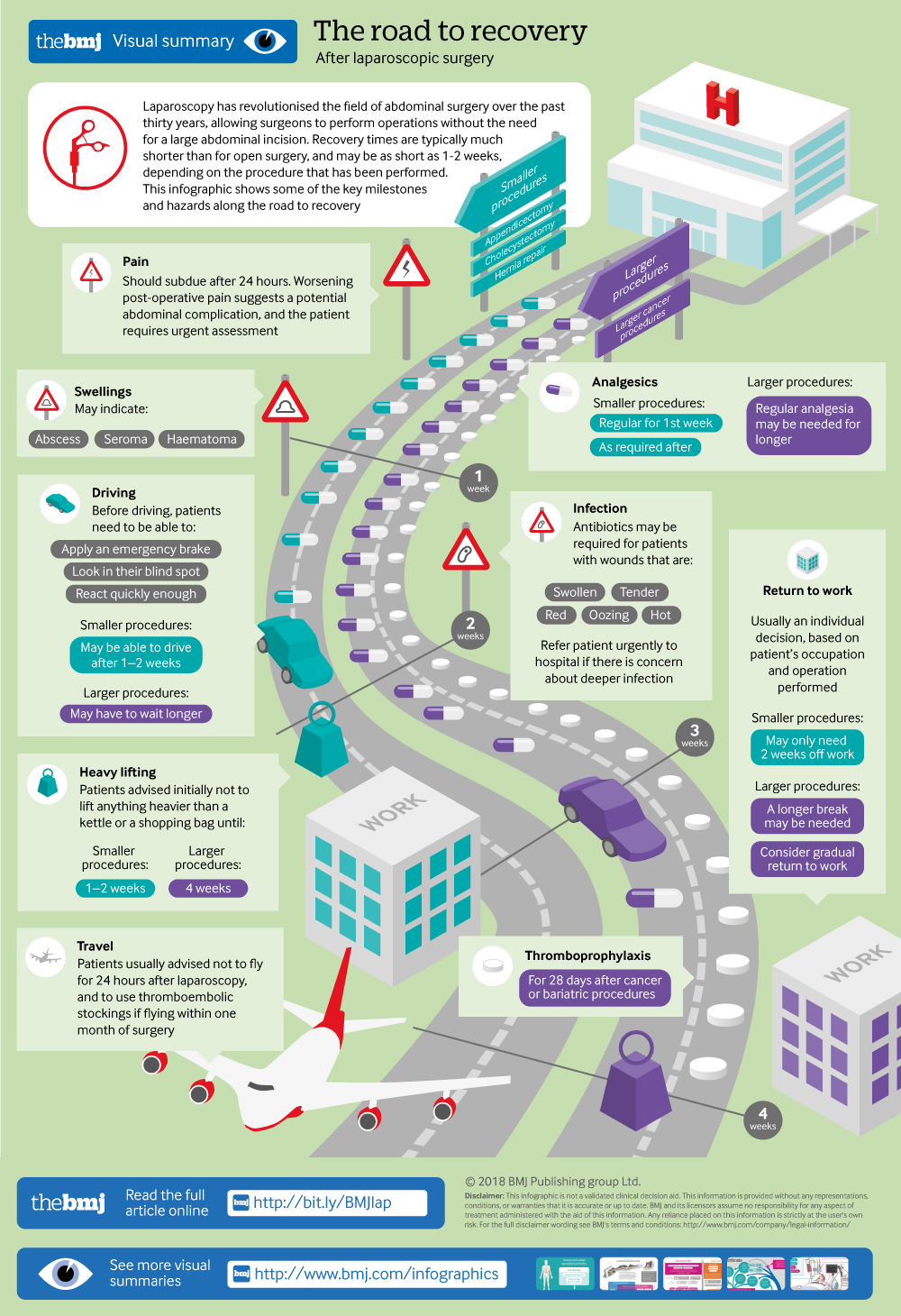 Infographic available
The road to recovery after laparoscopic surgery
All rapid responses
Rapid responses are electronic comments to the editor. They enable our users to debate issues raised in articles published on bmj.com. A rapid response is first posted online. If you need the URL (web address) of an individual response, simply click on the response headline and copy the URL from the browser window. A proportion of responses will, after editing, be published online and in the print journal as letters, which are indexed in PubMed. Rapid responses are not indexed in PubMed and they are not journal articles. The BMJ reserves the right to remove responses which are being wilfully misrepresented as published articles.
The article by Blencowe et al on the management of patients after laparoscopic surgery fails to mention one important difference between laparoscopic and conventional (open) surgery. While it may be true that overall complications are similar and depend on the nature of the surgery, it is also true that visceral injuries (e.g. bowel, bladder and ureter), although not common, are often missed at laparoscopy and only diagnosed post-operatively. This means that the degree of suspicion for the possibility of such injuries has to be much greater in patients who have recently undergone laparoscopic surgery as any avoidable delay can have serious and even fatal consequences. Therefore, any patient whose recovery is outside the norm has to be referred back to secondary care as a matter of urgency and investigated [1]. After gynaecological laparoscopy, for instance, it has always been our policy that any woman who is complaining of anything more than mild abdominal pain even on the first post-operative day has a bowel injury until proven otherwise.
Reference
1. ALS Clinical Guidelines. Recognition, Management and Prevention of Abdominal Complications of Laparoscopic Surgery. Available from: http://www.alsgbi.org/data_import_files/tbl_icemobile_document_data/loca....
Competing interests: No competing interests
17 February 2018
Adam Magos
Consultant Gynaecologist
Royal Free Hospital
Royal Free Hospital, Pond Street, Hampstead, London NW3 2QG, UK
We are encouraged to publish the following notes after reading the article published on the 8 February 2018 in The BMJ: Management of patients after laparoscopic procedures by Natalie S Blencowe, Richard Waldon and Mark N Vipond.
It took more than 150 years for technological advances to take us where we are now.
One of the most important steps took place in 1986, when micro cameras were invented. Before them, the surgeon was the only one who could see the image through the laparoscope tube, so he had to operate without anyone's help, using one hand to hold the laparoscope and the other to manoeuver any clamp he needed to use.
The idea of ​​using endoscopes is not new. At the end of the 18th century a physician named Phillip Bozzini reported the use of a hollow cylinder to examine the rectum and cervix, using a candle to illuminate. It would have been primitive, but it was the first endoscope.
Laparoscopic surgery has revolutionized the medicine of our time. This type of operatios has multiple advantages, as stated in the article reviewed in BMJ, compared to conventional surgery: it hurts less, there is less hospitalization time, recovery is faster, there is less risk of infection and it scarcely leaves a visible scar.
By connecting a camera and passing the image on televisions allowing everyone to see the same thing, the surgeon was able to have helpers. He no longer operated alone, he could have one or two assistants, each one mobilizing a pair of extra clamps with which to help, so they began to make more and more complex operations.
From there, the development of laparoscopic surgery was explosive. Currently, a large part of gynecological surgery is performed by laparoscopy, and new devices and instruments are constantly emerging that make our work easier and safer. Operations are already routine to remove ovarian tumors (solid or cystic), fibroids, remove uteri, fix prolapse, make tubal ligations and many others in the specialty, such as oncological surgery.
Another important advance is telesurgery, which uses robots and remote controls and allows, for example, patients who are in other places (submarines, space station, scientific base in Antarctica, remote and / or dangerous places, etc.) to be operated on by doctors who manage the controls thousands of kilometers away.
Another important advance is the method to operate on babies with problems before they are born, while they are in the womb of their mother. What else will we have in the future?
References
1. Reich H, DeCaprio J, McGlynn F. Laparoscopic hysterectomy. J Gynecol Surg1989;5:213-6doi:doi:10.1089/gyn.1989.5.213.
2. Fowler DL, White SA. Laparoscopy-assisted sigmoid resection. Surg Laparosc Endosc1991;1:183-8.pmid:1669400
3. Cho MS, Baek SJ, Hur H, et al. . Short and long-term outcomes of robotic versus laparoscopic total mesorectal excision for rectal cancer: a case-matched retrospective study. Medicine (Baltimore) 2015;94:e522. doi:doi:10.1097/MD.0000000000000522pmid:25789947
4. Jayne D, Pigazzi A, Marshall H, Croft J, Corrigan N, et al. Effect of robotic-assisted vs conventional laparoscopic surgery on risk of conversion to open laparotomy among patients undergoing resection for rectal cancer: the ROLARR randomized clinical trial. JAMA2017;318:1569-80.pmid:21912876
5. Kamoun S, Alves A, Bretagnol F, Lefevre JH, Valleur P, Panis Y. Outcomes of laparoscopic colorectal surgery in obese and nonobese patients: a case-matched study of 180 patients. Am J Surg2009;198:450-5. doi:doi:10.1016/j.amjsurg.2008.09.022pmid:19285301
6. Keller DS, Madhoun N, Flores-Gonzalez JR, Ibarra S, Tahilramani R, Haas EM. Effect of BMI on short-term outcomes with robotic-assisted laparoscopic surgery: a case-matched study. J Gastrointest Surg2016;20:488-93. doi:doi:10.1007/s11605-015-3016-8pmid:26704536
7. Deleon MF, Maloney Patel N, Rezac C. Robotic surgery for diverticulitis—is it cost effective? American Society of Colon and Rectal Surgeons Annual Scientific Meeting, 30 April to 4 May 2016, Los Angeles, CA2016.
8. Deleon MF, Maloney Patel N, Rezac C. Robotic colorectal surgery: outcomes and cost analysis at a single institution. American Society of Colon and Rectal Surgeons Annual Scientific Meeting, 30 May to 3 June 2015, Boston, MA2015.
9. Balachandran B, Hufford TA, Mustafa T, Kochar K, Sulo S, Khorsand J. A comparative study of outcomes between single-site robotic and multi-port laparoscopic cholecystectomy: an experience from a tertiary care center. World J Surg2017;41:1246-53. doi:doi:10.1007/s00268-016-3799-0pmid:28058471
10. Kudsi OY, Castellanos A, Kaza S, et al. Cosmesis, patient satisfaction, and quality of life after da Vinci Single-Site cholecystectomy and multiport laparoscopic cholecystectomy: short-term results from a prospective, multicenter, randomized, controlled trial. Surg Endosc2017;31:3242-50. doi:doi:10.1007/s00464-016-5353-4pmid:27864724
Competing interests: No competing interests
13 February 2018
Moises A. Santos-Peña
Chief Organizational Quality Unit
Ojeda-Treto Yoany, Ercia-Rodriguez Deyanis, Muñoz-Mendoza Ana M.
Gustavo Aldereguia University General Hospital
Ave 5 de Septiembre and 51-A street. Cienfuegos city. Cuba 55100
The inclusion of a paragraph on Return to Work was most welcome to see in this article. However reference to the excellent resources from the Royal College of Surgeons on recovery from surgery and especially Return to Work would have been additional helpful guidance for clinicians and patients https://www.rcseng.ac.uk/patient-care/recovering-from-surgery/
Competing interests: No competing interests
11 February 2018
Anil Adisesh
Assoc. Prof. Occupational Medicine
Dalhousie University
Dalhousie Medicine New Brunswick 100 Tucker Park Road PO Box 5050 Saint John Canada E2L4L5