Practice
Practice Pointer
Management of patients after laparoscopic procedures
BMJ
2018
;
360
doi: https://doi.org/10.1136/bmj.k120
(Published 08 February 2018)
Cite this as:

BMJ

2018;360:k120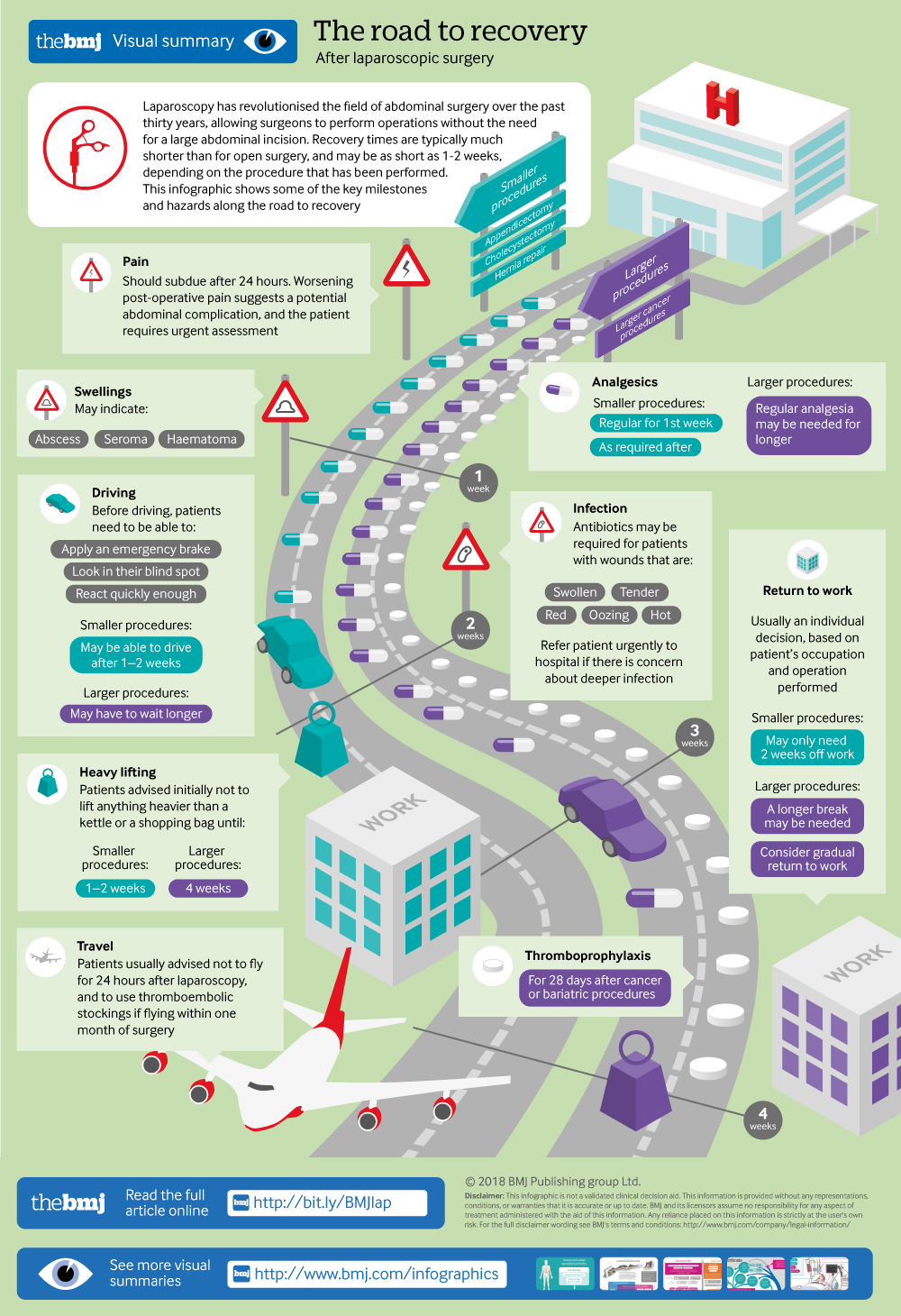 Infographic available
The road to recovery after laparoscopic surgery
Natalie S Blencowe

, National Institute for Health Research clinical lecturer and honorary specialty trainee, general surgery

1

,

Richard Waldon

, senior partner

2

,

Mark N Vipond

, consultant upper gastrointestinal surgeon,

, past president of the Association of Laparoscopic Surgeons of Great Britain and Ireland

3
1University of Bristol and the Severn Deanery, Bristol, UK
2Rowcroft Medical Centre, Stroud, Gloucestershire, UK
3Gloucestershire Hospitals NHS Foundation Trust, Gloucestershire, UK
Correspondence to M N Vipond

mark.vipond{at}nhs.net
What you need to know
The duration of recovery after laparoscopic surgery depends on the procedure performed, and can be as short as 1-2 weeks

Patients should refrain from driving until they are comfortably able to look in their blind spot and perform an emergency stop

Worsening postoperative pain suggests a potential abdominal complication, and the patient requires urgent assessment

Although most wound infections after laparoscopic surgery are superficial, some can involve the deeper tissues and might require assessment in hospital, particularly if prosthetic material has been inserted (eg, mesh)
Laparoscopy has revolutionised abdominal surgery over the past 30 years. Fifteen million laparoscopic surgical operations are performed worldwide every year, of which 10% are performed in the UK.1 Laparoscopy involves the use of cameras and specially designed instruments that enable surgeons to perform operations without making large abdominal incisions. It has gained worldwide popularity and acceptance by surgeons and patients alike. Better intraoperative visibility, minimal scarring, less pain, shorter hospital stay, and faster recovery are the main advantages of laparosocopic surgery.2 This practice pointer discusses the considerations around management of patients following laparoscopic surgical procedures. It is predominantly UK focused, although information about wound care, thromboprophylaxis, and complications should equally apply elsewhere.
Laparoscopy: what's changed?
As well as cholecystectomy, appendicectomy, and tubo-ovarian procedures, laparoscopy is now increasingly used for hysterectomy, bariatric procedures, and many gastrointestinal and urological cancer resections, and it is also possible to perform aortic aneurysm repair laparoscopically.345 Technological advances have resulted in the development of several variations on the "standard" laparoscopic approach. These are described in box 1.
Box 1
Variations on standard laparoscopic techniques
Single incision laparoscopic surgery
The surgeon operates almost exclusively through a single entry point, typically the patient's umbilicus, leaving a single scar
Natural orifice endoscopic surgery
Performed with an endoscope passed through a natural orifice (eg, mouth or anus) then through an internal incision (eg, stomach or colon), thus …
RETURN TO TEXT
View Full Text
Log in
Log in using your username and password
Log in through your institution
Subscribe from £138 *
Subscribe and get access to all BMJ articles, and much more.
* For online subscription
Access this article for 1 day for:
£23 / $37 / €30 (inc. VAT)
You can download a PDF version for your personal record.