Practice
Clinical updates
Peripheral artery disease
BMJ
2018
;
360
doi: https://doi.org/10.1136/bmj.j5842
(Published 01 February 2018)
Cite this as:

BMJ

2018;360:j5842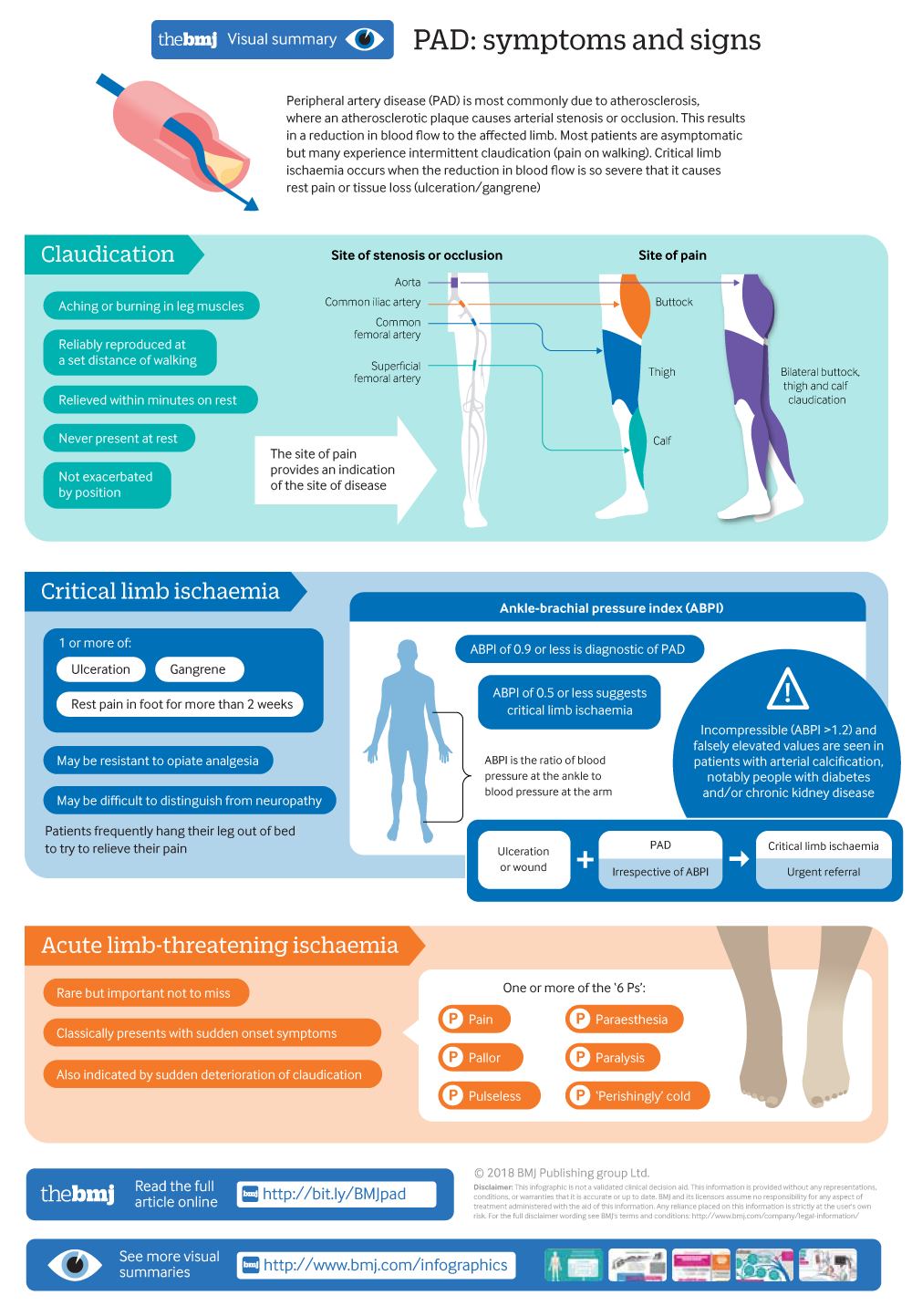 Infographic available
Signs and symptoms of peripheral artery disease
All rapid responses
Rapid responses are electronic comments to the editor. They enable our users to debate issues raised in articles published on bmj.com. A rapid response is first posted online. If you need the URL (web address) of an individual response, simply click on the response headline and copy the URL from the browser window. A proportion of responses will, after editing, be published online and in the print journal as letters, which are indexed in PubMed. Rapid responses are not indexed in PubMed and they are not journal articles. The BMJ reserves the right to remove responses which are being wilfully misrepresented as published articles.
Dear Sir,
The recent paper by Morley et al. is very important; they report that 13% of the Western population suffers of peripheral artery disease; one- and two-thirds of them, respectively, will suffer of cerebral or heart ischaemia (or both) (1). The necessary anticoagulation therapies pose a consistent risk of bleeding, sometimes leading to death. Prevention of ischaemic events is the crux of the matter.
We believe we should bear in mind one frequent cause for vascular obstruction, often neglected, but eliminatable at low cost: infection by pathogenic strains of Helicobacter pylori. These can be recognized by the presence in circulation of the antibody against the cytotoxin-associated gene A protein (CagA), which may cross-react with von Willebrand factor and platelets' protein GpI, so that platelets aggregate (2). In addition, H. pylori activates endothelial cells (3), thereupon increasing the risk of vascular obstruction. Indeed, this was shown to occur in the arteries of the heart (4-6) and brain (7), as well as in the peripheral arteries (8,9).We suggest that in case of peripheral artery disease it would be prudent to search for pathogenic strains of H. pylori and to cure the patients infected.
Antonio Ponzetto, MD, Professor of Gastroenterology, Department of Medical Sciences, University of Turin corso AM Dogliotti 14, 10126 Torino, Italy
Natale Figura, MD, PhD, Professor of Gastroenterology, Department of Medical, Surgical and Neurological Sciences, University of Siena viale Bracci 1, 35100 Siena, Italy
Jean E Crabtree, BSc, DPhil, FRCPath, Emeritus Professor of Experimental Pathology Leeds Institute of Biomedical and Clinical Sciences, Leeds LS9 7TF, UK.
References
1- Morley RL, Sharma A, Horsch AD, Hinchliffe RJ. Peripheral artery disease. BMJ 2018;360:j5842 doi: https://doi.org/10.1136/bmj.j5842
2- Byrne MF, Kerrigan SW, Corcoran PA, Atherton JC, Murray FE, Fitzgerald DJ, et al. Helicobacter pylori binds von Willebrand factor and interacts with GPIb to induce platelet aggregation. Gastroenterology 2003; 124:1846–1854.
3- Innocenti M, Thoreson AC, Ferrero RL, Strömberg E, Bölin I, Eriksson L, et al. Helicobacter pylori-induced activation of human endothelial cells. Infect Immun 2002; 70:4581–4590.
4- Gunn M, Stephens JC, Thompson JR, Rathbone BJ, Samani NJ. Significant association of cagA positive Helicobacter pylori strains with risk of premature myocardial infarction. Heart. 2000; 84:267-271.
5- Danesh J, Youngman L, Clark S, Parish S, Peto R, Collins R. Helicobacter pylori infection and early onset myocardial infarction: case-control and sibling pairs study. BMJ 1999; 319: 1157-1162.
6- Danesh J, Peto R. Risk factors for coronary heart disease and infection with Helicobacter pylori: meta-analysis of 18 studies. BMJ 1998; 316: 1130-1132.
7- Gabrielli M, Santoliquido A, Cremonini F, Cicconi V, Candelli M, Michele Serricchio et al. CagA-positive cytotoxic H. pylori strains as a link between plaque instability and atherosclerotic stroke. Eur Heart J 2004; 25: 64–68.
8- Sawayama Y, Hamada M, Otaguro S, Maeda S, Ohnishi H, Fujimoto Y, et al. Chronic Helicobacter pylori infection is associated with peripheral arterial disease. J Infect Chemother 2008; 14: 250-254.
9- Budzyński J, Wiśniewska J, Ciecierski M, Kędzia A. Association between Bacterial Infection and Peripheral Vascular Disease: A Review. Int J Angiol 2016;25:3-13. doi: 10.1055/s-0035-1547385
Competing interests: No competing interests
22 February 2018
Antonio Ponzetto
Professor of Gastroenterology
Natale Figura, Jean E Crabtree
University of Turin, Department Medical Sciences
Corso AM Dogliotti 14,10126 Torino, Italy