Practice
Clinical Updates
Fever in the returning traveller
BMJ
2018
;
360
doi: https://doi.org/10.1136/bmj.j5773
(Published 25 January 2018)
Cite this as:

BMJ

2018;360:j5773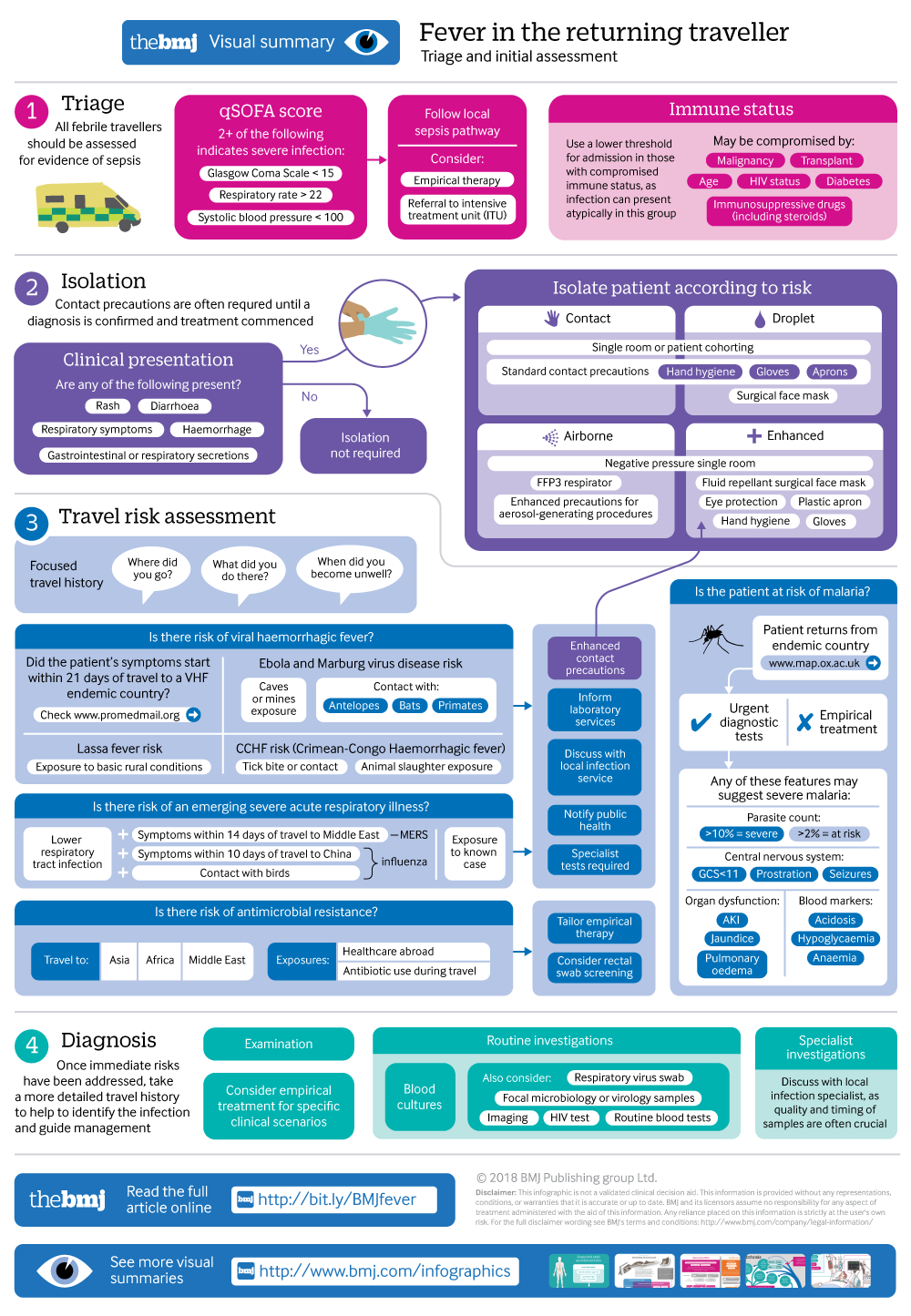 Infographic available
Triage and initial assement of fever in the returning traveller
Doug Fink

, clinical research fellow and specialist registrar in infectious diseases

1

2

,

Robert Serafino Wani

, consultant in infectious diseases and microbiology

3

,

Victoria Johnston

, associate professor in clinical epidemiology and consultant in infectious diseases

1

4
1The Hospital for Tropical Diseases, Mortimer Market Centre, London, UK
2Division of Infection and Immunity, University College London, London, UK
3Department of Infection, Barts Health NHS Trust, Royal London Hospital, London, UK
4London School of Hygiene and Tropical Medicine, London, UK
Correspondence to

douglas.fink{at}nhs.net
What you need to know
Malaria is the most common specific diagnosis in febrile returning travellers and must be excluded using peripheral blood smear testing for the malarial parasite

To protect yourself and prevent an outbreak, always ask yourself, "Does this patient need to be isolated?"

Consider the possibility of antimicrobial resistance if a patient with fever has recently travelled to Africa, Asia, or the Middle East, particularly if they were hospitalised
Sources and selection criteria
We searched the Medline database (1994–2017) using the terms "fever," "travel," and "travel medicine." The search was limited to English language articles. Given the absence of randomised controlled trials in this field, we focused on observational studies in adult travellers (>16 years). Studies of infection in endemic populations were excluded. Appropriate publications were selected from the abstract list by two authors, with additional relevant articles included from their references. We have reviewed guidelines from the World Health Organization, Centers for Disease Control and Prevention, Public Health England, and the European Society for Clinical Microbiology and Infectious Diseases, and have compiled key recommendations from these.
International travel is increasingly common. The United Nations World Tourism Organisation estimates that by 2030, nearly 2 billion people will travel internationally each year, most of them to emerging economies.1 In the UK alone, there were more than 70 million visits abroad by UK residents in 2016, and 37 million overseas residents visiting the UK.2
Illness associated with travel is common (box 1). Most infections are mild or self limiting, however their non-specific presentations make them challenging to distinguish from life threatening infections such as malaria.17
Box 1
How common is fever in the returning traveller?
Between 10% and 42% of travellers to any destination34 and 15%-70% of travellers to tropical settings experience ill health, either while abroad or on returning home 56789

Immigrants who are visiting friends and relatives …
RETURN TO TEXT
View Full Text
Log in
Log in using your username and password
Log in through your institution