Practice
Essentials
Optimising sleep for night shifts
BMJ
2018
;
360
doi: https://doi.org/10.1136/bmj.j5637
(Published 01 March 2018)
Cite this as:

BMJ

2018;360:j5637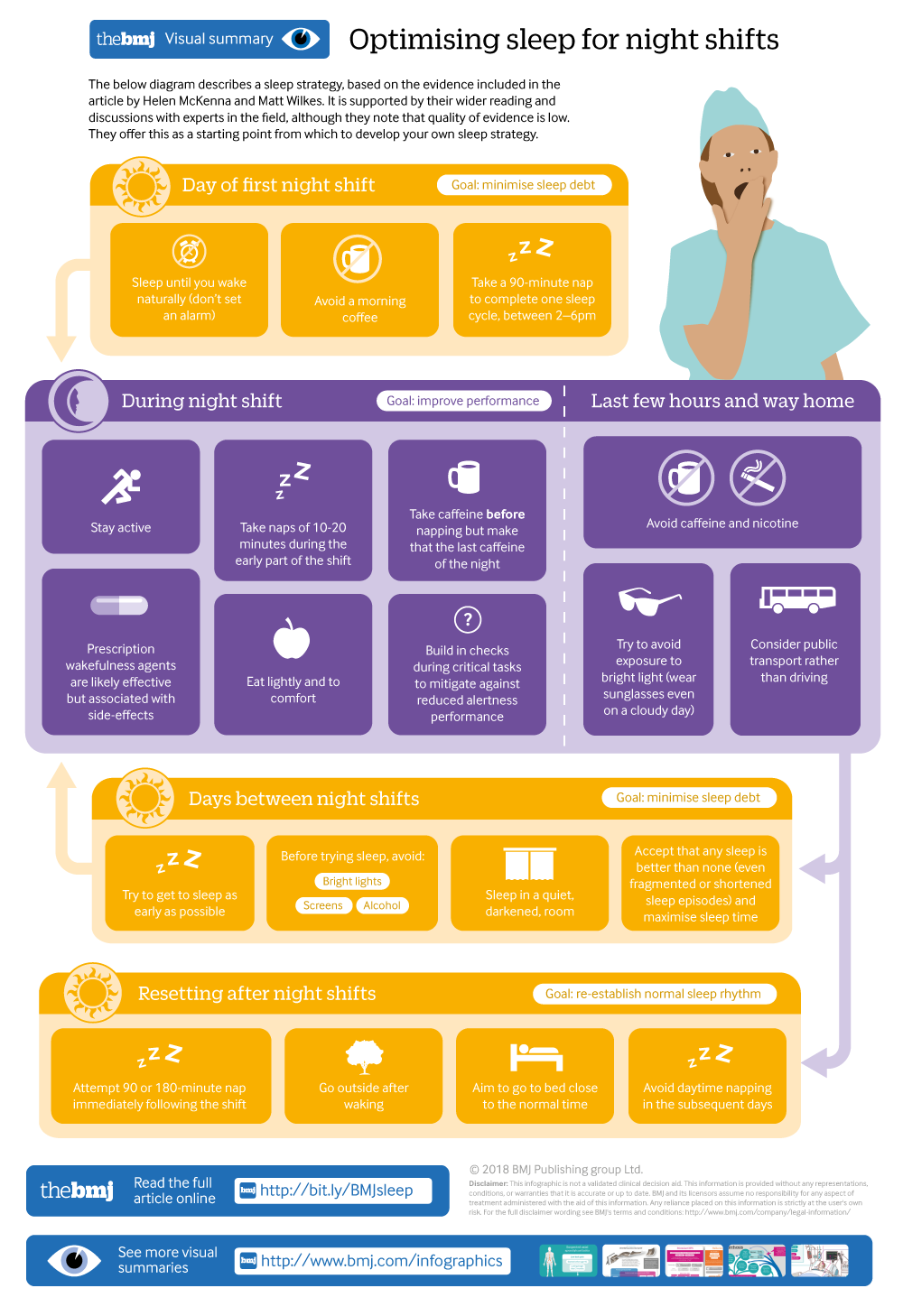 Visual summary available
A suggested sleep strategy covering before, during, and after night shifts
Helen McKenna

, intensive care research fellow

1,

Matt Wilkes

, specialty registrar

2
Correspondence to H McKenna

helen.mckenna.15{at}ucl.ac.uk
What you need to know
Working at night disrupts the circadian rhythm and can lead to the accumulation of a sleep debt, impairing performance and health

Full circadian adaptation to night shift work is not possible in the short term

Night shift workers should be aware of reduced performance during critical tasks and on the journey home
Sources and selection criteria
We selected published guidance on sleep and shift work from the National Institute for Health and Care Excellence (NICE) and the Royal Colleges of Physicians and Anaesthetists. We then searched PubMed and Cochrane databases (to May 2017) for observational studies, randomised controlled studies, meta-analyses, and systematic and narrative reviews relating to the health consequences of shift work and for each proposed sleep intervention given in table 1. Priority was given to randomised controlled trials and meta-analyses, but given the interdisciplinary nature of sleep and shift work, and the overall quality of evidence, we also considered observational studies and grey literature from aviation and heavy industries, as well as published expert opinion.
Night shift work occurs during the period of the sleep-wake cycle ("circadian phase") programmed for sleep. Alertness, cognitive function, psychomotor coordination, and mood all reach their lowest point between 3 and 5 am1 After the shift, workers must rest during the circadian phase least conducive to sleeping,2 which compounds fatigue and can lead to chronic sleep disturbance.3 A recent systematic review linked night shift work with an increased risk of sleep loss, occupational accidents, obesity and weight gain, type 2 diabetes, coronary heart disease, and breast, prostate, and colorectal cancers.4 In a 2017 survey of 2231 UK trainee anaesthetists, more than 70% reported that fatigue affected their physical and psychological wellbeing. Fifty seven per cent described an accident or near-miss travelling home from night shifts.5
Performance on night shift declines with age, and recovery time is extended.67 These are important considerations for hospitals seeking to provide a 24 hour service with consultant cover. The responsibility for maintaining worker health and performance is shared between organisations and workers, but this article aims to provide sleep management skills for the individual.
What evidence is available regarding strategies for workers on night shifts?
Two recent Cochrane reviews of strategies for shift workers highlighted a paucity of adequately powered, well designed, randomised control trials, and yielded mostly low quality evidence.78 Sleep and performance are complex phenomena, difficult to control and measure in practice, and it is unlikely that a single intervention will act as a panacea. Bearing these limitations in mind, the most effective approach to combating the effects of night shift work will most likely be personalised and multimodal. Given the complexity of the problem, we suggest that individuals try to build their own sleep strategies and fine tune the multiple interventions for which there is experimental evidence (ideally randomised controlled trials). Here we present the best evidence from trials and expert opinion.
Opportunities for intervention
Footnotes
Acknowledgments: We are grateful for the expert contribution of David Flower, chronobiologist, occupational health physician, and Senior Health Director, BP International Ltd.

Contributors: HMcK conducted the literature search and drafted the manuscript; MW drafted the manuscript and conducted an interview with Hunniya Waseem. Both authors are happy to act as guarantors.

Competing interests: The authors confirm that they have no competing interests.

Provenance and peer review: commissioned; externally peer reviewed.
View Abstract