Feature
Christmas 2017: Natural phenomena
Wine glass size in England from 1700 to 2017: a measure of our time
BMJ
2017
;
359
doi: https://doi.org/10.1136/bmj.j5623
(Published 13 December 2017)
Cite this as:

BMJ

2017;359:j5623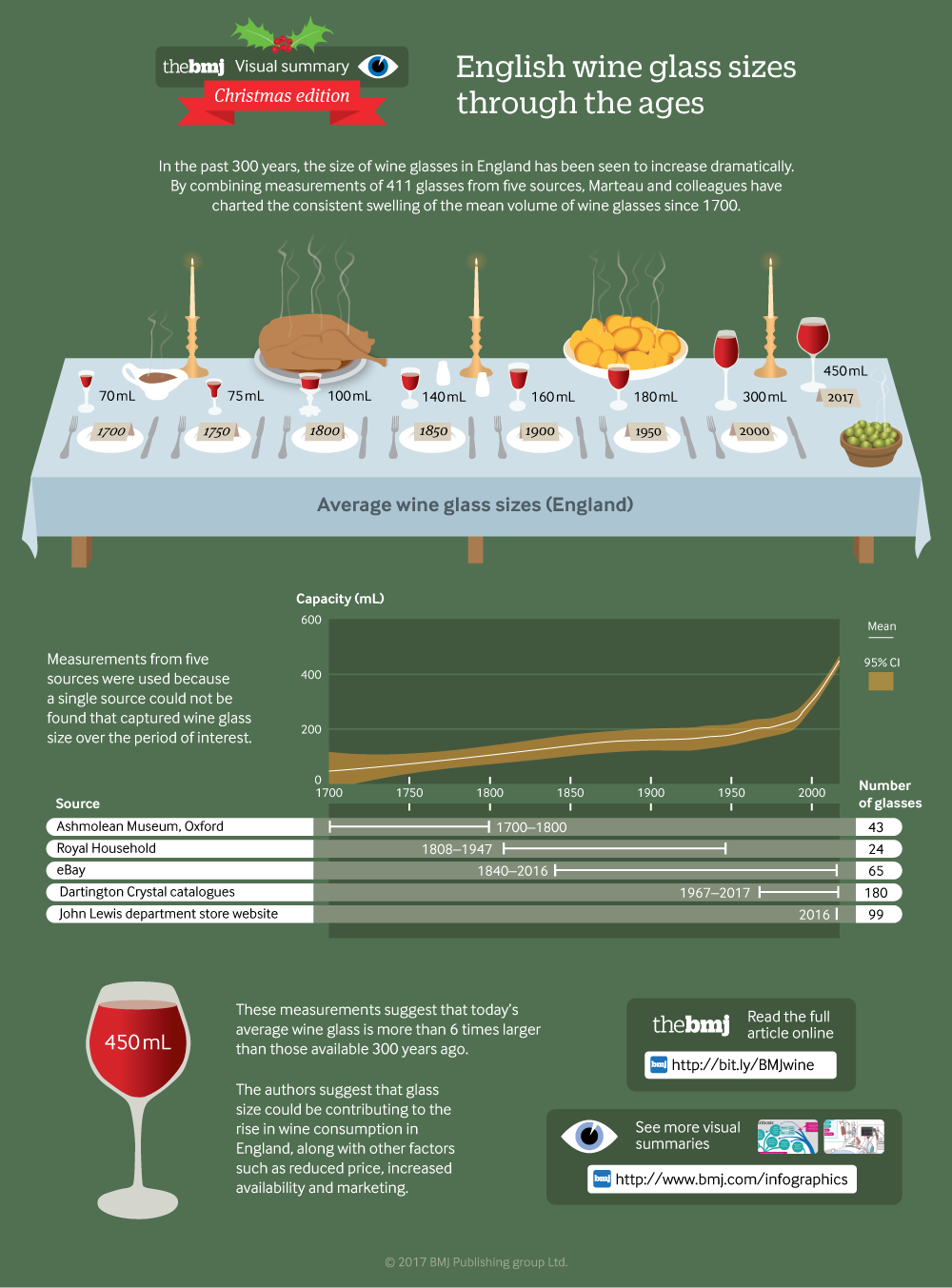 Christmas infographic available
Click here for a visual overview of English wine glass sizes through the ages
All rapid responses
Rapid responses are electronic comments to the editor. They enable our users to debate issues raised in articles published on bmj.com. A rapid response is first posted online. If you need the URL (web address) of an individual response, simply click on the response headline and copy the URL from the browser window. A proportion of responses will, after editing, be published online and in the print journal as letters, which are indexed in PubMed. Rapid responses are not indexed in PubMed and they are not journal articles. The BMJ reserves the right to remove responses which are being wilfully misrepresented as published articles or when it is brought to our attention that a response spreads misinformation.
From March 2022, the word limit for rapid responses will be 600 words not including references and author details. We will no longer post responses that exceed this limit.
The word limit for letters selected from posted responses remains 300 words.
I think you have mixed your sources up. Evident from the dates.
Competing interests: No competing interests
May I congratulate the authors on their diligent measures taken to document the size of wine glasses. May I suggest though, that if they study the history of drinking in the British Isles so closely as they have the receptacles used for it, they may reconsider the notion that smaller glasses of the past limited peoples intake.
Perhaps a review of some notable port drinkers will give a different perspective: William Pitt the Younger routinely consumed a bottle of port before giving a speech to the house, Samuel Johnson refreshed himself with three bottles a day, while the squire John Mytton polished off up to six a day. None of these merry gentlemen seem to have let the size of their glasses slow them down: perhaps it's not the size, but what you do with it that counts!
To better understand the use to which these glasses were put, one must review the history of toasting, which reached a peak of poularity in the late 18th century. When a toast was proposed, the contents of ones glass were polished off in one, and Lord Henry Cockburn complained that this was "a perfect social tyranny... Every glass during dinner had to be dedicated to someone". This style of drining would be ill advised using the much huge goblets which were popular previously, during the renaissance.
To return to the present day, while our glasses are large, we rarely drink them down in one. I also hope the authors have not been comitting the faux pas of filling them to the brim - they should usually be filled to the widest point, which leaving the glass about a third full - the shape of the glass can then capture the aroma. Cheers!
Competing interests: No competing interests