Practice
Practice Pointer
Assessment of child or young person with a possible eating disorder
BMJ
2017
;
359
doi: https://doi.org/10.1136/bmj.j5328
(Published 07 December 2017)
Cite this as:

BMJ

2017;359:j5328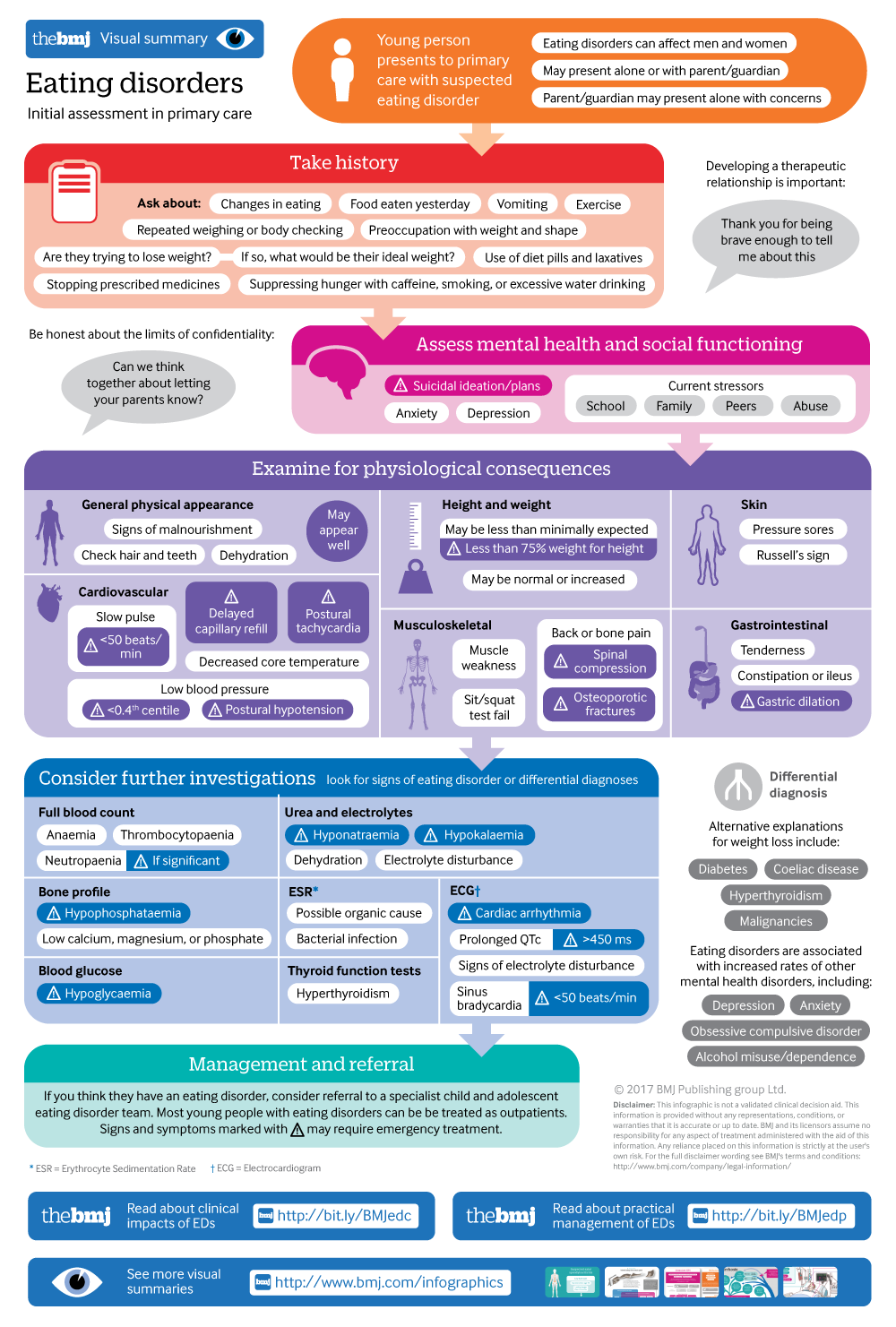 Infographic available
Click here for a visual overview of initial assessment of eating disorders in primary care.
All rapid responses
Rapid responses are electronic comments to the editor. They enable our users to debate issues raised in articles published on bmj.com. A rapid response is first posted online. If you need the URL (web address) of an individual response, simply click on the response headline and copy the URL from the browser window. A proportion of responses will, after editing, be published online and in the print journal as letters, which are indexed in PubMed. Rapid responses are not indexed in PubMed and they are not journal articles. The BMJ reserves the right to remove responses which are being wilfully misrepresented as published articles.
Your practice pointer includes the following invaluable advice to health care professionals when a sufferer first presents - 'Thank them for being brave enough to tell you'. By recognising that the sufferer is mounting an open rebellion to their illness, you will convey non-judgemental and compassionate understanding for the plight they find themselves in. Their illness is the body armour they have adopted to deal with the shortcomings they perceive in themselves and the constant threats in their life that they believe will brutally expose such failings for all to see. Without their body armour they are defenceless (and who of us would willingly relinquish such protection in times of war) whilst becoming progressively more exhausted by its weight. The body armour has taken on a life of its own, oppressive and restrictive in equal measure.
By appealing to the person and not the eating disorder you invite the sufferer to start to trust you.
Trust is the fuel that drives engagement. With growing trust comes hope, and hope is the oxygen that drives recovery.
The view that many health professionals often (understandably) hold is that most sufferers are secretive, untrustworthy, difficult to engage, time consuming and unrewarding to treat, whereas in fact it is the illness that bears those characteristics, not the sufferers. The view that many sufferers often (understandably) hold is that most health professionals do not understand their illness and are only interested in their weight. Once again it is the illness that mercilessly exploits any shortcomings in the health professionals 's manner to reinforce such views through the altered cognition it induces in sufferers.
Consultations borne of those shared misconceptions will inevitably be unproductive at best and more likely destructive at worst and doomed to failure since it leaves the illness in total control. Focussing on the individual and not the illness requires inordinate patience, but with time the results can be so rewarding.
Competing interests: No competing interests
18 December 2017
antony natt
Retired GP
Clinical Awareness Officer First Steps Eating Disorder Charity Derbyshire*
North Derbyshire
This timely article helpfully reminds us that the interval between illness onset and access to specialist interventions predicts outcomes. Early interventions (<6 months?) are associated with good outcomes whilst late interventions (>3 years) are associated with poor outcomes.
What it does not share with the reader is that the average delay is presently said to be 18 months (9 months service user delays and 9 months service provider delays) i.e. by the time sufferers are treated their prognosis is becoming ever poorer and contributing to the generally held negative impressions of primary care health professionals that service users are difficult to engage with, difficult to treat, consume significant resources of time, effort and and finances for poor outcomes.
The new NICE guidelines (2017) together with much needed NHS capital investment in mental health services for young people will hopefully address the service provider delays in treatment. However despite this, until the service user factors are addressed, outcomes will still be compromised. The secrecy of Eating Disordered behaviour is notorious and is hardly conducive to earlier presentation. As your article suggests, worried parents/carers who present without the consent of the sufferer, are often frustrated that their loved one cannot be made to engage, unless extreme circumstances demand. Often, families have done the best they can to deal with the extreme stresses posed by the illness, but some of their strategies unwittingly play to the strengths of the illness. In recognition of this early interventions for carers should be made available, whether or not accompanied by the sufferer. It is widely recognised that the Maudsley methods of family therapy are the one intervention that improves the outlook for young sufferers with Anorexia Nervosa.
Our charity* therefore provides 'Support for Carers', a series of group meetings in which carers/parents can be encouraged to explore more positive strategies and by implementing them will benefit the sufferer and hopefully also encourage them to engage in their own right.
The recent government announcement that schools will receive capital investment to encourage earlier interventions for their pupils with mental health difficulties is also to be welcomed.
Competing interests: No competing interests
18 December 2017
antony natt
Retired GP
Clinical Awareness Officer First Steps Eating Disorder Charity Derbyshire*
North Derbyshire
This article is aimed at general practitioners and has helpful pointers in considering eating disorders in children among young people. However, the article does not give much emphasis to primarily ruling out serious and organic causes such as malignancies and tuberculosis. As a paediatrician I would first carry out some etiological investigations while keeping eating disorders in mind.
It's well presented, easy to read and with clear methods of how to approach a child or young person presenting alone.
Competing interests: No competing interests