Practice
Clinical updates
Undernutrition and severe acute malnutrition in children
BMJ
2017
;
359
doi: https://doi.org/10.1136/bmj.j4877
(Published 16 November 2017)
Cite this as:

BMJ

2017;359:j4877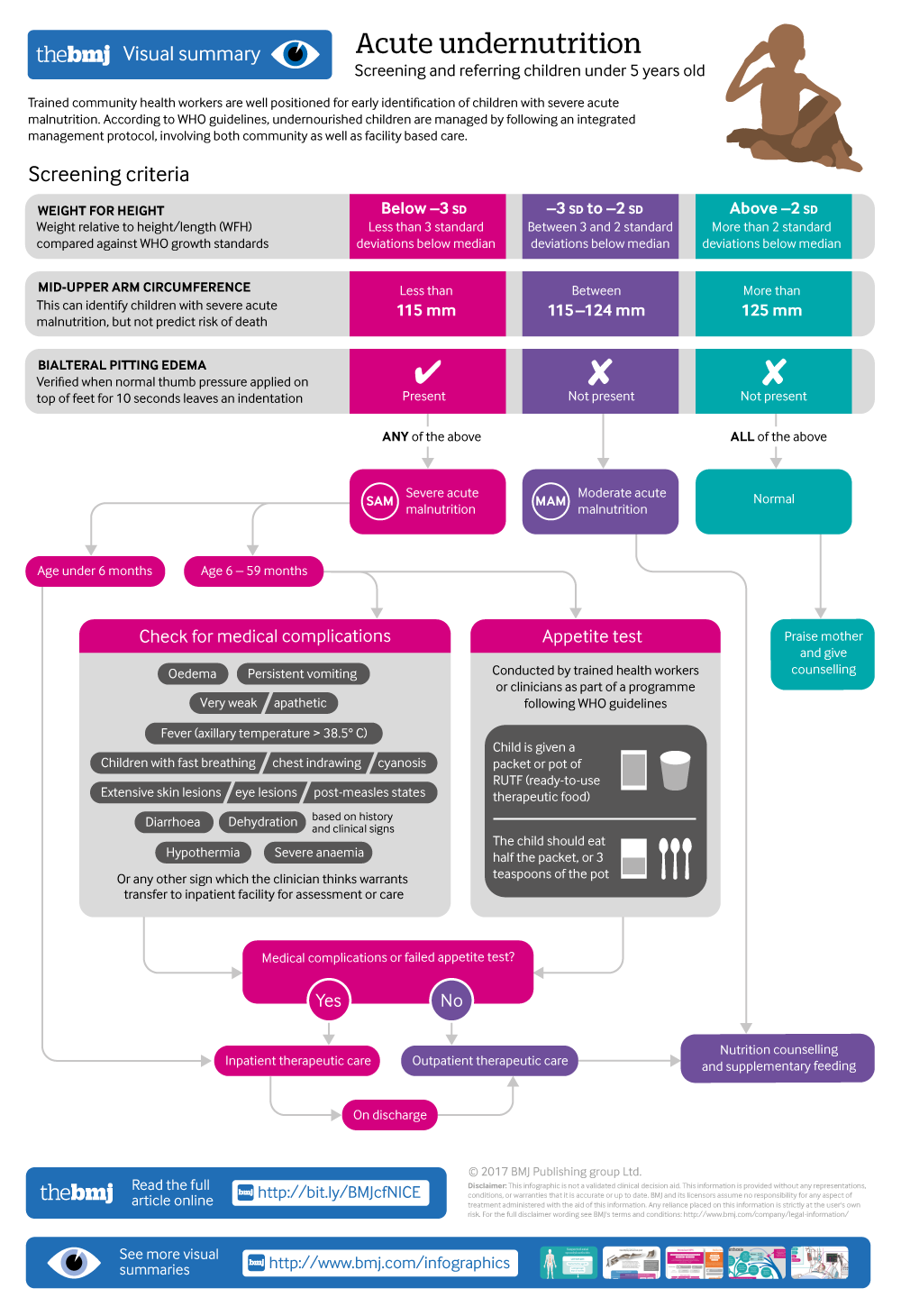 Infographic available
Click here for a visual overview of screening and referring children under 5 years old with acute undernutrition
Suparna Ghosh-Jerath

, additional professor

1

,

Archna Singh

, associate professor

2

,

Nameet Jerath

, senior consultant

3

,

Suruchi Gupta

, research assistant

1

,

Elizabeth F Racine

, professor

4
1Public Health Foundation of India, Indian Institute of Public Health-Delhi, Gurgaon, Haryana 122002, India
2Biochemistry Department, All India Institute of Medical Sciences, New Delhi, India
3Indraprastha Apollo Hospital, Pediatrics, New Delhi, India
4Department of Public Health Sciences, University of North Carolina at Charlotte, Charlotte NC, USA
Correspondence to: S Ghosh-Jerath

suparna.ghoshj{at}iiphd.org
What you need to know
Children with moderate to severe acute malnutrition have three to nine times higher mortality than well nourished children

In areas with high rates of undernutrition, assess nutritional staus of all children under 5 years old using standard anthropometric measures

Refer children with medical complications, oedema, or poor appetite to a medical centre for inpatient management with standard feeding protocols

Children who are well and alert can be managed in the community with optimal diet, counselling mothers about child care and feeding, and regular follow-up

The choice between ready-to-use therapeutic foods or home prepared food must be guided by local availability, costs, and caregiver preferences
Undernutrition contributes to nearly 45% of all deaths in children under 5 years old globally.1 Low and middle income countries are worst affected.2 Treatment services are estimated to reach less than 15% of undernourished children.3 Healthcare providers can play a crucial role in identifying undernutrition in children and ensuring appropriate care and referral.
We provide an overview of assessment and initial management of undernutrition in children under 5 years of age. For the purpose of this paper, we focus on severe acute malnutrition, when children are at increased risk of medical complications unless diagnosed and managed promptly.
What encompasses child undernutrition and severe acute malnutrition?
Undernutrition results from insufficient intake of energy foods (carbohydrates, fats), proteins, and micronutrients (vitamins and minerals).4 Energy and protein malnutrition can manifest clinically as marasmus, kwashiorkor, and marasmic-kwashiorkor (see fig 1⇓ and fig 2⇓). The current World Health Organization guidelines subsume these entities into the blanket term "severe acute malnutrition," and its variants with or without medical complications.5 Acute malnutrition results from hunger or disease, or both, and is associated with rapid weight loss or failure to gain weight. Box 1 outlines the subclinical and clinical forms of undernutrition. Iron, iodine, vitamin …
View Full Text
Log in
Log in using your username and password
Log in through your institution