Practice
Practice Pointer
Primary care management of postoperative shoulder, hip, and knee arthroplasty
BMJ
2017
;
359
doi: https://doi.org/10.1136/bmj.j4431
(Published 18 October 2017)
Cite this as:

BMJ

2017;359:j4431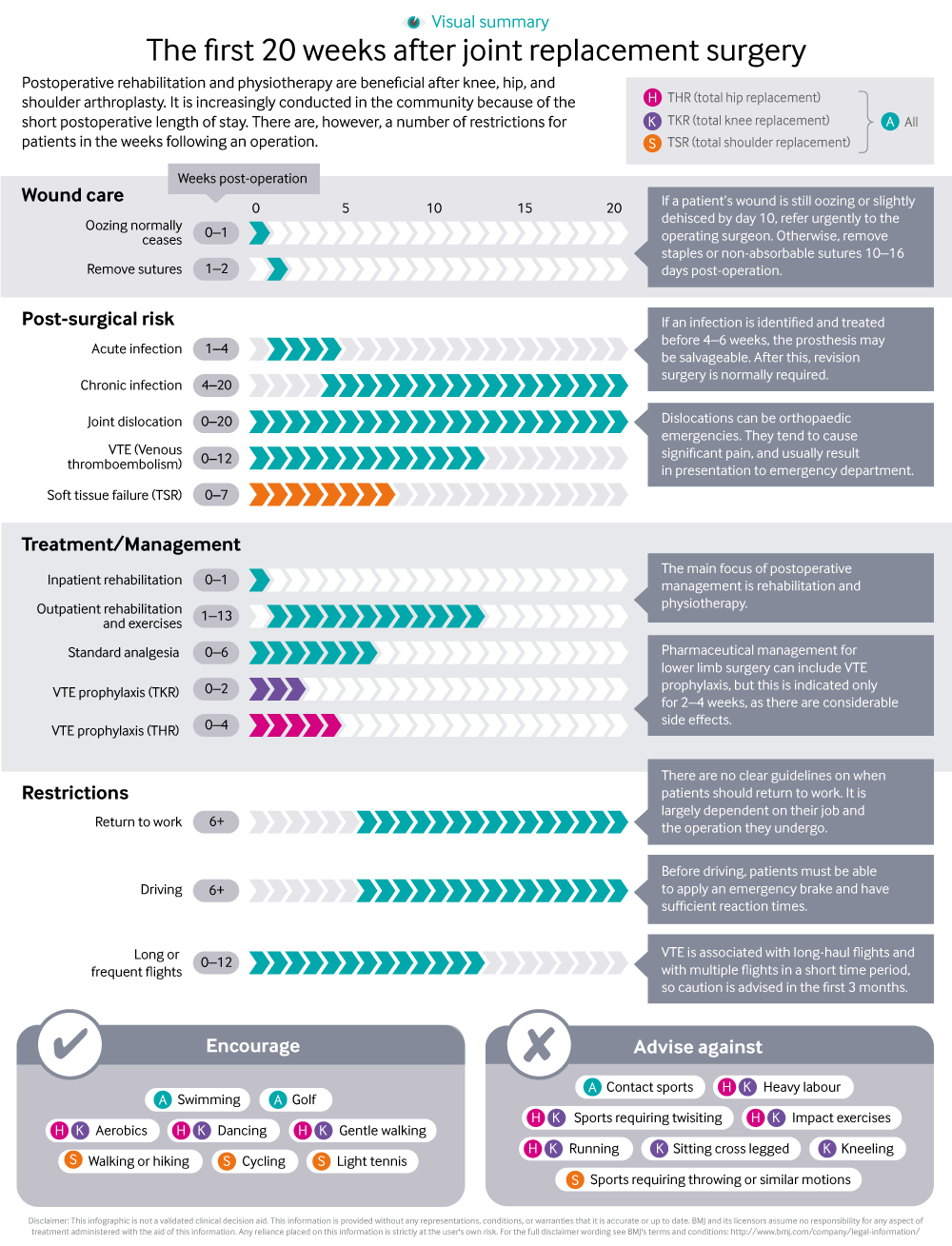 Infographic available
A visual summary of management and restrictions for people following joint replacement surgery.
Nick Aresti

, specialist registrar in trauma and orthopaedic surgery Percivall Pott rotation and National Medical Director's clinical fellow

1

,

Jamila Kassam

, physiotherapist and orthopaedic research lead

1

,

Daniel Bartlett

, general practitioner

2

,

Satish Kutty

, consultant knee and revision hip surgeon and clinical director

3
1Trauma and Orthopaedics, Barts Health, Royal London Hospital, London E11BB, UK
2Wessex, UK
3Princess Alexandra Hospital, Harlow, UK
Correspondence to: N Aresti email@nickaresti.com
What you need to know
Do not treat suspected wound infections empirically with antibiotics without advice from the operating surgeon, as it may diminish the ability to later isolate an organism to treat

Patients should refrain from driving for a minimum of six weeks after surgery

Use NSAIDs with caution because of their potential side effects with osseointegration

Postoperative physiotherapy and rehabilitation are extremely important for long term function and avoidance of complications
The number of orthopaedic operations is increasing in the UK: the National Joint Registry reported just under 225 000 procedures in the period ending 2015-16.1 This practice pointer aims to inform the readership of the important considerations about arthroplasty of the knee, hip, and shoulder—the most common arthroplasty procedures performed in the UK.
Arthroplasty—what's changed?
Arthroplasty in now routinely used to treat fractures and rotator cuff arthropathy. In 2015 in the UK over 83 000 primary total hip replacements took place, of which over 3700 were for neck of femur fractures, and over 4200 shoulder arthroplasties were performed for cuff arthropathy, representing around a quarter of all shoulder replacements.1 Enhanced recovery programmes have seen better standardisation of arthroplasty care and are now fully implemented in the NHS. They have been shown to reduce mortality, length of hospital stay, and transfusion requirements.2 They have four main steps, summarised in box 1.
Box 1: Enhanced recovery programme steps:
Step 1. Improve preoperative care
Patient education, such as joint schools

Anaesthetic preoperative evaluation
Step 2. Reduce the physical stress of the operation
Standardised care, team approach, staff training

Standardised surgical technique

Standardised anaesthetic with emphasis on "single shot" spinal anaesthetic rather than general anaesthetic

Use of multimodal analgesia, including intraoperative infiltration of deep tissue

Standardised perioperative dose of antibiotics (postoperative doses are falling out of favour)

Avoid the use of a catheter

Minimised fasting time and enhanced nutrition
Step 3. Decreasing postoperative discomfort
Standardised analgesia

Use of a designated ward, physiotherapists, and nursing staff

Enhanced fluid balance and nutritional care

Promotion …
View Full Text
Log in
Log in using your username and password
Log in through your institution