Practice
Guidelines
Faltering growth in children: summary of NICE guidance
BMJ
2017
;
358
doi: https://doi.org/10.1136/bmj.j4219
(Published 28 September 2017)
Cite this as:

BMJ

2017;358:j4219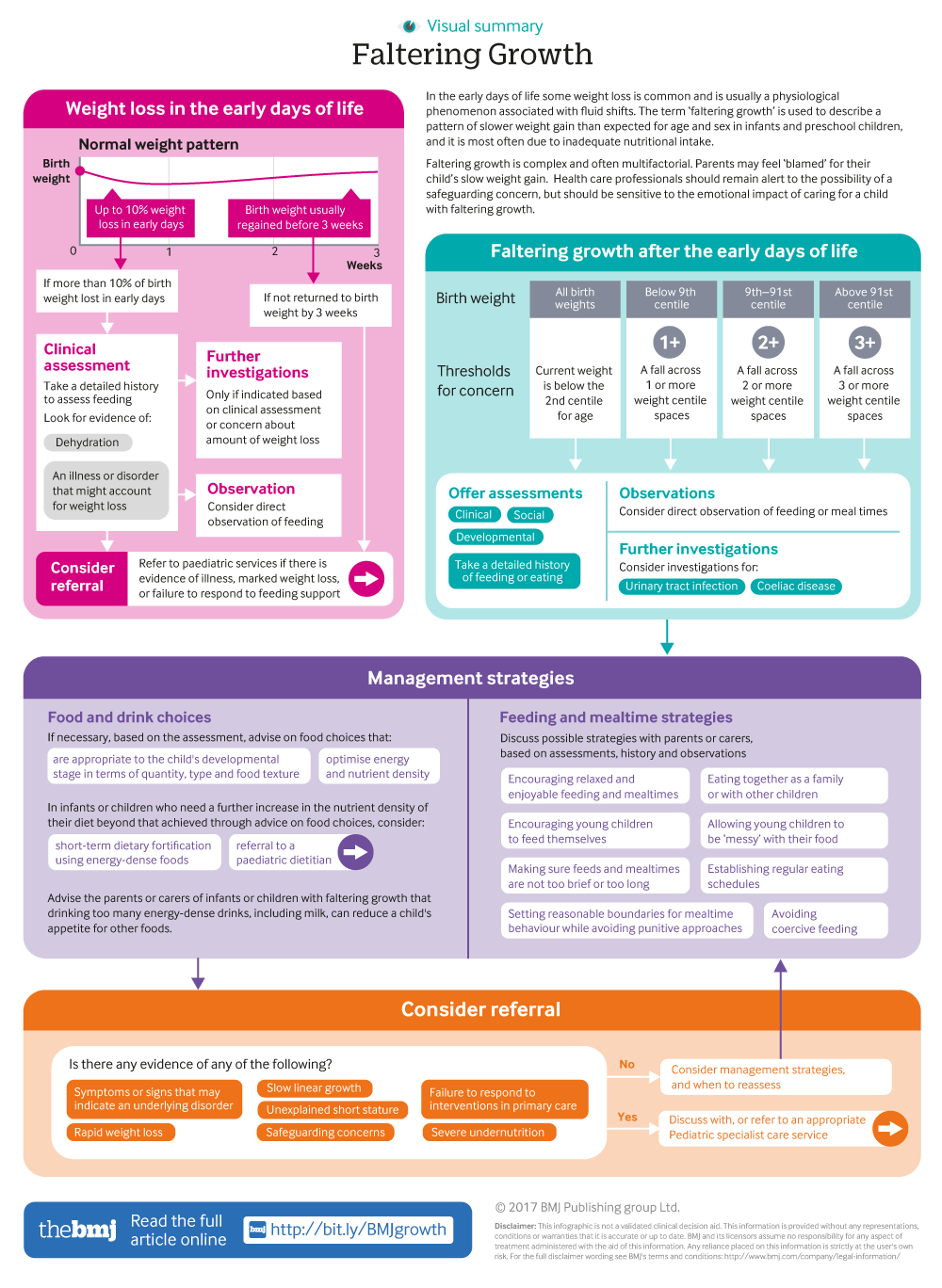 Infographic available
A visual guide to the diagnosis and management of faltering growth—patterns of slower weight gain than expected in infants and preschool children
Eva Gonzalez-Viana

, systematic reviewer

1

,

Katharina Dworzynski

, guideline lead

1

,

M Stephen Murphy

, clinical advisor

1

,

Russell Peek

, chair of Guideline Committee, consultant paediatrician

2

on behalf of the Guideline Committee
1National Guideline Alliance, Royal College of Gynaecologists and Obstetricians, London NW1 4RG, UK
2Gloucestershire Hospitals NHS Foundation Trust, Gloucester GL1 3NN, UK
Correspondence to: Russell Peek

Russell.Peek{at}nhs.net
What you need to know
Weight loss of up to 10% of birthweight is common in the early days of life. Birthweight is usually regained before 3 weeks of age as feeding is established

Faltering growth after the early days of life is characterised by a slower rate of weight gain than expected for age, sex, and current weight

Investigations for faltering growth involve a clinical, developmental, and social assessment and full physical examination. If the child seems well and there are no suggestive signs or symptoms, further investigations are unlikely to reveal an unrecognised cause

Initial interventions for faltering growth include strategies to increase energy intake and advice on managing feeding and eating behaviours

Faltering growth is usually not due to neglect. Despite this, parents and carers often feel blamed for a child's slow growth. Providing or signposting appropriate emotional support is an important aspect of the healthcare professional's role
Growth in infants and preschool children is a common cause for parental and professional concern. Some weight loss is common in the early days of life, while establishing feeding, and is usually a physiological phenomenon associated with fluid shifts.1 The term "faltering growth" is used to describe a pattern of slower weight gain than expected for age and sex in infants and preschool children after these early days and is most often due to inadequate nutritional intake.
Concerns about faltering growth arise in up to 5% of infants and preschool children, depending on the definition used.23 Concerns are usually raised in primary care, by parents, health visitors, or general practitioners (GPs). Current practice in assessment and management varies across the UK.4 This article summarises the recent National Institute for Health and Care Excellence (NICE) guidance on the recognition and management of infants and preschool children with faltering growth,5 focusing …
View Full Text
Log in
Log in using your username and password
Log in through your institution
Subscribe from £138 *
Subscribe and get access to all BMJ articles, and much more.
* For online subscription
Access this article for 1 day for:
£23 / $37 / €30 (inc. VAT)
You can download a PDF version for your personal record.