Practice
Guidelines
Developmental follow-up of children and young people born preterm: summary of NICE guidance
BMJ
2017
;
358
doi: https://doi.org/10.1136/bmj.j3514
(Published 10 August 2017)
Cite this as:

BMJ

2017;358:j3514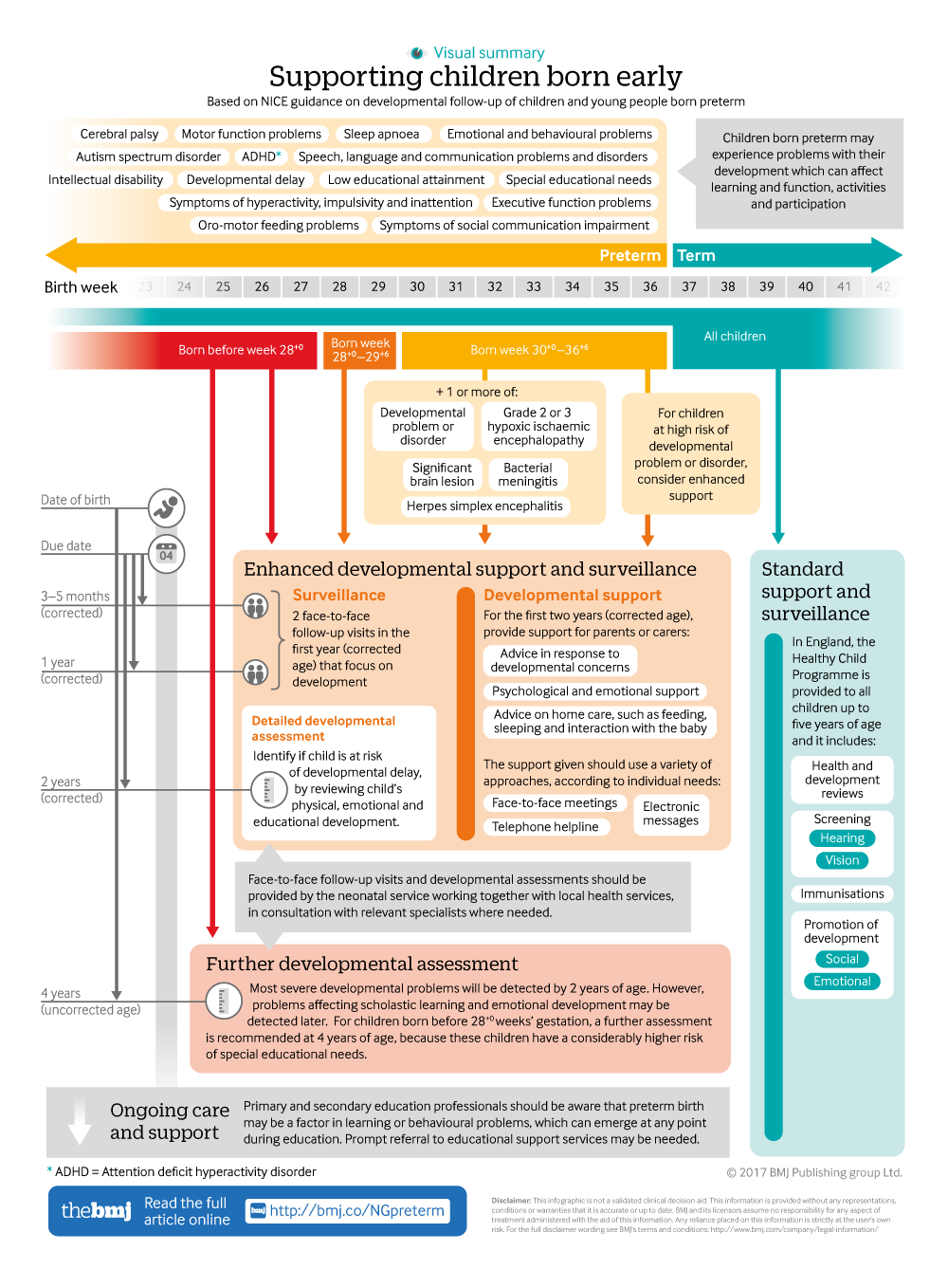 Infographic available
Click here for a visual summary of NICE guidance on the support of preterm children
Maija Kallioinen

, systematic reviewer

1

,

Hilary Eadon

, guideline lead

1

,

M Stephen Murphy

, clinical advisor

1

,

Gillian Baird

, chair of Guideline Committee, consultant developmental paediatrician

2

on behalf of the Guideline Committee
1National Guideline Alliance, Royal College of Obstetricians and Gynaecologists, London NW1 4RG, UK
2Guy's and St Thomas' NHS Trust, London SE1 9RT, UK
Correspondence to: G Baird

Gillian.Baird{at}gstt.nhs.uk
What you need to know
Babies born preterm are at increased risk of developmental problems and disorders, and the risk increases with decreasing gestational age

Enhanced developmental support and surveillance up to 2 years of age should be offered by neonatal services to all preterm babies born before 30+0 weeks' gestation and those born between 30+0 and 36+0 weeks' gestation who have other risk factors

Risk of future special educational needs in children born before 28+0 weeks' gestation is considerably higher, so these children and their parents and carers are offered additional support and surveillance up to 4 years of age

If findings suggest developmental problems or disorders at any stage, this information should be shared with parents or carers and primary and secondary healthcare teams, and the child should be referred to the appropriate local pathway

Parents and carers of children born preterm should be encouraged to talk to their general practitioner if any concerns arise at any stage regarding development of their child
Preterm birth, defined as birth before 37+0 weeks' gestation, is associated with short and long term problems. While most babies born preterm have good developmental outcomes and quality of life, some experience problems which can affect learning and function, activities, and participation.
Around 7.5% of babies are born preterm in England and Wales, and approximately 0.4% are born extremely preterm (<28+0 weeks' gestation). In 2015, this amounted to 53 209 babies born preterm and 3014 born extremely preterm.1
This article summarises the recent NICE guidance on the developmental follow-up of children and young people born preterm2 and was commissioned to improve the early identification of developmental problems and disorders in children born preterm and to alert health professionals to risk factors that may increase the likelihood of problems.
Much of the developmental support …
View Full Text
Log in
Log in using your username and password
Log in through your institution