Practice
Therapeutics
Pharmacological therapies for opioid induced constipation in adults with cancer
BMJ
2017
;
358
doi: https://doi.org/10.1136/bmj.j3313
(Published 02 August 2017)
Cite this as:

BMJ

2017;358:j3313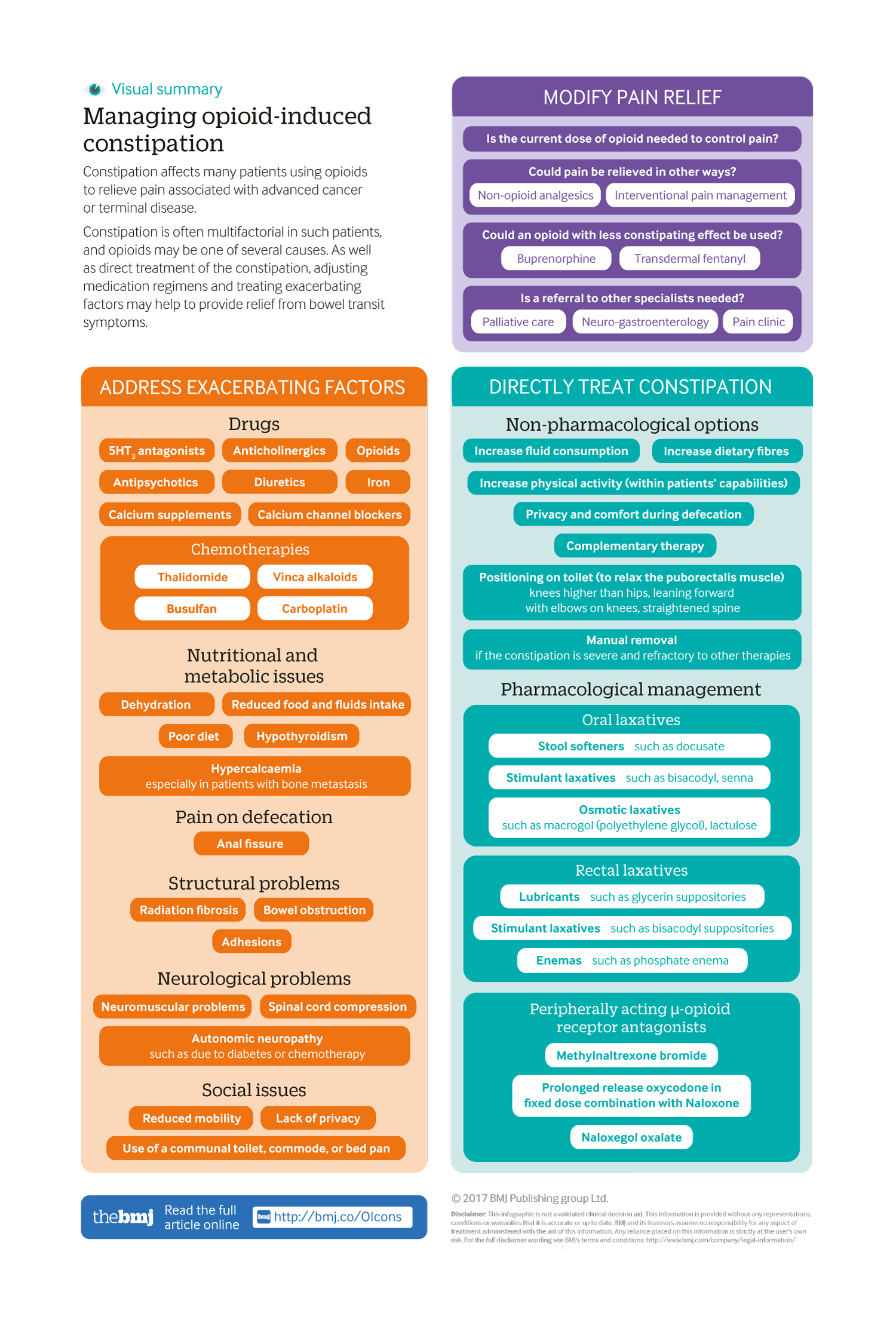 Infographic available
Click here for a visual overview of the management of opioid induced constipation
Jason W Boland

, senior clinical lecturer and honorary consultant in palliative medicine

1

,

Elaine G Boland

, consultant and honorary senior lecturer in palliative medicine

1

2
1Wolfson Palliative Care Research Centre, Hull York Medical School, University of Hull, Hull HU6 7RX, UK
2Hull and East Yorkshire NHS Trust, Hull, UK
Correspondence to: J W Boland

jason.boland{at}hyms.ac.uk
What you need to know
Prescribe a laxative to patients starting treatment with opioids to prevent constipation

If constipation is bothersome and does not respond to laxatives, discuss the option of starting peripherally acting μ-opioid receptor antagonists

These drugs reverse the effect of opioids on bowels without affecting the analgesic effect of opioids
A 75 year old woman with metastatic breast cancer complains of constipation for two weeks. She has been taking regular modified release oral morphine for pain for three weeks. Despite using laxatives, she now opens her bowels with difficulty once or twice a week and complains of abdominal discomfort; these are so severe that she is considering stopping morphine. She has come to discuss treatment options.
Opioids are commonly prescribed for cancer pain. Constipation reportedly affects around 52% of patients with advanced cancer and 87% of terminally ill patients taking opioids.123 Constipation is often multifactorial in patients with cancer, and opioids may be one cause. The infographic outlines possible contributory factors. Consider opioid induced constipation in people who describe a change in bowel habit after starting opioid therapy that is characterised by reduced frequency, development or worsening of straining, a sense of incomplete rectal evacuation, or harder stool consistency.4Figure 1⇓ illustrates the effects of opioids on the bowel mediated through opioid receptors that can lead to constipation, and in some cases limit opioid use.56
The infographic shows an approach to assessment and management options. The remainder of this article will …
View Full Text
Log in
Log in using your username and password
Log in through your institution
Subscribe from £138 *
Subscribe and get access to all BMJ articles, and much more.
* For online subscription
Access this article for 1 day for:
£30 / $37 / €33 (plus VAT)
You can download a PDF version for your personal record.