Practice
Clinical Update
Diagnosis and early management of inflammatory arthritis
BMJ
2017
;
358
doi: https://doi.org/10.1136/bmj.j3248
(Published 27 July 2017)
Cite this as:

BMJ

2017;358:j3248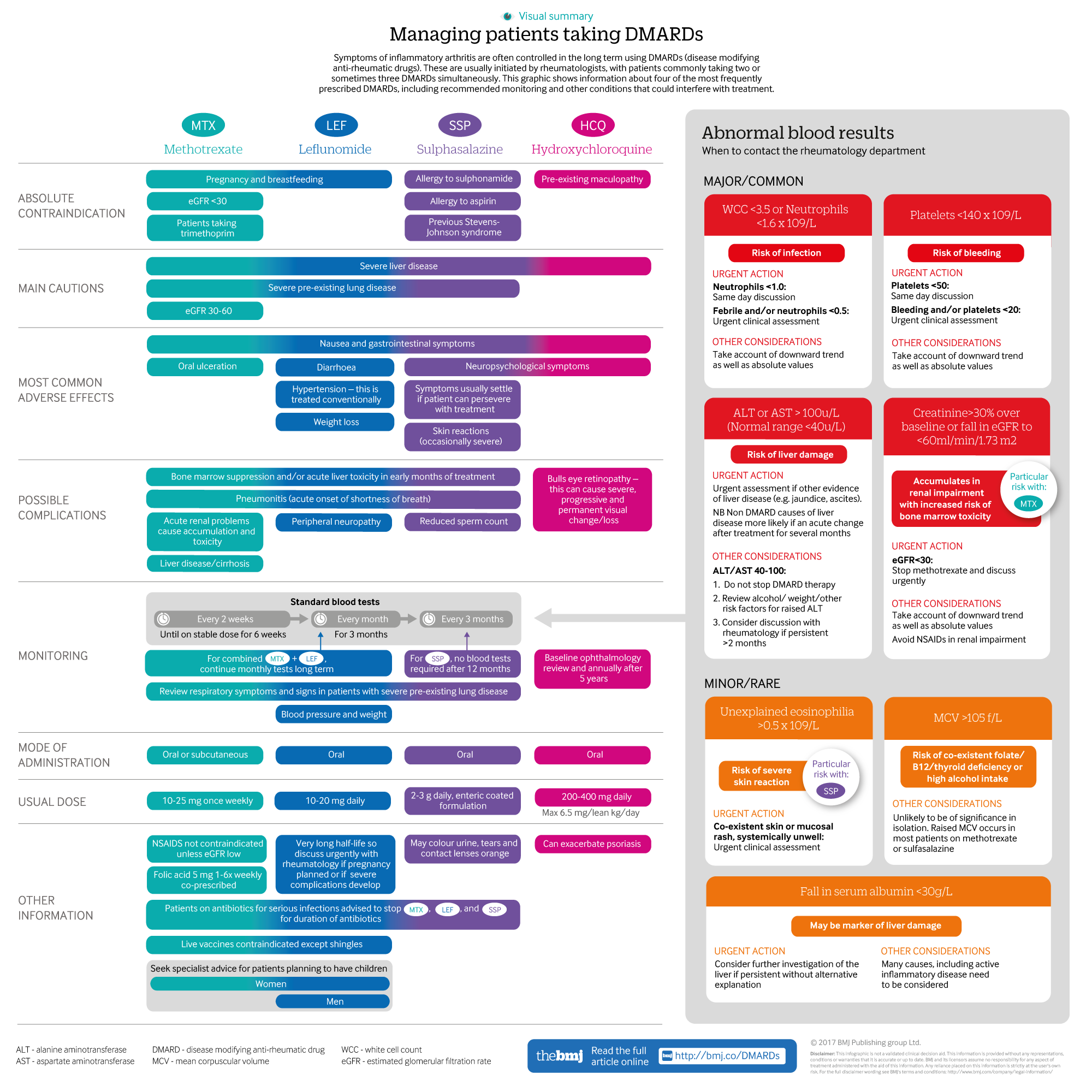 Infographic available
A visual summary of the four most frequently used DMARDs, including recommended monitoring and conditions that may interfere with treatment
Joanna Ledingham

, consultant rheumatologist

1

,

Neil Snowden

, consultant rheumatologist

2

,

Zoe Ide

, patient

3
1Queen Alexandra Hospital, Portsmouth, UK
2Pennine MSK Partnership, Integrated Care Centre, Oldham, UK
3National Rheumatoid Arthritis Society, Maidenhead, UK
Correspondence to J Ledingham:

jo.ledingham{at}porthosp.nhs.uk
What you need to know
Consider inflammatory arthritis in anyone with acute or subacute onset of joint pain, early morning stiffness, and soft tissue swelling

Early diagnosis and treatment with disease modifying anti-rheumatic drugs (DMARDS) and corticosteroids improves function and symptomatic and radiographic outcomes

Patients need rapid access to specialist advice during flares

Prescription and monitoring of DMARDs can be shared between specialists and non-specialists if pathways and communication are clear

Specialists are best placed to guide changes in DMARDS or steroid treatment
Autoimmune inflammation affects the joints of people with inflammatory arthritis. No definitive cause has been identified, despite extensive research. An environmental trigger in a genetically predisposed individual seems to be the most likely mechanism.1
About 80-100 adults in 100 000 develop inflammatory arthritis every year.2 3 Rheumatoid arthritis is the most common inflammatory arthritis, affecting approximately 500 000 people in the UK.4 Spondylo-arthropathies, which include psoriatic arthritis, reactive arthritis, and ankylosing spondylitis, are slightly less common. In ankylosing spondylitis inflammation occurs mainly in the spine, but peripheral arthritis can occur.5 Inflammatory arthritis primarily affects people of working age, and within 10 years of diagnosis around 40% of people with rheumatoid arthritis are unable to work.6
Systematic reviews of randomised controlled trials show that early treatment can control symptoms, induce remission, minimise irreparable damage, and protect against the mortality and morbidity associated with inflammatory arthritis, especially cardiovascular. Guidelines7 and quality standards8 from the UK's National Institute for Health and Care Excellence recommend early aggressive treatment for rheumatoid arthritis. This approach has been shown to be cost effective,9 and management principles for rheumatoid arthritis are broadly applicable to all forms of inflammatory arthritis. This clinical update, aimed at non specialists, provides information on the diagnosis and early management of inflammatory arthritis.
Sources and selection criteria
We performed a Pubmed search on the …
View Full Text
Log in
Log in using your username and password
Log in through your institution
Subscribe from £138 *
Subscribe and get access to all BMJ articles, and much more.
* For online subscription
Access this article for 1 day for:
£30 / $37 / €33 (plus VAT)
You can download a PDF version for your personal record.