Practice
Clinical updates
Lassa fever
BMJ
2017
;
358
doi: https://doi.org/10.1136/bmj.j2986
(Published 12 July 2017)
Cite this as:

BMJ

2017;358:j2986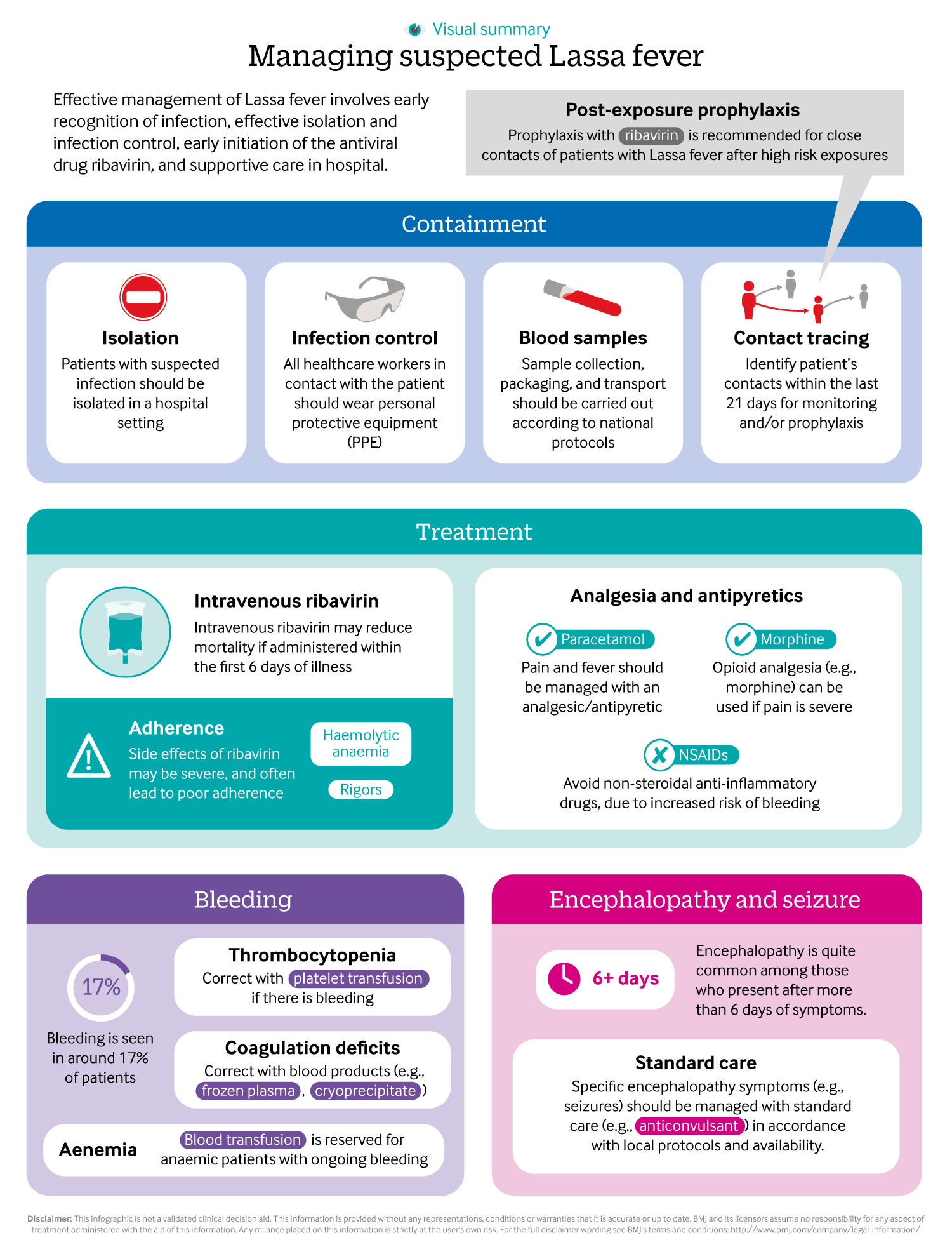 Infographic available
Click here for a visual overview of management for people with Lassa fever
Catherine Houlihan

, clinical lecturer in infectious diseases/virology

1

,

Ron Behrens

, consultant in tropical and travel medicine and senior lecturer

2
1University College London, London, UK
2Hospital for Tropical Diseases, and London School of Hygiene and Tropical Medicine, London, UK
Correspondence to: C Houlihan

catherine.houlihan{at}lshtm.ac.uk
What you need to know
Lassa fever is a viral haemorrhagic fever endemic in West Africa

It is predominantly asymptomatic or results in mild febrile symptoms (about 80% of cases). Severe symptoms (such as haemorrhage, respiratory distress, repeated vomiting, facial swelling, shock) occur in around 20% of cases. Overall mortality is around 1%, but observed case fatality rate among hospitalised patients is reported to be up to 70%

Symptoms of Lassa fever can be difficult to distinguish from malaria and typhoid; therefore, other potentially serious illnesses should be considered in an individual returning from an endemic area with an appropriate history

Diagnosis is entirely dependent on an accurate history and an understanding of the geography of the disease, supported by laboratory investigations

Management involves early recognition of infection, effective isolation and infection control, early initiation of the antiviral drug ribavirin, and supportive care in hospital

Ribavirin is occasionally used as post-exposure prophylaxis for high risk exposure to Lassa virus
Lassa fever is part of a group of conditions known as viral haemorrhagic fevers. Viral haemorrhagic fevers can be caused by viruses from several different families, all of which have the potential to cause disease with haemorrhagic features.1
Lassa fever—caused by infection with the Lassa virus—is named after the town in Nigeria where the first identified cases occurred. The natural reservoir of the Lassa virus is the multimammate rat (Mastomys natalensis), a rodent found commonly in rural areas of tropical Africa that often colonises in or around human homes where food is stored.
Who gets it?
Lassa fever is endemic in parts of West Africa, including Sierra Leone, Liberia, Guinea, and Nigeria (fig 1⇓). There also is evidence of endemicity in neighbouring countries.234
The …
View Full Text
Log in
Log in using your username and password
Log in through your institution
Subscribe from £138 *
Subscribe and get access to all BMJ articles, and much more.
* For online subscription
Access this article for 1 day for:
£30 / $37 / €33 (plus VAT)
You can download a PDF version for your personal record.