Practice
Guidelines
Parkinson's disease: summary of updated NICE guidance
BMJ
2017
;
358
doi: https://doi.org/10.1136/bmj.j1951
(Published 27 July 2017)
Cite this as:

BMJ

2017;358:j1951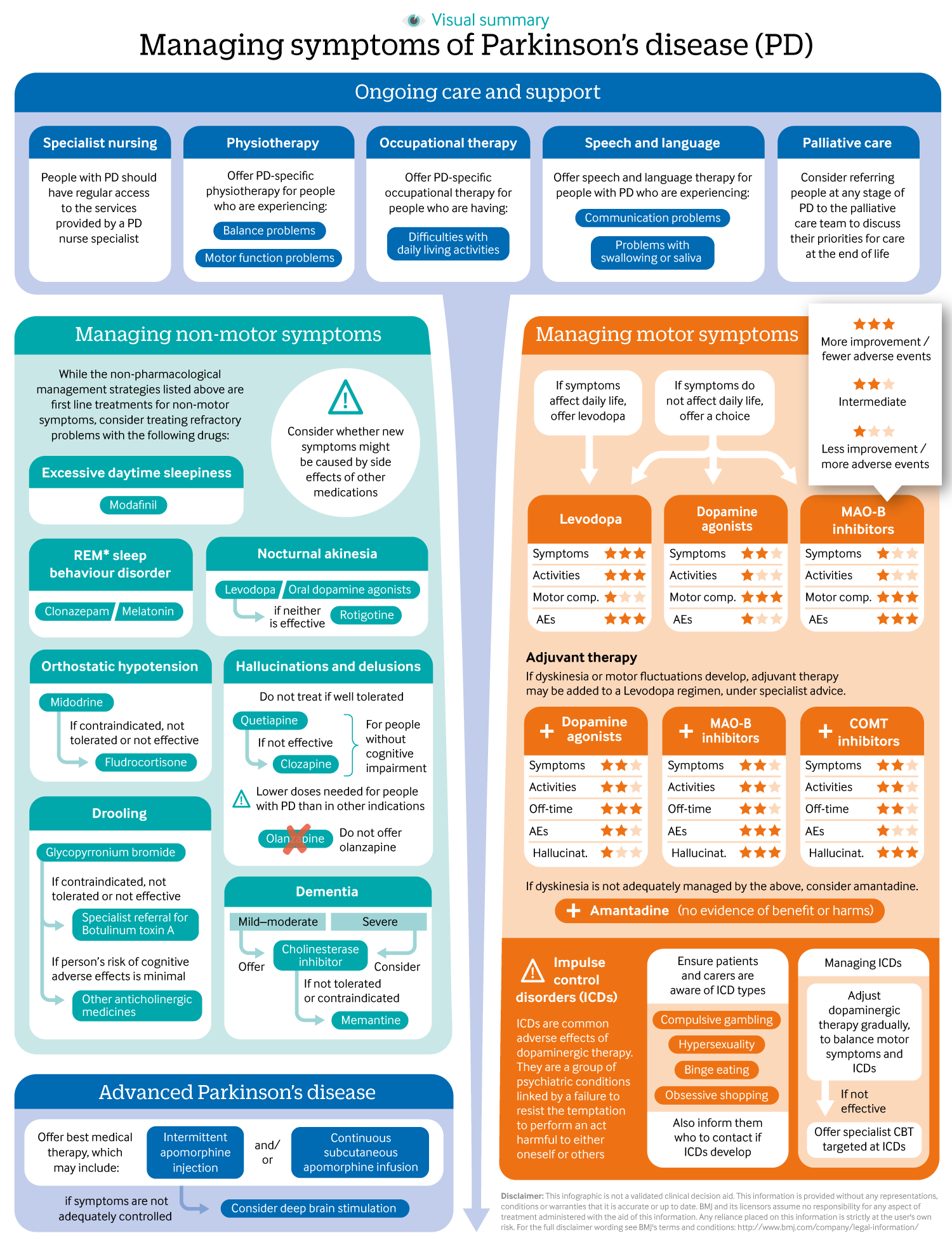 Infographic available
Click here for a visual overview of NICE guidelines on management for people with Parkinson's Disease
All rapid responses
Rapid responses are electronic letters to the editor. They enable our users to debate issues raised in articles published on thebmj.com. Although a selection of rapid responses will be included online and in print as readers' letters, their first appearance online means that they are published articles. If you need the url (web address) of an individual response, perhaps for citation purposes, simply click on the response headline and copy the url from the browser window. Letters are indexed in PubMed.
As would be expected of the National Institute for Health and Care Excellence (NICE) guidelines on Parkinson's disease issued in 2006 (NICE 2006), and the updated guideline published earlier this year (NICE 2017), the central tenet of the document uses the latest evidence from randomised controlled trials to inform clinical management decisions. Updated guidelines however do not revisit the health economics as the 'cost of illness' or 'burden of disease' studies are not considered useful in the decision-making for guideline development (NICE 2012, section 7.1.1).
The Guideline Development Group of the 2017 Parkinson's Guideline update however noted problematic access to services for some people despite efforts to reduce the inconsistencies in provision across the four nations of the UK. The consequence is of people with Parkinson's (PwP) personally bearing some of the costs of treatment. These factors underpin service usage and access to care, adding an economic impact to household finances over and above what the condition has exerted on the NHS. The recently completed study commissioned by Parkinson's UK on the economic cost of Parkinson's in the UK has shown an enormous financial burden on PwP, their carers and families, amounting to over £16,500 per PwP household per year. The annual cost of treatment to the NHS was £2,118 per PwP and the total annual economic burden added up to £20,123 per PwP household (Gumber et al. 2017:p66). The recurring financial expenses and reduced income have directly impacted the living and health conditions as well as quality of life of both PwP and their informal carers (Gumber 2017).
In regard to adverse effect of dopamine-replacement therapies, as compared to 14-24% reported by Rogers et al. 2017 (p3) our study found 34% of PwP reporting impulsive and compulsive behaviours, which can range from compulsive gambling to binge eating and hyper-sexuality, as a result of the medication. This behaviour has resulted in out-of-pocket (OOP) expenditure for impulse control disorders (ICDs) behaviours has caused financial distress to PwPs and their families with some of them even reporting over £10,000 expenditure on these activities. To control for ICDs behaviours, 26% of PwP had purchased over the counter medications or supplements and on average spending additional £56 every month. Furthermore, one-thirds of PwP were spending more on takeaways and convenience food every month on a regular basis with additional monthly spent of £74 per household(Gumber et al. 2017:p61).
In terms of seeking more regular or informative management than currently available through the NHS commissioned provision, a significant number of PwP have additionally consulted private therapists involving OOP payments (50% in the case of Chiropodist, Podiatrist and Chiropractor, 29% Optometrists and 19.3% for private Physiotherapy consultations). On average, PwP incurred £181 OOP expenditure annually on private healthcare consultations (Gumber et al. 2017:p51).
Another hefty recurring OOP payment is towards daily living activities (DLA) help, needed within and outside the house. More than one-third of PwP needed help with personal care and bathing; a half for cooking a meal; two-thirds for house cleaning; and as and when required, about a half of them needed help for ironing, decorating and gardening. For community-based tasks, 52% PwP needed help for daily or weekly shopping, about 50% needed help for transport and attend to scheduled medical appointments and several reported the need for help to attend weekly or bi-weekly physiotherapy/exercise classes. The DLA dependence to private arrangement increased with advances in symptoms and condition as when the spouse was unable to provide adequate support, with most formal carers hired through agencies costing around £2,200 monthly payments. Overall, the annual mean DLA help expenses were £2088 per PwP household of the population who responded to the national survey (Gumber et al. 2017:pp62-64).
In summary, caregivers and families of PwP face accentuated financial distress, in addition to the physical and psychological changes of the condition, with minimal support from the local government and voluntary agencies. It is essential to take this into consideration alongside the physical and psychological impact when evaluating the day-to-day management of Parkinson's disease. Furthermore, governing bodies need to adopt an integrated approach whereby carers of PwP are involved in discussion and implementation of policies in order to maximise the independence of individuals and reduce associated healthcare costs.
They should strive to secure a consistent provision of subsidised health and care services, plus support services from diagnosis to end of life, and to develop relevant coping strategies and mechanisms to mitigate financial distress and worsening of quality of life and wellbeing as a result of recurrent treatment and care.
References
NICE (2006). Parkinson's disease in over 20s: diagnosis and management. National Institute of Health and Care Excellence guidelines CG65, June 2006. https://www.nice.org.uk/guidance/cg35.
NICE (2017). Parkinson's disease in adults: diagnosis and management. National Institute of Health and Care Excellence guideline NG71, July 2017. www.nice.org.uk/guidance/ng71.
NICE (2012). The Guidelines Manual: Process and methods Chapter 7. National Institute of Health and Care Excellence guidelines PMG6, November 2012. https://www.nice.org.uk/process/pmg6/chapter/assessing-cost-effectiveness .
Rogers G, Davies D, Pink J, Cooper P (2017). Parkinson's disease: summary of updated NICE guidance. BMJ. 2017 Jul 27;358:j1951. http://doi.org/10.1136/bmj.j1951 (published 2017 July 27).
Gumber A, Ramaswamy B, Ibbotson R, Ismail M, Thongchundee O, Harrop D, Allmark P, Rauf A (2017). Economic, Social and Financial Cost of Parkinson's on Individuals, Carers and their Families in the UK: Final Report. Sheffield Hallam University, UK. Published 28 February 2017 and available at http://bit.ly/2t5dxtT
Gumber A (2017). Effects of Out-of-Pocket (OOP) Payments and Financial Distress on Quality of Life (QoL) of People with Parkinson's (PwP) and their Carers. Proceedings of Patient Reported Outcome Measure's (PROMs) Conference Oxford 2017: Advances in Patient Reported Outcomes Research. Health and Quality of Life Outcomes 2017 15(Suppl 1):A33. https://doi.org/10.1186/s12955-017-0757-y Published 5th October 2017.
Competing interests: No competing interests
26 October 2017
Anil Gumber
Researcher in University (Reader in Health Economics)
Dr Bhanu Ramaswamy (Independent Physiotherapy Consultant for Parkinson's) and Miss Leher Gumber (MSc student London School of Hygiene and Tropical Medicine)
Faculty of Health and Wellbeing, Sheffield Hallam University, UK
32 Collgiate Crescent, Sheffield, S10 2BP
The print version includes an unlabelled image which appears to be from a DaT scan. This gives a misleading message because NICE does not recommend the routine use of DaT scans.
This otherwise excellent review omits information on DaT scans which I think have become overused. It is understandable that clinicians seek apparent objective confirmation of a clinical diagnosis. A DaT scan is usually helpful in distinguishing essential tremor (worse on posture or action, in a patient with otherwise fluid movement) from tremor in Parkinson's disease (worse at rest and inevitably in time accompanied by bradykinesia): arguably not so challenging for a clinician of modest experience. The DaT scan however distinguishes Parkinson's disease neither from Multiple Systems Atrophy nor from Progressive Supranuclear Palsy.
I suggest that clinicians considering ordering a DaT scan should instead seek the opinion of one experienced in the clinical diagnosis of Parkinson's, giving a approximately 90% cost saving (assuming £150 for a consultation and £1500 for a DaT scan).
Competing interests: I am an old-fashioned clinician concerned about the invasion of unnecessary and expensive tests into clinical practice.
Clinicians have reasonable expectations that material published in the BMJ be carefully researched and able to stand scrutiny as good clinical practice.
Infographics are a new way to help busy clinicians summarize information which may be useful in clinical practice, whether in the clinic or at the bedside.
I find disheartening, then, the small print disclaimer at the bottom of the Parkinson's infographics informing that
1. « … any reliance placed on this information is strictly at the user's own risk … »
2. « … BMJ and its licensors assume no responsibility for any aspect of treatment administered with the aid of this information … »
We may live in a litigious society, but escaping responsibility for published material calls in question the very reason of being of a medical journal (I have never seen anything like this in the NEJM or the Lancet).
I raised the same concern with regard to the article on Lassa Fever.
Competing interests: No competing interests
27 July 2017
Piero Baglioni
Physician
Centre Hospitalier Saint Jean d'Angely France
21 rue de la mer, Saint-Jean d'Y, France