Practice
Guidelines
Parkinson's disease: summary of updated NICE guidance
BMJ
2017
;
358
doi: https://doi.org/10.1136/bmj.j1951
(Published 27 July 2017)
Cite this as:

BMJ

2017;358:j1951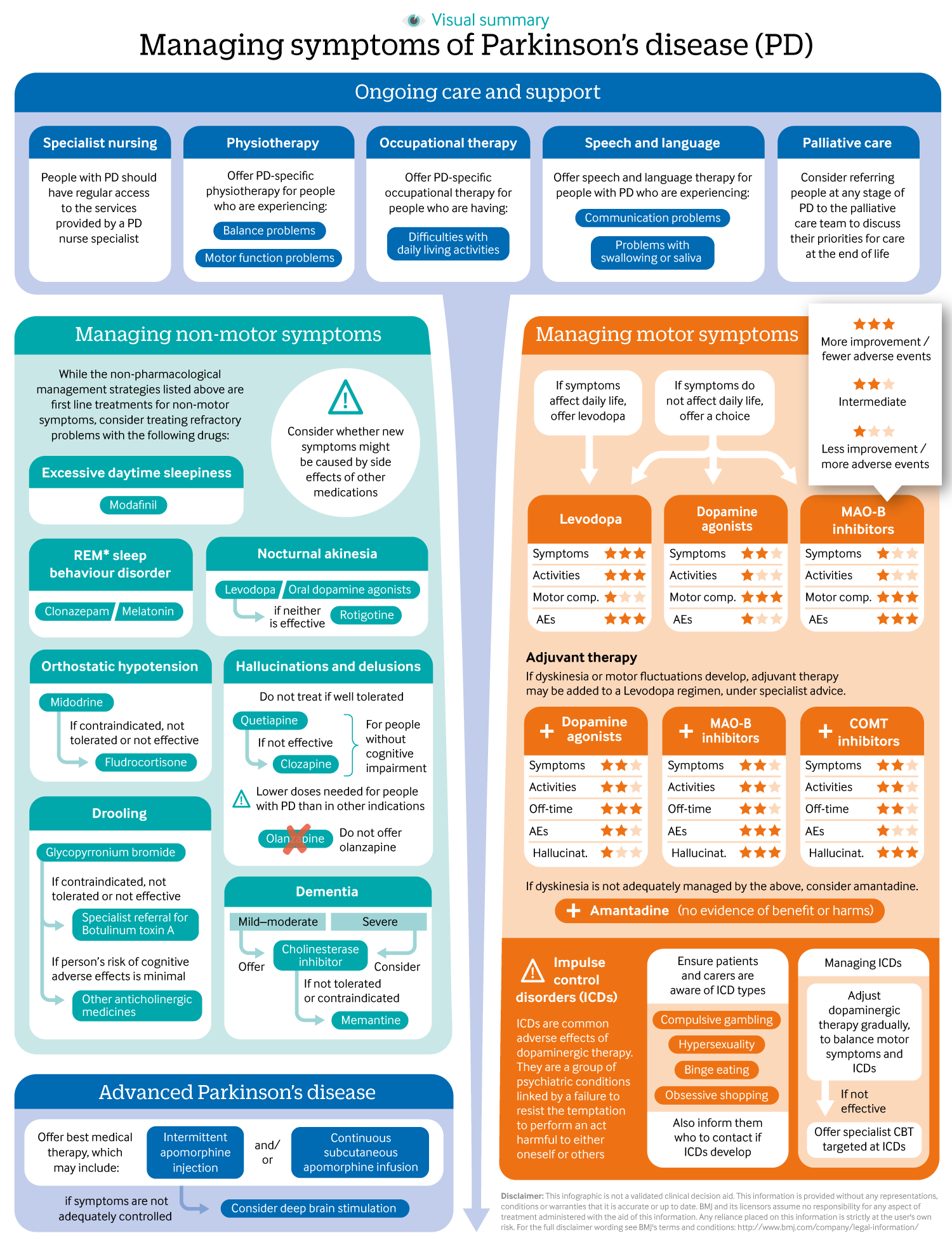 Infographic available
Click here for a visual overview of NICE guidelines on management for people with Parkinson's Disease
Gabriel Rogers

, technical adviser in health economics

1

,

Debbie Davies

, Parkinson's disease specialist nurse

2

,

Joshua Pink

, technical adviser

1

,

Paul Cooper

, consultant neurologist, honorary senior lecturer in medicine, chair of Guideline Development Group

3

4
1National Institute for Health and Care Excellence, Manchester M1 4BT, UK
2Aneurin Bevan Health Board, Newport, UK
3Greater Manchester Neuroscience Centre, Salford, UK
4University of Manchester, Manchester, UK
Correspondence to: G Rogers

Gabriel.Rogers{at}nice.org.uk
What you need to know
Impulse control disorders can develop in a person with Parkinson's disease who is receiving any dopaminergic therapy at any stage in the disease

A wide range of non-motor symptoms are common in Parkinson's disease, which may have modifiable causes (including antiparkinsonian medicines) and may be amenable to non-pharmacological management as well as some medicines

Offer all people with Parkinson's disease access to the services provided by Parkinson's disease specialist nurses

Offer access to specialist physiotherapy, occupational therapy, speech and language therapy, and cognitive behavioural therapy when relevant symptoms develop
Parkinson's disease is one of the most common neurological conditions, estimated to affect around 250 people per 100 000 in the UK.1 People with Parkinson's disease classically present with motor symptoms including bradykinesia, rigidity, rest tremor, and postural instability; however, non-motor symptoms may also be prominent, including depression, cognitive impairment, and autonomic disturbances.
This article summarises the most recent update to the National Institute for Health and Care Excellence (NICE) guideline for the diagnosis and management of Parkinson's disease in adults.2 This NICE guideline provides an update on most aspects of managing Parkinson's disease, incorporating knowledge generated by a series of recent, large scale, independently funded, randomised trials in Parkinson's therapy, and replaces guidance published in 2006. The update reflects emerging experience in areas such as impulse control disorders that may coexist with Parkinson's disease and provides recommendations on the use of treatments that may provide some relief from the distressing symptoms of advanced Parkinson's disease. The guideline update has not changed the suggested approach to the diagnosis of Parkinson's disease, communication with people with Parkinson's disease and their carers, pharmacological neuroprotective therapy, and interventions by Parkinson's disease nurse specialists. Recommendations, full details of evidence, and the NICE pathway are available via the NICE website (www.nice.org.uk/guidance/ng71).
Recommendations
NICE recommendations are …
View Full Text
Log in
Log in using your username and password
Log in through your institution
Subscribe from £138 *
Subscribe and get access to all BMJ articles, and much more.
* For online subscription
Access this article for 1 day for:
£30 / $37 / €33 (plus VAT)
You can download a PDF version for your personal record.