Practice
Practice Pointer
Hypoactive delirium
BMJ
2017
;
357
doi: https://doi.org/10.1136/bmj.j2047
(Published 25 May 2017)
Cite this as:

BMJ

2017;357:j2047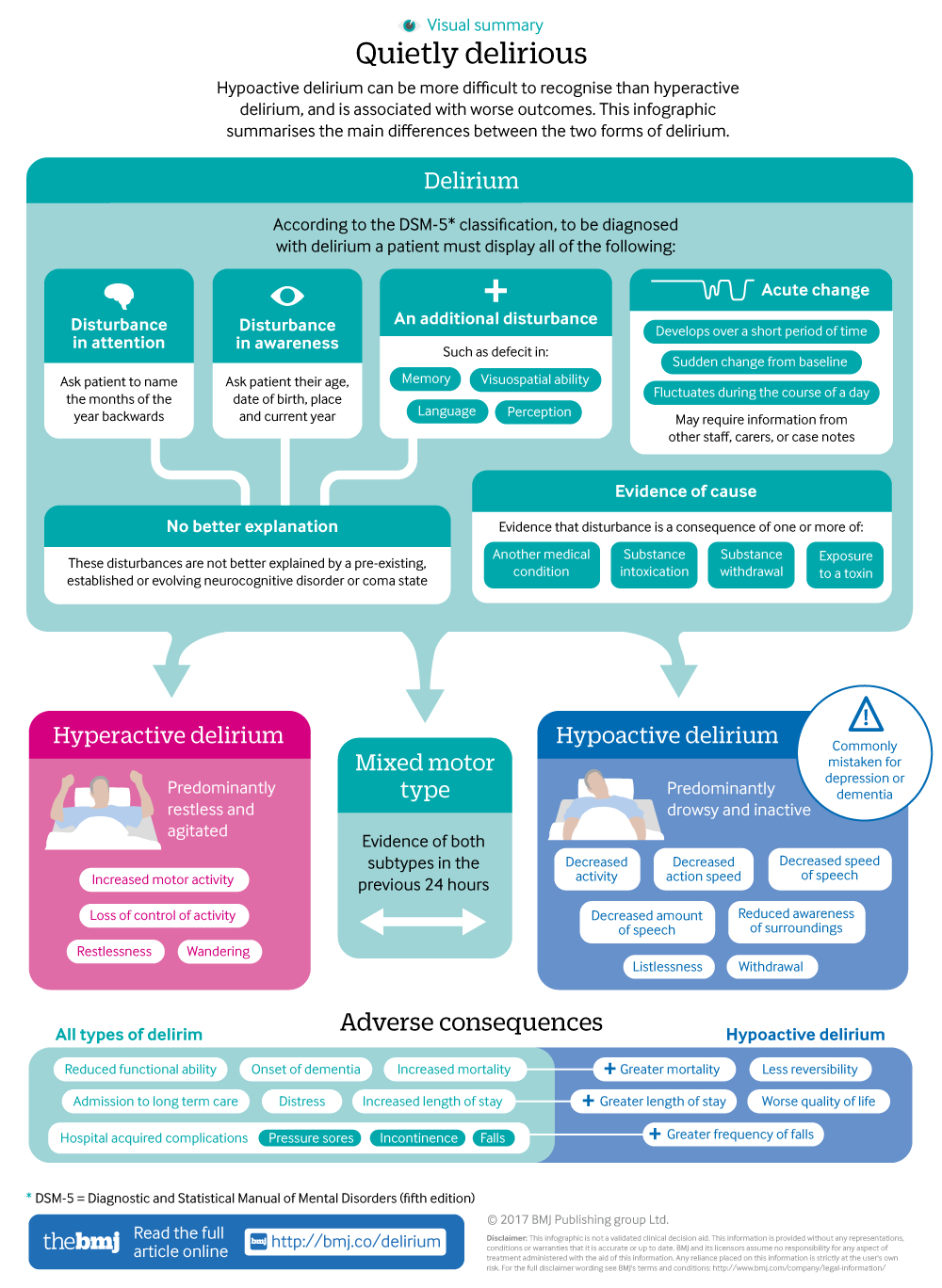 Infographic available
Summarising the main differences between hypo- and hyper- active delirium
Christian Hosker

, consultant liaison psychiatrist and lead clinician

1

,

David Ward

, acute medicine consultant

2
1Leeds Liaison Psychiatry Service, Becklin Centre, Leeds LS9 7BE, UK
2Acute Medicine, Hinchingbrooke Hospital, Huntingdon PE29 6NT, UK
Correspondence to: C Hosker

christian.hosker{at}nhs.net
What you need to know
Hypoactive presentations of delirium are more common than the classically agitated, hyperactive forms and may be overlooked

A collateral history can distinguish hypoactive delirium from other causes of behaviour change such as dementia and depression

Cornerstones of supportive care might include reorientation and a chance to debrief on experiences once the patient is recovered
Hypoactive delirium tends to capture less clinical attention than hyperactive delirium. Like all delirium, it can occur in a variety of patients and settings and will consequently be encountered by many groups of doctors. It can be more difficult to recognise, and is associated with worse outcomes, than hyperactive delirium. This article outlines when to suspect, assess, and appropriately manage patients with hypoactive delirium.
What is hypoactive delirium?
Hypoactive delirium is dominated by symptoms of drowsiness and inactivity, whereas hyperactive delirium is characterised by restlessness and agitation (see infographic).1 Some people experience a mix of these subtypes.2 All forms of delirium are a syndrome characterised by acute changes from baseline in a patient's ability to maintain attention and awareness, accompanied by other disturbances in cognition that develop over a short period of time (hours to days) and tend to fluctuate in severity over the course of a day (see box 1).3 It can arise as a physiological consequence of a medical condition, substance withdrawal or intoxication state, exposure to toxins, or a combination of these.
Box 1: DSM 5 classification of delirium and techniques for diagnosis
3
In order for a patient to be diagnosed with delirium they must display all of the following:
Disturbance in attention (reduced ability to direct, focus, sustain, and shift attention) and awareness (reduced orientation to the environment).

The 4A's Test (4AT)4 incorporates two simple elements to aid in the assessment of this:

Attention is assessed by asking patients to name the months of the year backwards

Awareness is assessed by asking patients …
View Full Text
Log in
Log in using your username and password
Log in through your institution