Practice
Practice Pointer
Emergency care and resuscitation plans
BMJ
2017
;
356
doi: https://doi.org/10.1136/bmj.j876
(Published 28 February 2017)
Cite this as:

BMJ

2017;356:j876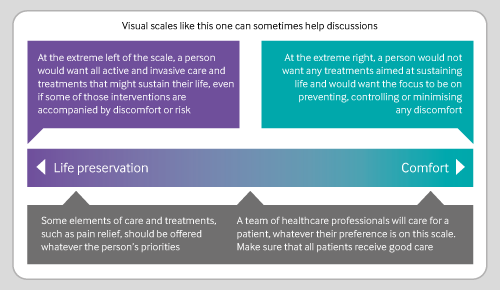 Infographic available
Click here for a visual overview of how patient preferences can be used to guide treatment with an emergency care plan
Correspondence to: D Pitcher

david.pitcher{at}resus.org.uk
What you need to know
An emergency care plan allows clinicians to discuss and record patient preferences in advance, not only regarding cardiopulmonary resuscitation, but all aspects of care and treatment in an emergency

An emergency care plan provides recommendations for care and treatment for future scenarios when people might not have the capacity to communicate their preferences

Tailor the emergency care plan to consider the most likely individual situations, such as a sudden acute illness, deterioration in a long-term condition, or sudden cardiac or respiratory arrest
When a person's heart or breathing stops and the cause is reversible, immediate cardiopulmonary resuscitation (CPR) offers a chance of life. However, when a person is dying—for example, from organ failure, frailty, or advanced cancer—and his or her heart stops as a final part of a dying process, CPR will not prevent death and may do harm.
"Do not attempt CPR" (DNACPR) decisions were first documented in the 1970s, to try to protect people from receiving CPR that they did not want, that would not work, or would not give them overall benefit. This approach of making CPR decisions separately from decisions about other treatments has been challenging for clinicians and patients and has caused problems.1 2 3 4 Despite national guidance in the UK (see "Further educational resources" box), misunderstandings, poor communication, and inconsistent DNACPR documentation persist.4 Exploring and achieving a shared understanding among patient, family, and healthcare team of realistic and individualised care preferences may sometimes be done badly or not even attempted.
Here we draw on evidence (box 1), collated for a broader project, to outline how clinicians might plan with their patients. We offer suggestions on how clinicians and their patients might better think ahead, consider, discuss and record patient-centred recommendations, not only about CPR but also other elements of emergency care and treatment. In a linked article Fritz et al explain why a change in practice and culture, timing and context of these conversations is needed.7
Box 1: Sources of evidence
This article draws on an evidence synthesis,4 two systematic reviews,5 6 and consensus discussions in a group of stakeholders covering a broad range of care settings and specialties. These stakeholders included nurses, patient representatives, ambulance clinicians, and doctors, who together have developed the ReSPECT process in the UK.7 The principles described are applicable more generally to discussions about advance planning for future emergencies.
Who may benefit from having a plan for a possible future emergency?
Consider offering this to people with complex health needs, life limiting conditions, or illnesses that predispose to sudden deterioration or cardiorespiratory arrest (box 2). Ask yourself whether a person is likely to have a deterioration for which recommendations agreed in advance could help immediate decision making.
Box 2: Some triggers for discussing emergency care plans
Requests by the people themselves

Recognition of long term or complex medical needs—discussions can be started in hospital clinics and wards as well as in general practice

Diagnosis of a life limiting condition—recognition that end-of-life care will be needed

Admission to hospital, especially with an acute illness of any kind

Admission to a care home or nursing home

Identified risk of acute deterioration, cardiac arrest, or death
Think about the situations in which others may have to make immediate decisions about care and treatment for that person in their individual circumstances. These will vary substantially between individuals and might include a sudden acute illness (such as heart attack, stroke, sepsis), deterioration in a long term condition (such as advanced kidney failure, heart failure, lung disease, frailty), or sudden cardiac or respiratory arrest.
Other people may ask to make a plan because they want to record their preferences in case of an unforeseen future emergency.
If people have the capacity for relevant decisions, consult them about current and anticipatory treatment decisions—in the UK this is a legal requirement. If they lack capacity, consult those close to them, where practicable and appropriate (see box 3). If family or other carers cannot be consulted immediately, make and document any necessary urgent decisions, ideally agreed with other team members, along with a clear plan to consult as soon as possible.
Box 3: What to do when people lack capacity for making decisions about emergency care plans
Discussion with family or other representatives should follow a similar sequence to discussion with a patient (see within "How to have a better conversation")

Try to establish the choices that the person would have made if they had capacity; find out if they have an advance care plan or advance statement recording their preferences, or a legally binding instruction such as an Advance Decision to Refuse Treatment (England & Wales)

Help the family to understand their role: to advise the healthcare team what the patient would have been likely to decide, had he or she had capacity, and what they believe to be in the patient's best interests, but not to make clinical decisions

The senior responsible clinician has ultimate responsibility to make decisions in the person's best interests or for their overall benefit

It is common for relatives to feel that they are being asked to make decisions: take care to avoid this. Explain clearly and exactly how you are asking relatives to help you make the right decision for the patient, and remember to reinforce the same message afterwards, because at these stressful times families often forget or misinterpret what has been said to them
In the UK, the exception to this is if someone has been appointed as legal proxy with powers to make decisions about life sustaining treatment: that person's decisions must be viewed as binding, as long as they clearly serve the patient's best interests.
What is the difference between an emergency care plan and an advance or anticipatory care plan?
Emergency care plans provide concise, relevant, rapidly accessible clinical recommendations for use in an emergency. Advance or anticipatory care plans are more detailed, often completed by the patient, and may focus specifically on end-of-life care. The two plans are complementary; they may be developed together, or completion of one may prompt consideration of the other. If your patient has or is making an advance care plan, suggest also developing an emergency plan. If you are developing an emergency plan during an acute illness, consider whether a more detailed advance or anticipatory care plan is needed or wanted at that time, or may be needed or wanted later.
How to have a better conversation
Specific challenges
Communication—People welcome these conversations, but they can be delicate, requiring acknowledgment of mortality. Members of the public have emphasised that specific training is important to support clinicians in developing the necessary skills; they would welcome mandatory sessions, perhaps alongside CPR training. Interviews with elderly patients suggest that it can be helpful to discuss desired outcomes rather than focusing on specific treatments.16
Avoiding discrimination—Advanced age or a disability on their own are not appropriate reasons for recommending withholding potentially life sustaining treatment.17 Discrimination may occur also if a person is subjected to CPR with no realistic chance of benefit, simply because they are younger or because of an assumption that they would want this.
Adopting a patient's perspective—When discussing life-sustaining treatments and their chance of success, define success from the person's perspective, not in terms of what you (or those close to the patient) might consider an acceptable duration of survival or quality of life. Help people to express realistic preferences for their future care and treatment in a future emergency and to understand that these cannot be used to demand specific treatments.
Uncertainty—Many clinical situations involve some uncertainty. Where this exists, be open and honest. Patients and those close to them need support to cope with uncertainty. If you do not feel competent to do this, seek help from a colleague who does. Explore training opportunities to improve your skills and confidence for future occasions.
Resolving disagreement—Provide further explanation (involving experienced colleagues if necessary) to try to achieve shared understanding of the basis for proposed recommendation(s) and agree a shared decision. If disagreement persists, offer and arrange a second opinion before recording any recommendations. Record only agreed recommendations on an emergency care plan. Document details of all discussions in the person's health record, including details of any disagreement. Where there is persistent disagreement over critical elements of care or treatment, legal advice may be needed.
Education into practice
Are you familiar with your organisation's policy on decisions about CPR?

What training for important conversations about CPR and other treatment decisions does your organisation provide to its staff?
Further educational resources
How patients were involved in the creation of this article
One of the authors, MW, is one of four patient/public representatives on the consensus group that developed the ReSPECT process and the recommendations expressed in this article. She was involved in planning the article, review of drafts, and approval of the manuscript. The development of ReSPECT included both a public consultation and discussion in patient focus groups.
Another member of the public with relevant personal experience, who preferred to remain anonymous, emphasised the importance of specific training for clinicians, reviewed the manuscript, and made further suggestions.
Another patient representative reminded us that all members of the consensus group are themselves potential patients and may have family members or friends likely to benefit from emergency care planning,
Footnotes
Contributors: Peter-Marc Fortune, associate clinical head of Royal Manchester Children's Hospital and president of the Paediatric Intensive Care Society, reviewed the manuscript and drafted the content of box 5. Peter Davies, general practitioner, Halifax, and Care Quality Commission regional advisor in general practice, North of England provided some initial suggestions for the manuscript content.

Competing interests: All authors and contributors have been involved in the RESPECT project. This is a collaborative project, facilitated by the Resuscitation Council (UK). As part of the project we have produced new documentation to support emergency care planning for patients in the UK. As members of the Resuscitation Council (UK), DP and ZF have conducted promotion of and education in high quality resuscitation and received travel and accommodation expenses for these activities. ZF has also received research grants to evaluate emergency care plans. JAS has worked for Marie Curie, NHS Scotland, and Scottish Government on DNACPR policy and advance care plans, and received travel and accommodation expenses for these activities.

Provenance and peer review: Commissioned; externally peer reviewed.

Patient consent not required (patients hypothetical).
This is an Open Access article distributed in accordance with the Creative Commons Attribution Non Commercial (CC BY-NC 4.0) license, which permits others to distribute, remix, adapt, build upon this work non-commercially, and license their derivative works on different terms, provided the original work is properly cited and the use is non-commercial. See: http://creativecommons.org/licenses/by-nc/4.0/ .
View Abstract