Practice
Guidelines
Spondyloarthritis: diagnosis and management: summary of NICE guidance
BMJ
2017
;
356
doi: https://doi.org/10.1136/bmj.j839
(Published 01 March 2017)
Cite this as:

BMJ

2017;356:j839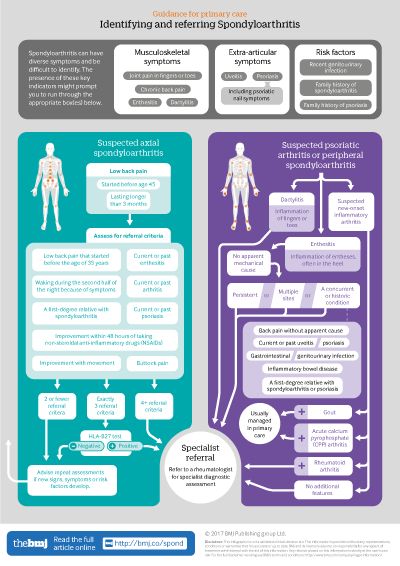 Infographic available
Click here for a visual overview of how to assess people with suspected spoondyloarthritis in primary care, and when to refer them to a rheumatology specialist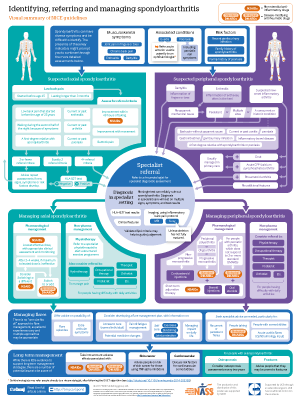 Infographic poster available
Click here for an A2 poster version of the infographic, covering both referral and management of spondyloarthritis
Katherine McAllister

, technical analyst

1

,

Nicola Goodson

, senior lecturer in rheumatology

2

,

Louise Warburton

, GP with special interest in rheumatology, lead for Telford Musculoskeletal Service, associate medical director, senior lecturer in primary care

3

4

,

Gabriel Rogers

, technical adviser in health economics

1
1National Institute for Health and Care Excellence, Manchester M1 4BT, UK
2Rheumatology Research group, Department of Musculoskeletal Biology I, Institute of Ageing and Chronic Disease, University of Liverpool, Liverpool L69 3BX, UK
3Shropshire Community Health NHS Trust, Shrewsbury SY3 8XL, UK
4Department of Primary Care and Health Sciences, Keele University, Staffordshire ST5 5BG, UK
Correspondence to: G Rogers

Gabriel.Rogers{at}nice.org.uk
What you need to know
Spondyloarthritis is often missed in non-specialist settings, leading to substantial delays in diagnosis and treatment

Axial spondyloarthritis affects similar numbers of women and men, is not always apparent on plain x ray, and occurs in people who are seronegative for human leucocyte antigen B27 (HLA-B27)

No single test can reliably diagnose or rule out spondyloarthritis—decisions cannot rest on an individual sign, symptom, or test result

Assess people with low back pain that started before the age of 45 years and has lasted for longer than 3 months for axial spondyloarthritis

Refer people with unexplained dactylitis, new onset inflammatory arthritis, or persistent non-mechanical enthesitis in multiple sites or in conjunction with other risk factors to a rheumatologist for investigation of peripheral spondyloarthritis
Spondyloarthritis encompasses a group of inflammatory conditions with some shared features, including extra-articular manifestations that may occur at initial presentation or later. The guideline distinguishes between peripheral and axial disease (see box 1).
Box 1: Types of spondyloarthritis
Predominantly axial
Ankylosing spondylitis (radiographic axial spondyloarthritis)

Non-radiographic axial spondyloarthritis
Predominantly peripheral
Psoriatic arthritis

Reactive arthritis (typically following gastrointestinal or genitourinal infections, including (but not limited to) Campylobacter, Chlamydia, Salmonella, Shigella, or Yersinia)

Enteropathic arthritis (associated with comorbid inflammatory bowel disease)
Note: Predominantly axial spondyloarthritis may also have peripheral features, and vice versa
Healthcare professionals in non-specialist settings frequently fail to recognise signs and symptoms of spondyloarthritis. Axial presentations of spondyloarthritis are often misdiagnosed as mechanical low back pain, leading to delays in access to effective treatments. There is an average delay of 8.5 years between symptom onset and diagnosis, with only around 15% of cases receiving a diagnosis within three months of initial presentation.1 Contrary to common misconceptions, axial spondyloarthritis affects similar numbers of women and men, is not always apparent on plain x ray, and occurs in people who are seronegative for human leucocyte antigen …
View Full Text
Log in
Log in using your username and password
Log in through your institution
Subscribe from £138 *
Subscribe and get access to all BMJ articles, and much more.
* For online subscription
Access this article for 1 day for:
£23 / $37 / €30 (inc. VAT)
You can download a PDF version for your personal record.