Practice
Practice Pointer
Depersonalisation and derealisation: assessment and management
BMJ
2017
;
356
doi: https://doi.org/10.1136/bmj.j745
(Published 23 March 2017)
Cite this as:

BMJ

2017;356:j745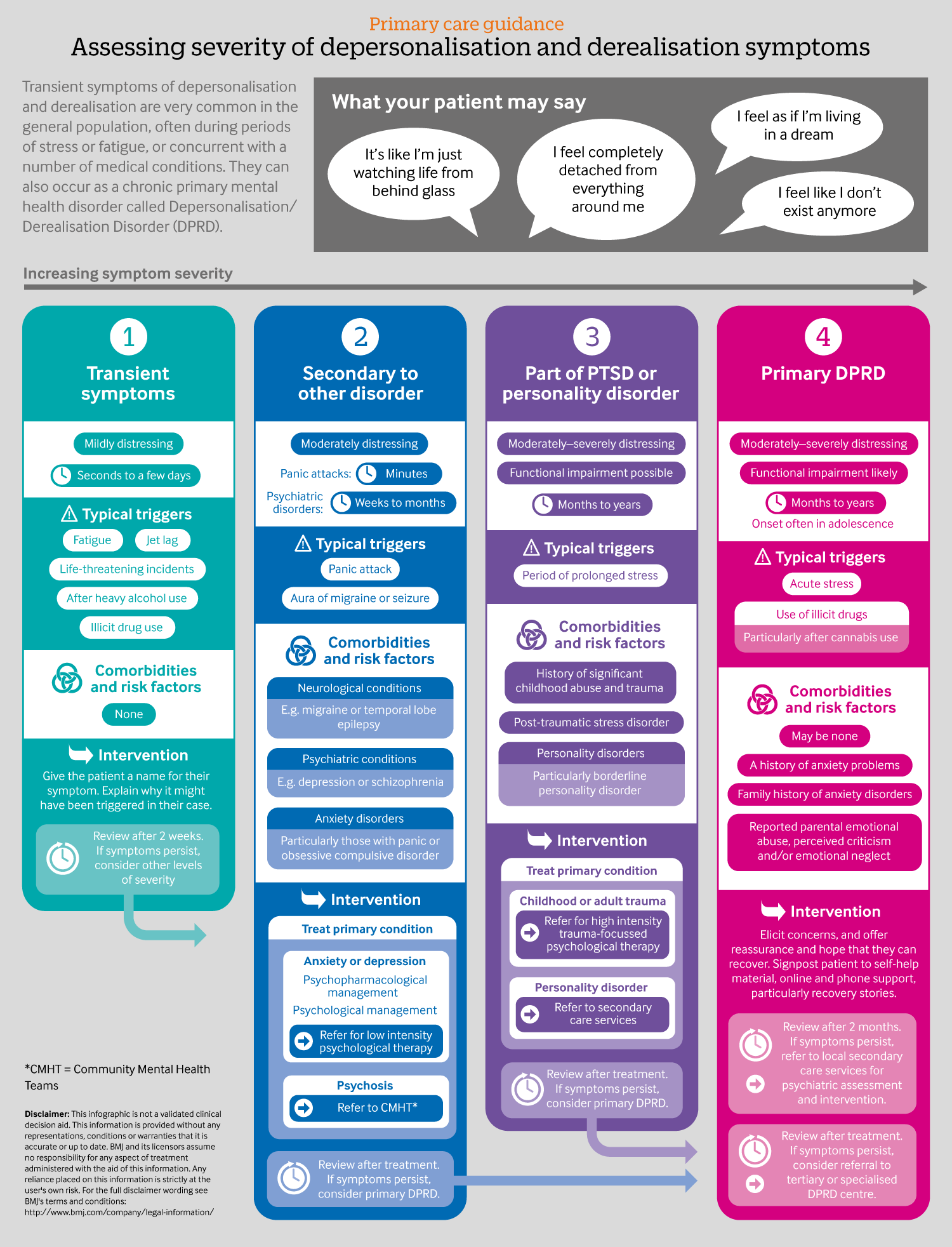 Infographic available
Click here for a visual summary of DPRD symptoms and severity, including common triggers, comorbitities, risk factors, and suggested interventions
Elaine C M Hunter

, consultant clinical psychologist

1

,

Jane Charlton

, patient who has experienced depersonalisation/derealisation disorder for seven years

2

,

Anthony S David

, professor of cognitive neuropsychiatry

3
1Depersonalisation Disorder Service, Maudsley Hospital, London, UK
2Rethink Mental Illness, London, UK
3Institute of Psychiatry, Psychology and Neuroscience, London, UK
Correspondence to

Elaine.hunter{at}slam.nhs.uk
What you need to know
- Depersonalisation and derealisation symptoms include having a sense of unreality and detachment; patients may describe using phrases such as "it is as if . . . "
Symptoms are often triggered by adverse life events, severe anxiety, or cannabis use

Transient symptoms of less than a couple of weeks' duration are common and need no intervention

Distinguish symptoms of depersonalisation and derealisation that are secondary to another medical or psychiatric diagnosis and treat the underlying problem

Refer those who appear to have persistent symptoms to a psychiatrist for consideration of primary depersonalisation derealisation disorder
Patients who experience depersonalisation and derealisation often have difficulty in describing their symptoms. They experience a sense of unreality and detachment from their sense of themselves (depersonalisation: DP) or their perception of the world (derealisation: DR). In most cases these two symptoms co-occur. This article aims to help clinicians recognise depersonalisation and derealisation (DP DR) symptoms, diagnose the disorder, and discuss current treatment options.
Who experiences depersonalisation and derealisation?
Otherwise healthy people—Transient symptoms of depersonalisation and derealisation are very common in the general population, often during periods of stress or fatigue. One US phone study of more than 1000 people found that nearly a quarter reported a brief episode over the previous one year period.1
Those with a range of physical and mental health conditions—Such symptoms are also commonly associated with several medical conditions, such as migraine and temporal lobe epilepsy,2 and with psychiatric conditions, particularly anxiety disorders, such as panic, depression, or in those with complex post-traumatic stress or personality disorders who report a history of childhood abuse or trauma.3
Those with depersonalisation and derealisation disorder as a primary diagnosis—Less well known is that the symptoms of depersonalisation and derealisation can also occur as a chronic primary mental health disorder called depersonalisation derealisation …
View Full Text
Log in
Log in using your username and password
Log in through your institution
Subscribe from £138 *
Subscribe and get access to all BMJ articles, and much more.
* For online subscription
Access this article for 1 day for:
£30 / $37 / €33 (plus VAT)
You can download a PDF version for your personal record.