Feature
NHS in 2017: the long arm of government
BMJ
2017
;
356
doi: https://doi.org/10.1136/bmj.j41
(Published 13 January 2017)
Cite this as:

BMJ

2017;356:j41
Click to view PDF version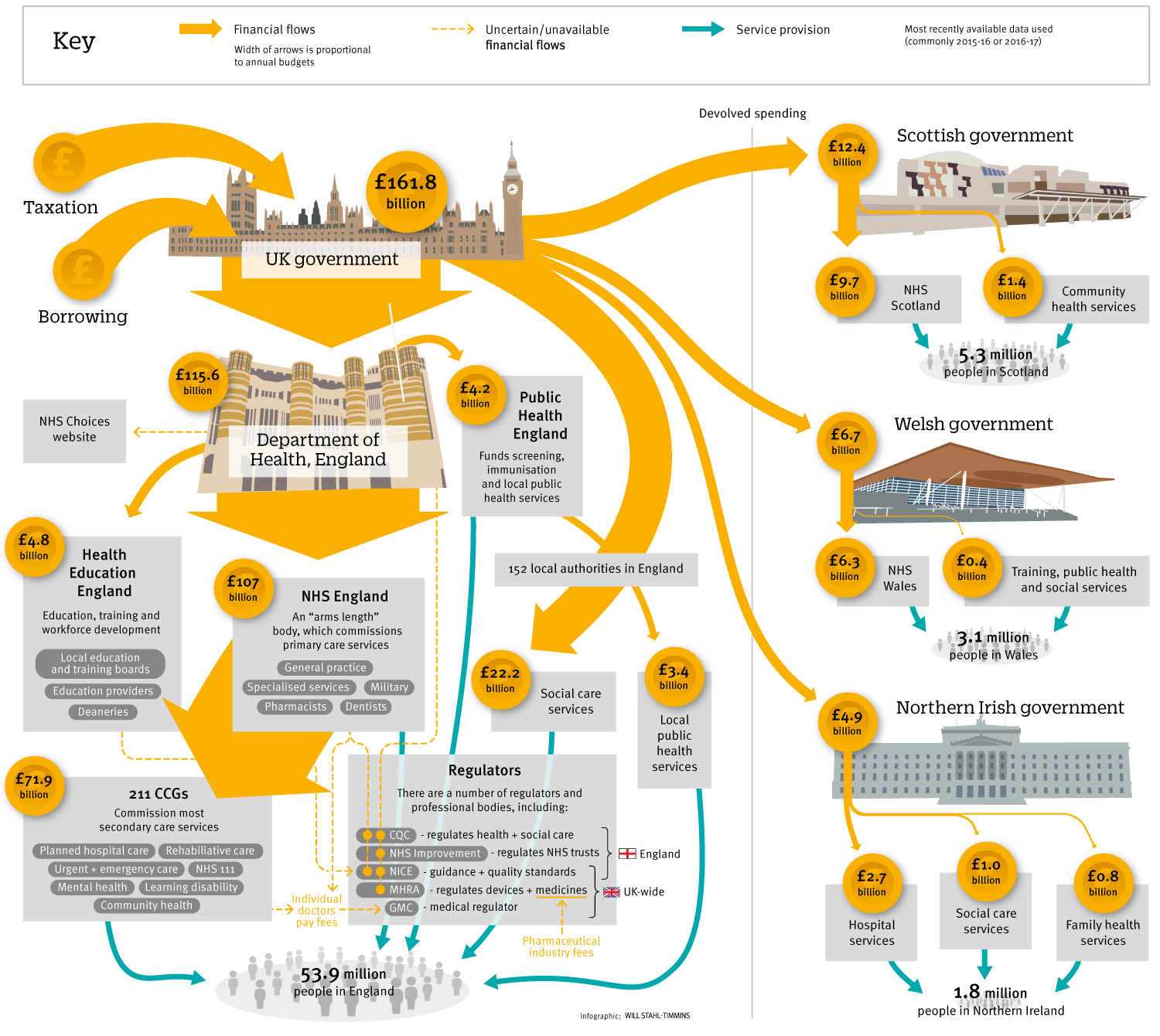 Data sources
Full data + references
bmj.co/nhsData
Read all the articles in this series on the NHS in 2017
Gareth Iacobucci

, senior reporter, The BMJ
giacobucci{at}bmj.com
Health policy across the four UK nations has been increasingly devolved since the Blair government's reforms of the late 1990s. Unlike England, the other UK countries have not embraced provider competition, patient choice, and use of non-NHS providers.
Are their health services the better for it? Comparison is notoriously difficult because of differences in the way data are collected and measured. But a 2014 study by Bevan and colleagues found that clear differences in government policy across the four nations have made little difference to long term national trends for most of the indicators that could be compared.1
The formation of the coalition government in 2010 and the Health and Social Care Act 2012 marked a shift in centralised government control of the NHS in England, with Labour's previous emphasis on targets and performance management marginalised by Andrew Lansley's push to move power away from Whitehall. But since Jeremy Hunt replaced Lansley as health secretary in September 2012 he has reasserted some ministerial control, particularly with his scrutiny of hospital performance.
There is no definite consensus among policy experts about whether devolved governments exert less or more control over their NHS than England does. But devolved nations have embarked on fewer structural reforms, with Scotland the obvious counterpoint.
Further research is needed to assess how the turbulence in England caused by the 2012 reforms has affected performance compared with Scotland, which has escaped any major shake ups since 2004. As Bevan and colleagues highlighted, Scotland has "an organisational stability that is the envy of all who have suffered from the successive 're-disorganisations' of the English NHS."1
Devolution is now extending across England—in 2016 Manchester was given control …
View Full Text
Log in
Log in using your username and password
Log in through your institution