Feature
NHS in 2017
A service under pressure
BMJ
2017
;
356
doi: https://doi.org/10.1136/bmj.i6691
(Published 03 January 2017)
Cite this as:

BMJ

2017;356:i6691
Click to view PDF version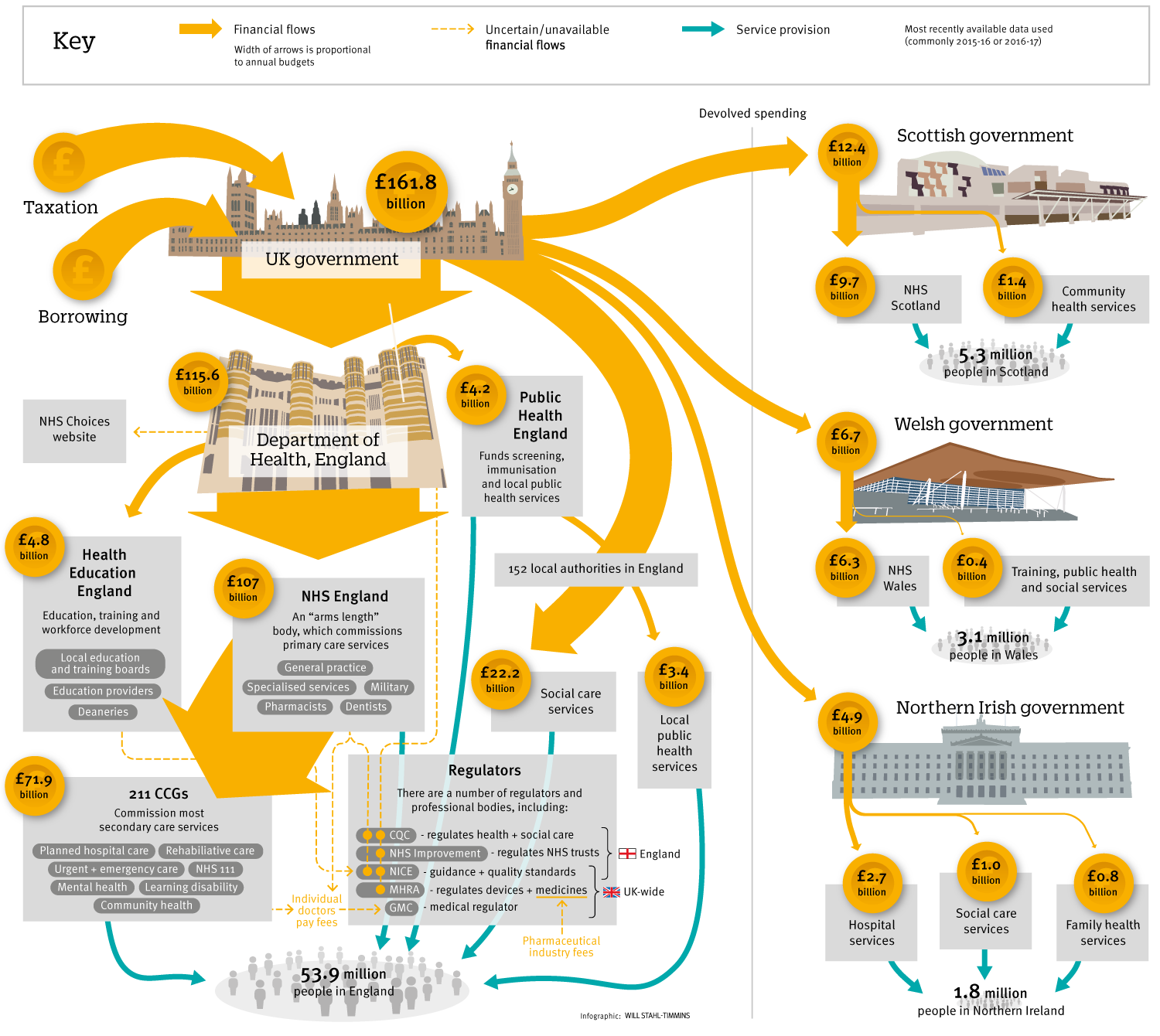 Data sources
Full data + references
bmj.co/nhsData
Read all the articles in this series on the NHS in 2017
Gareth Iacobucci

, senior reporter, The BMJ
giacobucci{at}bmj.com
The NHS's founding aims—to provide universal, equitable, comprehensive, high quality healthcare free at the point of use—have not changed since its establishment 69 years ago. And yet the society that conceived the service has changed immeasurably, along with the challenges it faces.
In a post-war Britain, the focus was on eradicating disease—one of the "five giants" that William Beveridge declared should be slain (along with want, squalor, ignorance, and idleness). Today, the focus has shifted to treating long term chronic illnesses and conditions caused by socioeconomic factors and lifestyle. Add multimorbidity in a rapidly ageing population, rising patient demand and expectations, the cost of new treatments, and precarious public finances to this mix, and it's not difficult to see why the NHS is facing an existential crisis.
Period of turbulence
The current pressures in the NHS can be traced back to 2010, when the newly elected coalition government in England published a blueprint for arguably the biggest NHS restructure in its history.1
In his 2008 series for The BMJ examining the NHS on its 60th birthday, Tony Delamothe concluded, "The most thoughtful birthday present the NHS could receive would be …
View Full Text
Log in
Log in using your username and password
Log in through your institution
Subscribe from £138 *
Subscribe and get access to all BMJ articles, and much more.
* For online subscription
Access this article for 1 day for:
£23 / $37 / €30 (inc. VAT)
You can download a PDF version for your personal record.