Practice
Guidelines
Routine preoperative tests for elective surgery: summary of updated NICE guidance
BMJ
2016
;
354
doi: https://doi.org/10.1136/bmj.i3292
(Published 14 July 2016)
Cite this as:

BMJ

2016;354:i3292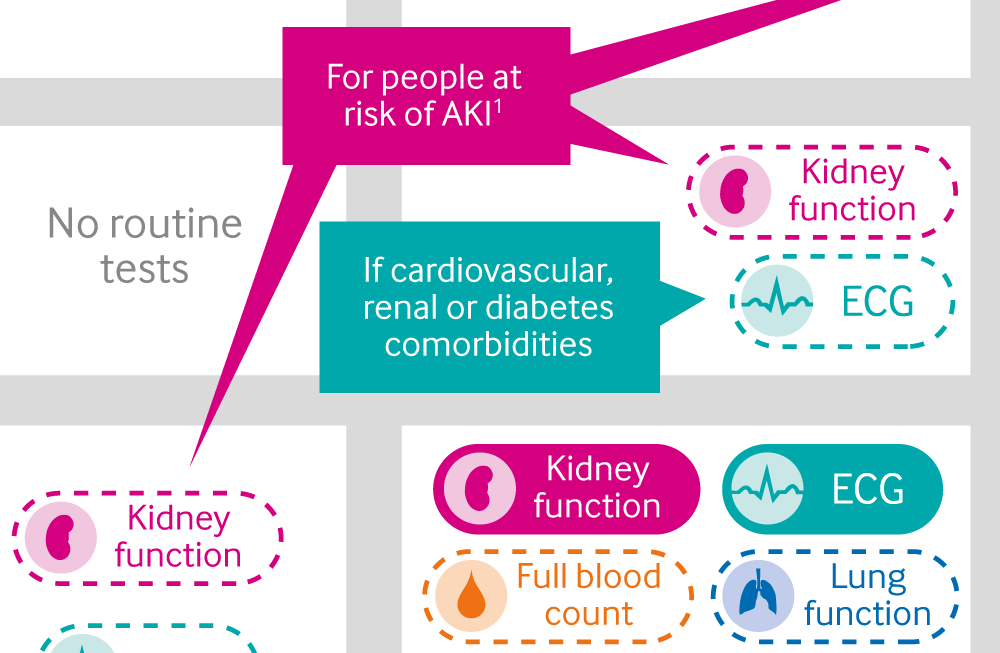 Infographic: Recommended tests before elective surgery
A visual summary of tests to offer, according to the patient's physical status and the complexity of the planned surgical procedure
Frank O'Neill

, senior research fellow

1

,

Eleanor Carter

, trainee specialist advisor, specialty registrar in anaesthesia

1

2

,

Natalie Pink

, project manager

1

,

Ian Smith

, chair of Guideline Development Group, senior lecturer in anaesthesia

1

3
1National Clinical Guideline Centre
2Cambridge University Hospitals NHS Trust
3University Hospitals of North Midlands
Correspondence to: N Pink

natalie.pink{at}rcplondon.ac.uk
What you need to know
Excessive preoperative testing may cause anxiety, delays in treatment, and further unnecessary treatments without influencing outcome or changing perioperative management

Include the results of tests undertaken in primary care when referring people for surgical consultation to avoid unnecessary repetition

Patients who are relatively healthy or having relatively non-invasive surgery may require few, if any, preoperative tests

Before ordering lung function tests or an echocardiogram, consider discussing the patient with an anaesthetist
Routine preoperative investigations are expensive, labour intensive, and of questionable value, especially as they may contribute to morbidity or cause additional delays due to spurious results.1 2 3 4 5 Preoperative assessment clinics are usually based in the hospital where surgery will occur and are run according to local policies and procedures. The number of elective surgeries within the NHS has risen: 10.6 million operations took place in 2012-13 compared with 6.61 million in 2002-03. Even if only a small percentage of tests are unnecessary, large numbers of patients will be affected.
Elective surgeries are those scheduled in advance and excludes medical emergencies. The guidance covers patients over 16 years old. It includes healthy people and those who have one or more of the following comorbidities—cardiovascular, respiratory, renal, diabetes, and obesity—who are having minor, intermediate, or major or complex elective surgery (box 1). Individuals are classified by the severity of disease using the American Society of Anesthesiologists (ASA) classification system (box 2), and extent of surgery to guide testing.
Box 1: Surgery grades and examples
Minor
Excising skin lesion

Draining breast abscess
Intermediate
Primary repair of inguinal hernia

Excising varicose veins in the leg

Tonsillectomy or adenotonsillectomy

Knee arthroscopy
Major or complex
Total abdominal hysterectomy

Endoscopic resection of prostate

Lumbar discectomy

Thyroidectomy

Total joint replacement

Lung operations

Colonic resection

Radical neck dissection
There is no widely accepted and validated system for classifying the stressfulness of operative procedures, so the …
View Full Text
Log in
Log in using your username and password
Log in through your institution
Subscribe from £138 *
Subscribe and get access to all BMJ articles, and much more.
* For online subscription
Access this article for 1 day for:
£23 / $37 / €30 (plus VAT)
You can download a PDF version for your personal record.