Practice
Guidelines
Assessment and management of cirrhosis in people older than 16 years: summary of NICE guidance
BMJ
2016
;
354
doi: https://doi.org/10.1136/bmj.i2850
(Published 06 July 2016)
Cite this as:

BMJ

2016;354:i2850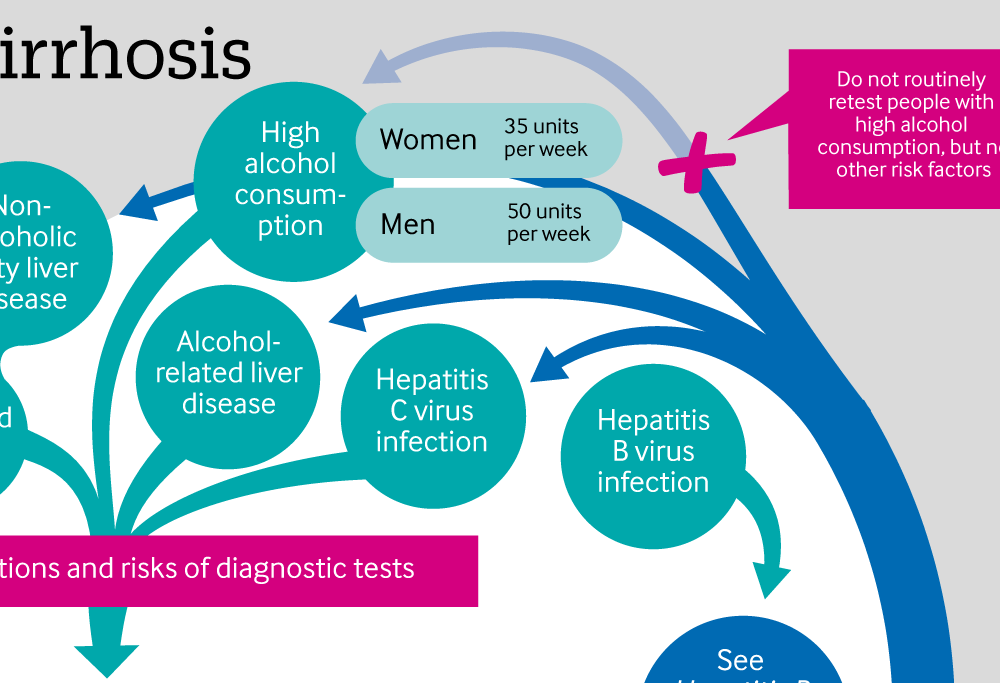 Infographic: Detecting Cirrhosis
A visual summary of tests to offer for patients with different risk factors for cirrhosis, and monitoring strategies depending on diagnostic results
P Harrison

, consultant hepatologist

1

,

B J Hogan

, specialist registrar (ST7) in intensive care medicine and hepatology

2

,

L Floros

, health economist

3

,

E Davies

, senior research fellow

3

on behalf of the Guideline Development Group
1Kings College Hospital, London SE5 9RS, UK
2Guys's & St Thomas' Hospitals NHS Foundation Trust, London, UK
3National Guideline Centre, Royal College of Physicians, London NW1 4LE, UK
Correspondence to: E Davies

Emily.Davies{at}rcplondon.ac.uk
What you need to know
Offer testing for cirrhosis to those at higher risk, including those with:

Hepatitis C

Alcohol related liver disease

Non-alcoholic fatty liver disease and advanced liver fibrosis

Alcohol intake >50 units per week in men and >35 units in women for several months

Non-invasive transient elastography or acoustic radiation force impulse imaging is the first line investigation

Refer those with cirrhosis to a hepatologist
Clinical identification of cirrhosis remains imperfect, especially in people with compensated disease who are often asymptomatic. There is considerable variation in practice across England and Wales with regard to who is tested for cirrhosis and the diagnostic tests used.1 We provide guidance to aid diagnosis of cirrhosis, referral to specialist care for those at high risk of liver decompensation before they experience a defining event, and management of people with cirrhosis, including surveillance for and treatment of complications.
Liver disease is the third most common cause of premature death in the UK. In England and Wales 60 000 people (1 in 1000) have cirrhosis, and mortality rates have increased by 400% since the 1970s.2 Liver biopsy was historically the standard test for the diagnosis of cirrhosis for all causes of liver disease. However, liver biopsy is associated with complications, such as pain and bleeding; it is an expensive test and is less acceptable to patients because of the morbidity associated with its use.3 New diagnostic technologies such as transient elastography and acoustic radiation force impulse imaging can diagnose cirrhosis with >90% sensitivity, and mean that it is now practical and acceptable to offer testing to a greater number of people.
The Guideline Development Group (GDG) believe that
Earlier diagnosis of cirrhosis may offer more opportunity for treatments, limiting disease progression and avoiding complications.

These recommendations—particularly early diagnosis, effective surveillance, and early access to specialist care—will …
View Full Text
Log in
Log in using your username and password
Log in through your institution
Subscribe from £138 *
Subscribe and get access to all BMJ articles, and much more.
* For online subscription
Access this article for 1 day for:
£23 / $37 / €30 (inc. VAT)
You can download a PDF version for your personal record.