Practice
Guidelines
Supporting young people in their transition to adults' services: summary of NICE guidance
BMJ
2016
;
353
doi: https://doi.org/10.1136/bmj.i2225
(Published 11 May 2016)
Cite this as:

BMJ

2016;353:i2225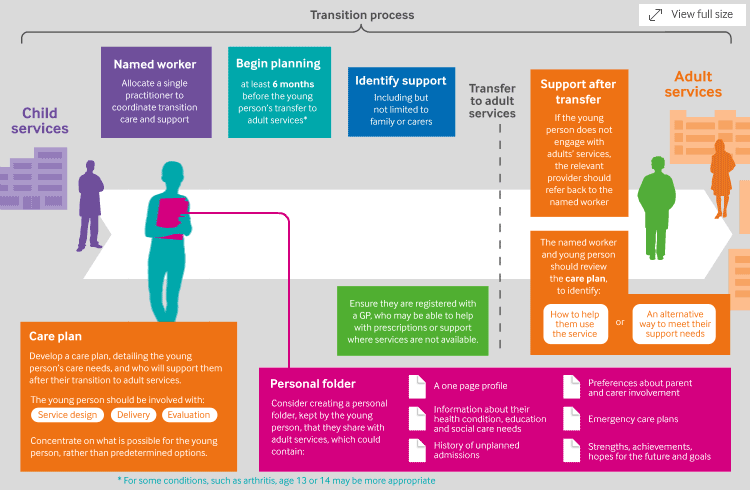 All rapid responses
Rapid responses are electronic comments to the editor. They enable our users to debate issues raised in articles published on bmj.com. A rapid response is first posted online. If you need the URL (web address) of an individual response, simply click on the response headline and copy the URL from the browser window. A proportion of responses will, after editing, be published online and in the print journal as letters, which are indexed in PubMed. Rapid responses are not indexed in PubMed and they are not journal articles. The BMJ reserves the right to remove responses which are being wilfully misrepresented as published articles.
Dear Editor, we read the paper by Singh SP summarising the recent NICE guidance for transitional care for young people with long term conditions [1] and welcomed it's inclusion in your journal in view of the wide readership reflecting the range of professionals from primary through to quarternary care for which such guidance is relevant. We would now like to also draw the attention of such readers to the recent Cochrane review in this area [2] which has been published subsequently. This review confirms previous research in this area, that although there is a significant evidence base for the need for transitional care, the evidence base for how that care should be delivered is as yet limited. Challenges to research in this area have been discussed in the recent literature [3] and are centred around the evaluation of a complex intervention [4] which crosses medical, social and educational disciplines as well as paediatric and adult services. In our review, we again concluded that a stronger evidence base is still needed to inform the development of these services. Since the Cochrane review has been published, a study utilising the MRC complex intervention methodology has reported their protocol in addition to preliminary positive results albeit focussed on the peritransfer period [5,6]. However prospective research which follows young people receiving an intervention in early adolescence (as current guidance advocates [1,7]) through to the post transfer period in adult care is challenging in today's financial climate. Three year follow-up data from a current prospective NIHR funded study of 14-18 year olds is awaited with interest [8, 9]
The NICE guidance [1] refers to the importance of developmentally appropriate care and yet, there is a dearth of definitions of developmentally appropriate health care for young people in the literature [10]. For some time, clinicians and researchers in the field have been proposing a shift in our mindset and rather than determining how best to manage transition to consider how best to address the medical, psychosocial and vocational needs at this stage of the life course [11] i.e. the provision of developmentally appropriate care. In a recent editorial discussing why transitional care is so challenging to implement, Scal proposed the reframing of transition within the context of adolescent health care and that transition should be considered "a developmental milestone rather than a healthcare crisis"[12]. In a recent ethnographic study in 3 UK hospitals, there was also a wide variation in the operational definitions for developmentally appropriate health care held by a range of clinicians and managers [13]. Progress in transitional care research as well as service delivery is likely to be enhanced from the adoption of a greater developmental focus (" a life-course approach") rather than the institutional focus (ie change in service provision) which currently prevails.
References:
1. Singh SP, Anderson B, Liabo K, Ganeshamoorthy T; guideline committee. Supporting young people in their transition to adult services: summary of NICE guidance. BMJ. 2016 May 11;353:i2225. doi: 10.1136/bmj.i2225
2. Campbell F, Biggs K, Aldiss SK, O'Neill PM, Clowes M, McDonagh J, While A, Gibson F. Transition of care for adolescents from paediatric services to adult health services. Cochrane Database Syst Rev. 2016 Apr 29;4:CD009794. doi: 10.1002/14651858.CD009794.pub2.
3. McDonagh JE, Kelly D: The challenges and opportunities for transitional care research. Pediatr Transplant. 2010 Sep 1;14(6):688-700.
4. Moore GF, Audrey S, Barker M, Bond L, Bonell C, Hardeman W, Moore L, O'Cathain A, Tinati T, Wight D, Baird J. Process evaluation of complex interventions: Medical Research Council guidance. BMJ. 2015 Mar 19;350:h1258
5. Hilderson D, Westhovens R, Wouters C, Van der Elst K, Goossens E, Moons P. Rationale, design and baseline data of a mixed methods study examining the clinical impact of a brief transition programme for young people with juvenile idiopathic arthritis: the DON'T RETARD project. BMJ Open. 2013 Dec 2;3(12):e003591. doi: 10.1136/bmjopen-2013-003591.
6. Hilderson D, Moons P, Van der Elst K, Luyckx K, Wouters C, Westhovens R. The clinical impact of a brief transition programme for young people with juvenile idiopathic arthritis: results of the DON'T RETARD project. Rheumatology (Oxford). 2016 Jan;55(1):133-42
7. American Academy of Pediatrics, American Academy of Family Physicians, and American College of Physicians, Transitions Clinical Report Authoring Group. Supporting the health care transition from adolescence to adulthood in the medical home. Pediatrics. 2011 Jul;128(1):182-200.
8. Colver AF, Merrick H, Deverill M, Le Couteur A, Parr J, Pearce MS, Rapley T, Vale L, Watson R, McConachie H; Transition Collaborative Group. BMC Public Health. 2013 Jul 23;13:675. Study protocol: longitudinal study of the transition of young people with complex health needs from child to adult health services.
9. Merrick H, McConachie H, Le Couteur A, Mann K, Parr JR, Pearce MS, Colver A; Transition Collaborative Group. Characteristics of young people with long term conditions close to transfer to adult health services. BMC Health Serv Res. 2015 Sep 30;15:435.
10. Farre A, Wood V, Rapley T, Parr JR, Reape D, McDonagh JE. Developmentally Appropriate Healthcare for Young People: a scoping study. Arch Dis Child 2015 Feb;100(2):144-51
11. Allen D, Gregory J. The transition from children's to adult diabetes services: understanding the "problem". Diabet Med. 2009 Feb;26(2):162-6.
12. Scal P. Improving Health Care Transition Services: Just Grow Up, Will You Please. JAMA Pediatr. 2015 Nov 30:1-2.
13. Farre A, Wood V, McDonagh JE, Parr, JR, Reape D, Rapley T on behalf of the Transition Collaborative Group. Health professionals' definitions of developmentally appropriate healthcare for young people: conceptual dimensions and embedded controversies. Arch Dis Child 2016;101:628-633
Competing interests: No competing interests
24 June 2016
Janet E McDonagh
Senior lecturer in Ppaediatric and Adolescent Rheumatology
A Farre, S Aldiss, K Biggs, F Campbell
Centre for Musculoskeletal Research,
Stopford Building, University of Manchester, Manchester, England, UK
Dear Editors,
We welcome Singh et al.'s recent summary of NICE guidance regarding transition from paediatric to adult services [1]. Transition is an important milestone for any child with complex health needs, and it represents a difficult time for affected young people and their families [2]. In 2014 the Care Quality Commission published a report stating that only 50% of children with life limiting illnesses in England undergo a formal transition process [3]. Consequently we were pleased to see that this is an issue which has been highlighted both by NICE and the British Medical Journal, as an area which requires careful thought and planning.
Our Child Development Centre, Rainbow House in Ayrshire, Scotland supports and reviews children with multiple and complex healthcare needs including neurodevelopmental conditions, cerebral palsy and brain injury. We have long recognised through our own clinical encounters and through more formalised patient engagement opportunities, that parents and young people were worried about transition to adult services. The process for families has been variable, with some young people, particularly those with identified learning disabilities, having healthcare needs assessments undertaken at school leaving.
The Adult NHS Learning Disability (LD) teams have therapy resources and for those with associated physical and learning disability, as can happen in about 50% of young people with cerebral palsy, this means there is a pathway for them. Those with cerebral palsy without any associated learning disability did not have any service apart from their GP to fall back on. Using expected numbers of cerebral palsy, as occurring in 2/1000 live births [4] we were able to negotiate with our Rehabilitation Centre that expected numbers leaving paediatric services were not to be vast each year and could be accommodated within existing service provision. However, neither a rehabilitation service nor a Learning Disability service provide coordination of care. The role of the GP remains central to this and the role of transition preparation is to identify where that colleague may be able to best source advice if this is required. We met with Primary Care colleagues to explore this and they appeared to have embraced the proposed model.
In order to support, and build on, the work of those colleagues in our LD teams, we have sought to standardise the health needs assessment we provide. We have developed a healthcare transition pathway for all children aged 14 years or over who receive services from Rainbow House taking as a starting point that available from Great Ormond street Hospital [5].
The recent NICE guidance is therefore particularly welcome in two regards:
1. It will provide us with a basis for ensuring our pathway is compliant with nationally agreed guidance.
2. It helpfully aspires to have organisational leadership for transition.
We have approached our own executive to see how we can best implement and embed the process of transition across the organisation. One of the challenges is that transition is still very much felt to be a responsibility of paediatric services alone. This may be because while adult services rely much more on the General Practitioner to provide a coordination role, this is often something we in Paediatrics may take on at the expense of supporting our colleagues in Primary Care to share care with us from an earlier stage. For a family, having the opportunity to develop this relationship is supportive of a good transition. Unfortunately with complex disability or rare conditions there is often a balance to be struck but something worth remaining mindful of.
To date we have seen positive results with our pathway. In some cases it has identified the potential for an unmet health need at transition. One of our earliest findings was that promotion of continence was not always being addressed by the time young people left school. In others it has highlighted how different paediatric ways of working can be, for example where parents are trained to undertake health care interventions for their child, which after Transition may be met by a particular service or clinic. Our example is that parents trained to change gastrostomy tubes were not immediately recognised for their expertise when the young person reached adulthood.
We believe a transition pathway will help to streamline and improve the process of transition for our patients and would encourage other centres supporting young people with complex health needs to consider the latest NICE guidance and develop their own local protocols. Our hope is to take this forward to develop a multiagency transition pathway for our young people. While paediatric units work in partnership with Tertiary Centres, there is a need for local knowledge to allow these to be flexible and responsive to local need as they are developed. Much of what is provided in a Tertiary Centre may return to a District General Hospital in adulthood, and local paediatricians, through their local links with Primary Care as well as colleagues in Adult Services have a role to play in advocating for this.
References
1. Singh SP, Anderson B, Liabo K, Ganeshamoorthy T; guideline committee. Supporting young people in their transition to adults' services: summary of NICE guidance. BMJ 2016;353:i2225.
2. Borquist E, Nordmark E, Hallsttrom I. Living in transition – experiences of health and well-being and the needs of adolescents with cerebral palsy. Child: Care, Health and Development 2014;41:258-265.
3. Care Quality Commission (2014). From the Pond into the Sea:Children's Transition to Adult Services. Available at: https://www.cqc.org.uk/sites/default/files/CQC_Transition%20Report.pdf. Accessed 24/5/16.
4. Odding E, Rodebroeck ME, Stam HJ.The epidemiology of cerebral palsy: indidence, impairments and riskf actors. Disability and Rehabilitation 2006;28:183-191.
5. Great Ormond Street Hospital. Transition to adult services integrated care pathway. Available at: http://www.gosh.nhs.uk/health-professionals/integrated-care-pathways/tra.... Accessed 27/5/16.
Competing interests: No competing interests
27 May 2016
Angela K Lucas-Herald
Clinical Lecturer in Paediatrics
Elise Weir, William Morris, Beth Frank, Nuno Cordeiro
Rainbow House, Ayrshire Central Hospital, KA12 8SS
We have read with a great interest the paper of Singh et al. summarizing the NICE recommendations for supporting young people in their transition to adults' services (1). The Necker-Enfants malades (NEM) University hospital in Paris, France, the first paediatric hospital in the world, has been involved for years in the diagnosis and treatment of children and young adults with rare diseases. Transition is a challenging issue in this structure where we observe that inadequate support can lead to disrupted care, increased morbidity and mortality rates. Moreover disengagement is more likely to happen amongst young adults who experience psychological and social difficulties
In this context, NEM University hospital, together with the 40 national reference centers for orphan diseases and the hospital's research Institute Imagine dedicated to genetics, has created a unique transition support process. The originality of the project is to offer in the hospital a dedicated space for young adults suffering chronic and rare diseases. This place with open-access provides information and support for youths living with chronic diseases, as well as prevention and health promotion actions in various fields related to adolescence (sexuality, nutrition and obesity, physical activity, substance abuse etc). Young adults interact easily with each other, and the space is a relevant link between hospital and community medicine for patients and professionals.
1. Singh SP, Anderson B, Liabo K, Ganeshamoorthy T; guideline committee. Supporting young people in their transition to adults' services: summary of NICE guidance. BMJ 2016 May 11; 353: i2225.
2. Malhaoui N, Bollaert B. Projet transition adolescents-jeunes adultes. Hôpital universitaire Necker-Enfants malades, Paris, France. February 2015.
Competing interests: No competing interests
17 May 2016
Isabelle Pitrou
Public health practitionner
Hopital Necker Enfants Malades
149 rue de Sèvres, 75743 PARIS cedex 15