Practice
Guidelines
Supporting young people in their transition to adults' services: summary of NICE guidance
BMJ
2016
;
353
doi: https://doi.org/10.1136/bmj.i2225
(Published 11 May 2016)
Cite this as:

BMJ

2016;353:i2225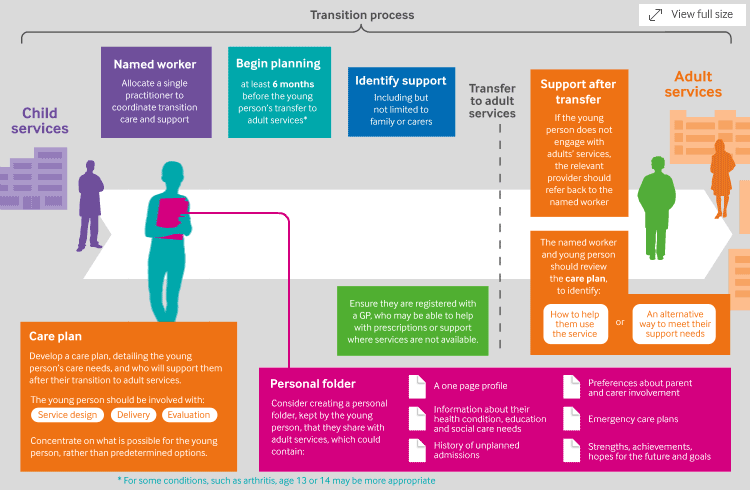 Swaran P Singh

, head of mental health and wellbeing, consultant psychiatrist

1

2

,

Beth Anderson

, head of research and information

3

,

Kristin Liabo

, senior research fellow, patient and public involvement team

4

,

Thines Ganeshamoorthy

, volunteer

5

on behalf of the guideline committee
1University of Warwick, Warwick, UK
2Birmingham and Solihull Mental Health Foundation Trust and Forward Thinking Birmingham, Birmingham, UK
3Social Care Institute for Excellence, London SW1Y 5BP, UK
4Peninsula Collaboration for Leadership in Applied Health Research (PenCLAHRC), University of Exeter Medical School, Exeter, UK
5Royal College of Paediatrics and Child Health, London, UK
Correspondence to: B Anderson

Beth.Anderson{at}scie.org.uk
What you need to know
Allocate a named transition worker, which is a role not a job title; this should be someone who is involved in the young person's care

Develop a transition plan with the young person that describes what care will be provided and by whom

Develop a personal folder, held by the young person, describing their preferences, care needs, and history

Offer support for a minimum of six months before and after transfer

Transition planning should be developmentally appropriate

Education and employment, community inclusion, health and wellbeing, and independent living should all be addressed
In spite of a wealth of guidance,1 young people making the transition from children's to adults' services are often inadequately or inconsistently supported.2 3 4 This can lead to disrupted care.5 It can also mean they disengage from services, which can be costly, both for them and for care providers.
Transition is a process and should not be conflated with transfer, which is a discrete event. Simple transfer may result in poor understanding of the young person's treatment needs by the new adult team. Healthcare transition is a gradual, purposeful, and goal oriented process. It can be difficult and often coincides with other transitions such as development into adulthood, which adds complexity. Transition should start well before transfer and enable patients to understand the service changes they can expect. See linked infographic on supporting young people in their transition to adults' services.
We summarise the most recent recommendations from the Institute for Health and Care Excellence (NICE) aimed at improving the transition process and outcomes across health and social care.6
Recommendations
NICE recommendations are based on systematic reviews of best available evidence and explicit consideration of cost effectiveness. When minimal evidence is available, recommendations are based on the guideline committee's experience and expert opinion of …
View Full Text
Log in
Log in using your username and password
Log in through your institution
Subscribe from £138 *
Subscribe and get access to all BMJ articles, and much more.
* For online subscription
Access this article for 1 day for:
£30 / $37 / €33 (plus VAT)
You can download a PDF version for your personal record.