Feature
Migration
Medical agency builds migrant camp in the heart of Europe
BMJ
2016
;
352
doi: https://doi.org/10.1136/bmj.i1696
(Published 24 March 2016)
Cite this as:

BMJ

2016;352:i1696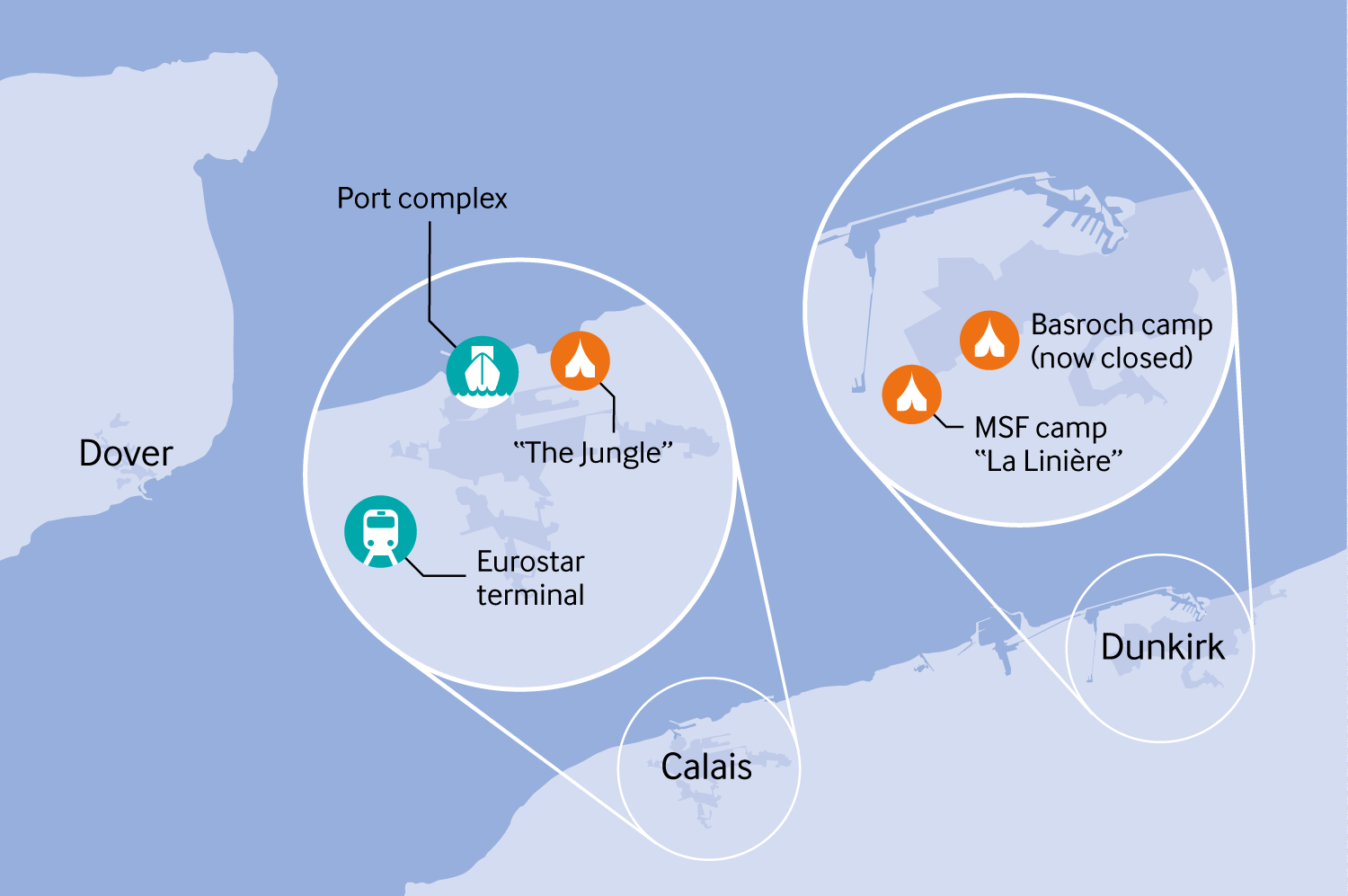 On 28 November 2015, Jalil Khalil, Juana Ali, and their three children (aged 12, 9, and 4 years) left Kirkuk in the Kurdish region of northern Iraq for Europe, a journey that increasing numbers of people are making to escape conflict in the Middle East.
The family crossed the border into Turkey, then crossed into Greece by boat and on, by train, to Macedonia, through the Balkans to Austria and eventually France. Their goal was to reach England, where they say they have family, in Manchester.
Instead the family ended up stuck, tantalisingly close, with 6000 others in what is known as "the jungle," a sprawling slum on wasteland near Calais that migrants have used for years as a base from which to attempt to sneak illegally into Britain.
"We have tried 30 times," Khalil told The BMJ, to get to England, paying smugglers who take them, in the middle of the night, to hide in lorries that are heading for the English Channel. Each time they have been found and turned back. Once, five others hiding with them alongside frozen chickens inside a refrigerated lorry, died from the cold, says Jalil, speaking through a translator. "Inshallah, we will get there," he says.
French police have moved to clear migrants out of "the jungle" camp in recent weeks and the Khalil family found refuge elsewhere. I met them in a new camp, built by the medical charity Médecins Sans Frontières (MSF) at Grande Synthe, near Dunkirk. The camp opened on 7 March and now has over 1300 residents, most of them Iraqi Kurds who had been living in appalling conditions in tents in a muddy field in the nearby Basroch area, without electricity or running water.
"In France, we have a humanitarian emergency," says Angelique Muller, an MSF nurse who is coordinating the charity's work with migrants in the area around Dunkirk. "The government didn't want to help, so we had to."
The camp, which is known as La Linière, is wedged between a railway line and a main road, and comprises 300 identical wooden huts without windows or electricity. Running water and electricity are available in communal areas for washing, cooking, and charging mobile phones. There is a medical centre in an abandoned farmhouse on the site, a decorated tent serves as a mosque, and a school is being built. The camp is designed to house 2500 people when full.
MSF has never built a refugee camp before and normally provides medical aid at refugee camps in developing countries, built and run by the United Nations.
"I never thought when I started working for MSF, an emergency aid agency, that I would be working in my own country," Muller says. "I am proud that we are doing this, but it is also a shame that we are having to."
MSF says its aim, in building the camp, is to provide basic humanitarian assistance to people in need, regardless of their legal status. The charity now runs a clinic jointly with Médecins du Monde and the International Red Cross while a local charity runs the camp as a whole.
"We know that it's just a bandage, what we are doing, not a solution," says Caroline Gollé, a nurse coordinating MSF's medical team at La Linière. "We are just helping temporarily people who are in a bad situation and making them have a bit better conditions for them to be less sick."
Health needs
The clinic has one doctor and one nurse on duty in the mornings and two doctors in the afternoon, along with translators, providing about 40 consultations per day. The day I visited there were only two families in the morning and the clinic was full of young men in the afternoon. The rhythm is set by the fact that many of the young men sleep in the morning after spending the night attempting to get on lorries to Britain.
The medical aid agencies report that the most common health problems migrants in this part of France present with are (in order of prevalence) respiratory problems, dermatological problems (including eczema and scabies), dental problems, injuries (from accidents and failed attempts to hide in lorries), stomach problems, and burns from fires and improvised cooking devices. There are also chronic diseases and mental health problems; services for women are provided by another charity, Gynaecologists without Frontiers.
The new camp seems to have already had some positive impact on the migrants' health, although it is too early to say definitively. There were no cases of burns in the first 10 days after the camp opened and doctors said they had seen fewer cases of scabies and serious respiratory infections. Each new patient is given a medical card to keep with them so that they can start to build up a record of their medical history.
The charities are now also better placed to provide mental healthcare. Previously there was little confidentiality—consultations sometimes had to take place behind people's tents— but the clinic at La Linière has a dedicated room. MSF psychiatrist, Elizabeth Hoffmann, works at the camp two to three days a week (with the other days spent seeing migrants in Calais) and tries to see 10 patients a day in half hour sessions. Much of her work, with a clinical psychologist from Médecins du Monde, involves visiting the migrants in their huts and taking the time to talk to them and find out what mental health problems they have.
"We expect that in a normal population usually around 20% of people have mental health problems. Here it is likely to be a higher percentage. But they never present at the clinic," says Hoffmann, carrying a box of medicines including sertraline and paroxetine as she leaves the clinic after a long day. "Severely depressed people that we meet by walking round the camp say that they never knew there was a treatment."
What has also improved in recent weeks, after months of lobbying by non-governmental organisations, is that the state hospital at Grande Synthe has opened a clinic specifically for migrants, complete with Kurdish translators and plans for a full time dentist.
When Jalil Khalil and Juana Ali's youngest son, Bahez, was examined, the Médecins du Monde volunteer paediatrician (who requested not to be identified for fear of being targeted by right wing groups and others who disapprove of doctors helping migrants) suspected that the boy may have broken his ankle riding a bicycle on the rough terrain around the camp. The same afternoon he was taken to hospital for an x ray examination and whatever treatment necessary. Previously migrants needing hospital treatment could only attend emergency departments alongside the wider population of the area and without any translators available.
"This is working really well now," says Gollé, talking to me in a bare room with a desk and chair and an examining couch. "We have perfect conditions now to do our work. It's clean and there are heaters."
Solution or exacerbation?
So by offering migrants much better accommodation and health services, is MSF encouraging people to stay and keep trying to get to the UK? And will the new camp encourage more migrants to head this way?
"As NGOs we are not encouraging people to go to the UK," says Pierre Borelle, a spokesman for MSF Paris. "If we were, we would have booked some ferries. We don't believe [the new camp] will encourage more migrants to come."
MSF opened the camp on the request of the mayor of Grande Synthe, Damien Carème, who said he was worried people camping at the Basroch camp, which has now been closed, would die because of the appalling conditions. The aid agency spent €2.6m (£2m; $2.9m) on construction and the local authority spent €0.3m.
But the new camp goes against the policy of the French government, which is to encourage migrants to give up their dream of getting to Britain, claim asylum in France, and move to accommodation the government provides for migrants elsewhere in the country.
Shortly after MSF's new camp opened, the French interior minister, Bernard Cazeneuve, expressed his disapproval. "The solution does not lie in moving migrants to another site, which has problems because of its very busy location," he reportedly said. French authorities have warned that the camp does not meet proper security standards because of the dangers posed by so many people living near to a railway line and a major road.
Government failure
All around the edges of Europe, as the numbers of refugees and economic migrants have surged in recent years, charities and individual volunteers, not governments, have provided much of the humanitarian assistance on the ground.
"Until now, EU governments have focused on the political question of how to deal with the migration crisis," said Lilana Keith, advocacy officer at the Platform for International Cooperation on Undocumented Migrants (PICUM). "They have omitted to deal with the humanitarian situation."
While many European countries have officially committed to providing medical services to undocumented migrants, the reality is often very different, says Keith.
Under the international convention on human rights, governments are bound to provide basic assistance to anyone, regardless of their legal status. A French court found in November that France was failing to do so in the Nord Pas de Calais region.1 The European Commission's Humanitarian Aid and Civil Protection department (ECHO), which normally channels European aid to the developing world and emergency zones, announced in March that it would provide €300m in 2016 to support governments facing humanitarian crises because of migration.2
"Travel medicine" for would-be migrants
Although the European Union hopes to discourage more migrants from coming to Europe by turning those back who reach Greece from Turkey, MSF is convinced that the migration crisis will continue and migrants will seek new, possibly more dangerous routes into Europe.
"The health consequences for migrants derive mainly from the trips they make," said Gustavo Fernandez, a migration expert at MSF Geneva who has designed a programme for MSF to offer health advice to migrants globally, before they begin their journeys.
"The idea is that we want to do much more to make people aware of the medical risks of their trips," he said. "Certain routes produce certain health problems," he said, most commonly sexual violence, discontinuation of treatment for chronic disease, and mental health problems. "In Central America, for example, women have contraceptive implants because of the high risk of rape on their way to the US."
MSF is currently piloting activities in the Middle East to provide more information to those thinking of making an illegal journey.
"We want to make sure people are vaccinated, know about family planning, and know where, along the way, they can find medical services that won't discriminate against them."
Footnotes
Competing interests: I have read and understood BMJ policy on declaration of interests and have no relevant interests to declare.

Provenance and peer review: Commissioned; not externally peer reviewed.
View Abstract
Log in
Log in using your username and password
Log in through your institution
Subscribe from £138 *
Subscribe and get access to all BMJ articles, and much more.
* For online subscription
Access this article for 1 day for:
£30 / $37 / €33 (plus VAT)
You can download a PDF version for your personal record.